Everyone has a favorite super spy—a character whose cunning nature, quick thinking, or pure mental and physical strength keep us rooting for them long after their books, TV series, or films have reached "the end." Before common names like Jack Bauer, Ethan Hunt, and Jason Bourne dotted the super spy landscape, another famous spy arrested our imagination: James Bond. The dashing and debonair 007 was the creation of Ian Fleming, who has earned a reputation as a legendary author. Yesterday marked the anniversary of Ian Fleming's death. In his honor, we take a look back at his life and his inspiration for writing the iconic James Bond series.
Inspiration in Action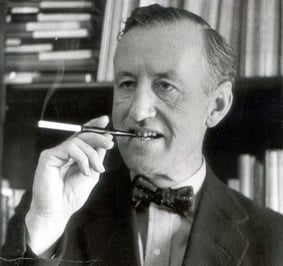 Fleming got his start as a journalist, but later entered the British Royal Navy as an intelligence officer. It was here that he gained experience in the world of espionage. Fleming's first appointment was as a personal assistant to Rear Admiral John Godfrey, who was the Director of Naval Intelligence. Though Fleming had no real qualifications for the position, it proved an excellent fit, and he quickly grew into the role.
Fleming later worked with Godfrey, Colonel "Wild Bill" Donovan, and President Franklin D. Roosevelt to coordinate information among various intelligence agencies, including the U.S. agency that eventually evolved into the CIA. That experience prepared Fleming for Operation Golden Eye, an endeavor to secure an intelligence framework in Spain if the country were taken over by Germany.
Transition to Authorship
Before Fleming ever had aspirations of authorship, he was an unabashed bibliophile who began building an extensive personal library in 1929. Fleming concentrated heavily on books about science and technology, though he also collected other "books that made things happen." His wide reading is often evident in his own work.
In 1942, Fleming visited Jamaica and determined that he'd build a home there after World War II ended. Three years later, Fleming named his estate Goldeneye, not only after his own eponymous military operation, but also after Carson McCullers' Reflections in a Golden Eye. He didn't set about writing his own novel until 1952.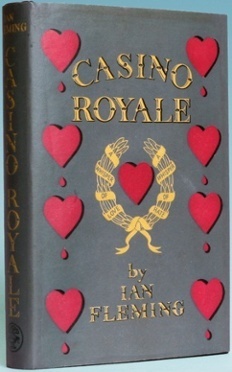 The manuscript for Fleming's first novel, Casino Royale, took Fleming only a few months to write. He was reluctant to share the novel because, as he told close friend William Plomer, "the element suspense is completely absent."
Fleming himself designed the original cover art for Casino Royale, and the book sold out in the UK in less than a month. Subsequent printings remained equally popular.
The real James Bond was a British ornithologist who authored Birds of the West Indies. The book achieved world-wide fame as Fleming, a birdwatcher himself, chose the name of its author for the spy hero of Casino Royale, as he was looking for a name as "ordinary as possible." A reference to this connection pops up in the 2002 adaptation of Die Another Day, which stars Pierce Brosnan and Halle Berry (watcha clip here).
Fleming's brother Peter provided significant inspiration for James Bond's character. Peter served as an intelligence officer behind the lines in Norway and Greece.
From 1953 to 1964, Fleming wrote a new Bond novel every year during his annual holiday in Jamaica. By 1966, twelve novels and two short-story collections had been published. The last two (Man with the Golden Gun and Octopussy and the Living Daylights) were published after Fleming's death.
Only Bond's first five novels received positive reviews from critics. The tides began to turn with Dr. No, which received extremely harsh criticism from a number of prominent reviewers. Despite the reviews, Fleming's work remained wildly popular among readers.
To date, Ian Fleming's Bond books are some of the most popular fiction books of all time; they have sold over 100 million copies worldwide. Seven different actors have played James Bond, and the character still continues to capture our imagination.