Mother Nature can wreak havoc on rare books. Sunning, water damage, and humidity can all cause damage to your collection. Another enemy of your books may also be lurking on your shelves: the dreaded bookworm. Bookworms will tunnel right into the block, riddling the book with countless gullies and channels.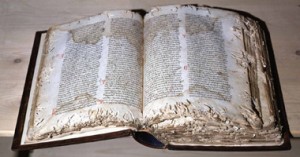 Bookworms aren''t really worms, —they''re actually the larvae of several species of beetles. While these insects don''t generally attack modern books, they pose a significant threat to antiquarian books. The critters seem particularly fond of the glues used on the backs of older books, particularly those of Italian provenance. From the backs of the books, the insects often move on to the block, munching right through the pages.

You may have seen the telltale signs of bookworms: fine dust falling from between the pages when you open up a favorite volume, or tiny piles of paper dust on your shelves. These insects also don''t stop munching when they''re done with your favorite tomes. They may also feast on your bookshelves. A few simple steps will help keep your library pest free:


Keep food away from your books! I love a good snack while reading just as much as the next person, but crumbs in books attract all kinds of insects.
Use camphor or naphthalene as a deterrent. You can soak linen in either, and place it on the bookshelf. Re-soak the fabric whenever the scent fades.
Some experts recommend sprinkling fine pepper along the edges of the bookshelf, though Keating's Insect Powder might be an equally effective alternative.
Don''t use pesticide or plastic wrapping on your rare books without first consulting a professional.
Maintain optimum humidity levels in your library. High moisture levels can attract insects.
If insects have struck your rare books, it''s important to act fast if you want to prevent further damage. To kill existing insects, place the book in a bag with a cloth soaked in ether. Repeat every two weeks for a few months to kill any other larvae that may have hatched.

If insects have damaged the boards of your book, talk to a professional book binder about your options. The boards may require replacement. This is often the best course of action, since the old boards may still contain insect eggs. A qualified book binder will be able to assess the damage and suggest multiple options for repair.

After investing in rebinding and repair, you may want to consider a clamshell case for your book. Made to precisely fit each book, clamshell cases offer extra protection from dust and moisture.
Click here for more information on beating the bookworm!