When you think of conservation and preservation, you may think of the environment. But for rare book collectors, conservation and preservation are the key to maintaining—and sometimes even increasing—the value of your prized investments.


Preservation Prevents Further Damage
Although conservation and preservation may sound like they refer to the same thing, the two terms differ significantly. When a book is preserved, it is simply protected from further damage. When someone wants a book preserved, I'll often build a box to protect the book from the sun, air, and other environmental factors that can cause deterioration. A preservationist's priority is the same as a doctor's: do no harm. Preservation alone doesn't alter the book in any way.
Conservation, however, requires a little more on chemistry to stabilize a book's condition. A conservationist might, for instance, work on deacidifying a rare book, or use pigment dyes instead of chemical dyes to color materials used in repair. Conservationists may also alter the structure of the book to protect it from further damage over the long term.


What about Restoration?
Now if you want to return a book to its former glory, you want restoration. Restoring a book means using original materials and historic techniques to make the book look like it did when it was new—even if that was 200 years ago. Not all restorationists are familiar with conservation or preservation, so it's important to choose someone who is not only familiar with period binding methods, but also understands how to protect your investment in the future.
A period binding should preserve the bibliographical value and integrity of the book.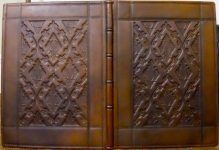 Does restoring, preserving, or conserving a book improve its value? That all depends on the book, and the kind of work you have done. Regardless of whether you're looking for conservation or restoration, you'll want to choose a book binder who is proficient in both modern techniques and those that were used during the time period and in the geographical provenance of your book. The methods used to create, say, a 15th-century exposed board binding are very different from the ones used to create an ornate Victorian binding.


Factors to Consider
Any changes to the condition of an antiquarian book can significantly impact its value. That's why it's critical to consider all your options before commissioning preservation, conservation, or restoration work. Before you do either, think about these factors:

What is the book's value as-is?
How will the book be used?
Will you resell the book?
Once you've invested in conserving and restoring your collection, it makes sense to preserve them as well. Many collectors opt for a multi-pronged approach to maintaining their collection; they may ask me to restore or rebind a book—and to create a box to protect it.