When you think of conservation and preservation, you may think of the environment. But for rare book collectors, conservation and preservation are the key to maintaining—and sometimes even increasing—the value of your prized investments. But what do the terms "conservation" and "preservation" actually mean in the world of rare books? Furthermore, what happens when you throw the idea of "restoration" into the mix?


Preservation Prevents Further Damage
Although conservation and preservation may sound like they refer to the same thing, the two terms differ significantly. When a book is preserved, it is simply protected from further damage. When someone wants a book preserved, they may want to have a box built to protect the book from the sun, air, and other environmental factors that can cause deterioration. A preservationist's priority is the same as a doctor's duty: do no harm. Preservation alone doesn't alter the book in any way. See the end of this post for more information about rare book preservation and your home library.
Conservation and Chemistry
Conservation, however, requires a little more on chemistry to stabilize a book's condition. A conservationist might, for instance, work on deacidifying a rare book, or use pigment dyes instead of chemical dyes to color materials used in repair. Conservationists may also alter the structure of the book to protect it from further damage over the long term.
What about Restoration?
Now if you want to return a book to its former glory, you want restoration. Restoring a book means using original materials and historic techniques to make the book look like it did when it was new—even if that was 200 years ago. Not all restorationists are familiar with conservation or preservation, so it's important to choose someone who is not only familiar with period binding methods, but also understands how to protect your investment in the future. A period binding should preserve the bibliographical value and integrity of the book.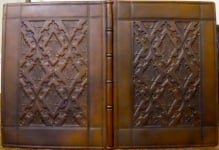 Impact on a Book's Value
Does restoring, preserving, or conserving a book improve its value? That all depends on the book, and the kind of work you have done. Regardless of whether you're looking for conservation or restoration, you'll want to choose a book binder who is proficient in both modern techniques and those that were used during the time period and in the geographical provenance of your book. The methods used to create, say, a 15th century exposed board binding are very different from the ones used to create an ornate Victorian binding.
Factors to Consider
Any changes to the condition of an antiquarian book can significantly impact its value. That's why it's critical to consider all your options before commissioning preservation, conservation, or restoration work. Before you do anything, think about these factors:
What is the book's value as-is?
How will the book be used?
Will you resell the book?
Once you've invested in conserving and restoring your collection, it makes sense to preserve them as well. Many collectors opt for a multi-pronged approach to maintaining their collection; they may ask to restore or rebind a book and to create a box to protect it.

As a collector of rare books, your goal is to keep your collection in optimum shape. You're careful with dust jackets and protect fragile books with clamshell cases. Even the way you shelve your rare books can impact their condition. It's important that your home library provides the support and protection that rare books need.
Building Your Library from the Ground Up
Serious collectors know not to let their rare books come into contact with just any old paper, as paper can contain harmful chemicals and acids. But what about the shelves themselves? We often assume that any bookshelf is fine for our books, but choosing the right shelving materials will help you preserve your books even more effectively:

Institutional libraries don't use metal shelves because they're less expensive. The ideal material for shelves themselves is actually metal, coated with a baked enamel finish.
If metal shelves aren't an option, coat your wooden shelves with a proper sealant to prevent acids from seeping into your books from the wood. The best options are a water-based aliphatic urethane or a clear two-coat epoxy finish.
Wood dries out as it ages, and the chemicals often used to treat wood also dissipate over time. If your books are housed in an extremely old wooden bookcase, they're likely safe from damage.
In locations with high humidity, consider ventilated shelving. The additional air circulation can help prevent the growth of mold and mildew.
Storing Rare Books Properly
It's important to store rare books with care. Rubbing, pulling, and pushing can all cause unnecessary damage and decrease the value of rare books and manuscripts. It's easy to simply place books on the shelves straight up and down, but that isn't always the best position for your books.

Avoid letting books slouch on the shelf. Any book with a spine wider than three inches, or taller than 18 inches, should be laid flat. The bindings of these books sometimes cannot support the spine, weakening the spine, warping the covers, and damaging the pages.
Do not stack these books more than three volumes high. Too much weight can warp the covers of the lower books.
Give your books a little space to breathe on the shelf. They should be close enough to support each other, but not packed so tightly that the bindings are abraded when you remove a book.
If you use bookends, make sure they are tall enough that your books don't lean over the top of the bookends. The weight of the book against the bookend can cause damage to the cover.
Tall books that are shelved next to short books tend to get warped and deformed over time. Shelve books by size whenever possible.
Using the right materials and shelving techniques can make all the difference in maintaining the value of your rare book collection.