Last week Frida Kahlo's copy of Edgar Allan Poe sold at auction for $24,000. Why was the rather tattered copy so valuable? Kahlo filled the book with artistic marginalia. The price of this book reflects the value of association copies, that is, books that are affiliated with a famous person or someone close to the author.

"Frida Kahlo's doodles vastly increased the value of her copy of The Complete Works of Edgar Allan Poe."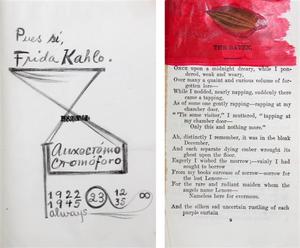 Meanwhile Other People's Books: Association Copies and the Stories They Tell details 52 presentation copies from 1470 to 1986. Published by the Claxton Club, the book includes beautifully written vignettes such as an essay recounting a book exchange between Henry David Thoreau and Walt Whitman.
So why all this fuss over association copies? Collectors value association copies for a variety of reasons. Association copies are more personal than signed or anonymously inscribed copies, providing a glimpse into the author or owner's life and environment. They can also illustrate relationships between the author and the author's family, friends, and colleagues. Here's a look at some of the notable association copies from our collection:

From a lovely association copy of What Makes Sammy Run? by Budd Schulberg