By Bruce Levy
During my tenure at the Harry Ransom Humanities Center (HRHC), I encountered countless texts from all over the world. Despite the variety of printed texts, most books are built with relatively standard techniques. That's why I was surprised to uncover an unusual technique when I restored a two-volume set of Speculum Naturale, by Vincent de Beauvaise. Printed around 1481 and bound in approximately 1493, these two volumes came from an anonymous bindery, which has been designated K-118. Books are matched to the bindery based on the particular tools used. In this case, the structure of the books was just as unique as the tools used to make them.
A cutaway model illustrates the structure of a book with a K-118 binding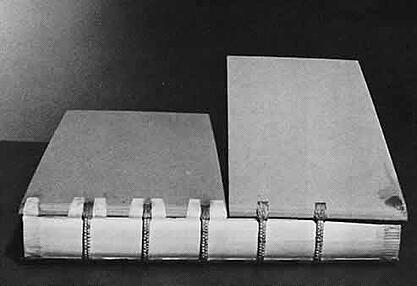 Even though the covers of the books were very deteriorated, the book's binding remained relatively sound. The books opened all the way to the spine, from the first to the last pages. They were rounded, unbacked, and swell-less. The binding style struck me as an excellent choice for both conservation rebinding and restoration of original bindings.

In these books, the vellum spine lining was extended and flaps attached to the board to strengthen the board-to-text attachment. The flaps were cut into three tabs. The outer two attached to the outside of the board, but the middle one passed inside and attached to the inner board surface.

Meanwhile, the books had no shoulder or any of the usual page flexion you'd find with a traditional rounded and backed structure, or even with the minimally shouldered hard board structure.

So what does all this mean for a collector of rare books? You may want to consider a K-118 style binding, rather than a traditional binding structure under certain cicumstances. I built a few book models with K-118 bindings, and found them particularly advantageous for a few different kinds of books:
A volume, that due to large size and weight, puts undue stress on the text block and binding upon opening
Illuminated and decorated manuscripts (particularly on vellum/parchment)
Modern fine press books that require visualization of the entire spread of pages, down to the gutter edges.
Volumes with stiff or brittle pages, like those made of card stock
Older books that are frequently used, such as reference books
Books of photographs that, due to original intent, should remain in bound format
Even modern fine bindings can be done using the K-118 technique. To learn more about the structure, read the entire article from the HRHC or contact me at
levybooks@gmail.com
Bruce Levy, owner of Levy Books, has been a book conservator since 1980.