Today is the birthday of both John Irving and Tom Wolfe. These two legendary authors have made incredible contributions to American literature. They also launched one of the best known feuds of modern times.
Their vendetta actually began when Wolfe published A Man in Full--thanks to Norman Mailer and John Updike. Both Mailer and Updike panned the novel. In his November 1998 review for The New Yorker, Updike called it "entertainment, not literature, even literature in a modest, aspirant form." A month later, in the New York Review of Books, Mailer chimed in: "At certain points, reading the work can even be said to resemble making love to a three-hundred-pound woman. Once she gets on top, it's over. Fall in love, or be asphyxiated." The words certainly stung Wolfe, who retaliated via Charleston's Sunday Gazette by calling Updike and Mailer "two old piles of bones."
Enter John Irving. Irving appeared on Canadian book progam "Hot Type," and host Evan Solomon asked Irving his opinion of the rift among Wolfe, Updike, and Mailer. Irving responded unequivocally, "I can't read [Wolfe] because he's such a bad writer." Further, he critiqued Solomon for calling it a "war" among the other authors; "I don' think it's a war because you can't have a war between a pawn and a king, can you?"
Irving went on to offer a scathing commentary on Wolfe as writer. He excoriated Wolfe's writing style and said that he could open up a Wolfe novel to any page and "read a sentence that could make me gag....If I were teaching f*&king freshman English, I couldn't read that sentence and not just carve it up."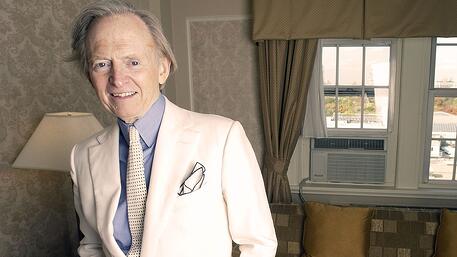 Wolfe responded almost immediately through his publisher. He asked, "Why does [Irving] sputter and foam so? Because he, like Updike and Mailer, has panicked. All three have seen the writing on the wall, and it reads: A Man in Full." He then noted that "Irving needs to get up off his bottom and leave that farm in Vermont or wherever it is he stays and start living again. It wouldn't be that hard. All he'd have to do is get out and take a deep breath and talk to people and see things and rediscover the fabulous and wonderfully bizarre country around him: America."
Soon after, Wolfe appeared on "Hot Type" himself. He jumped right into the feud with Irving and said, "Irving is a great admirer of Dickens. But what writer does he see now the last year constantly compared to dickens. Not John Irving, but Tom Wolfe....It must gnaw at him terribly." He later referred to Irving, Mailer, and Updike as the Three Stooges and pointed out that it must irritate them that everyone was talking about Wolfe.
Authors routinely criticize one another's work, and often quite scathingly. So why did Wolfe respond so aggressively to the criticism of Mailer and Updike? Jim Windolf argued in the New York Observer that "Updike and Mailer wounded him so because neither of them can be called fabulists...They are realists." He pointed to Wolfe's continued preoccupation with posterity: "Mr. Wolfe, a late bloomer in fiction, is still trying to sweat out his prime, and he's already had a heart attack, he's nearing 70, he knows he's running out of time, and he's just not sure if he's going to make posterity's cut."
The argument does remind us of Tom Wolfe's constant efforts to teach people how to see his writing as art. Ever since his essay "The New Journalism," Wolfe has been leveling criticism against other modern authors and striving to establish himself as the king of a new school of the modern novel. He compares his beloved New Journalism with the realistic novel style that emerged in the eighteenth and nineteenth centuries and says that modern novelists have left "for our boys quite a nice little body of material: the whole of American society, in effect."
Irving has since tempered his evaluation of Wolfe, but he also says that Wolfe brought much of the controversy upon himself.
What do you think? Do these authors have legitimate reason to castigate one another?