The rare book community is gearing up for the 53rd annual New York Antiquarian Book Fair, the biggest book fair in the world. The fair is one of the many reasons that New York has become an epicenter of literary culture. Here's a look at what famous authors have thought of New York City.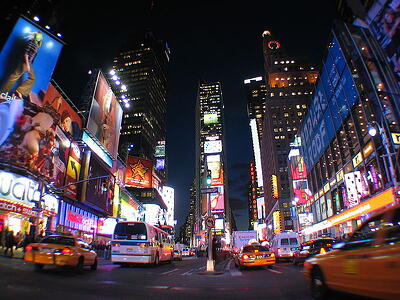 "First New York was a sort of provincial capital, bigger and richer than Manchester or Marseilles, but not much different in its essential spirit. Then, after the war, it became one among a half a dozen world cities. Today it has the appearance of standing alone, as the center of culture in the part of the world that still tries to be civilized." (Malcolm Cowley)
"Each man reads his own meaning into New York." (Meyer Berger)
"I think you know that when an American stays away from New York too long something happens to him. Perhaps he becomes a little provincial, a little dead and afraid." (Sherwood Anderson)
"There is something in the New York air that makes sleep useless" (Simone de Beauvoir)
"The lusts of the flesh can be gratified anywhere; it is not this sort of license that distinguishes New York. It is rather, a lust of the total ego for recognition, even for eminence. More than elsewhere, everybody here wants to be somebody." (Sydney J Harris)
"It's a town you come to for a short time." (Ernest Hemingway)
"It is altogether an extraordinary growing, swarming, glittering, pushing, chattering, good natured, cosmopolitan place, and perhans in some ways the best imitation of Paris that can be found (with a great originality of its own)." (Henry James)
"Everybody ought to have a lower East Side in their life" (Irving Berlin)
"New York City, the incomparable, the brilliant star city of cities, the forty-ninth state, a law unto itself, the Cyclopean Paradox, the inferno with no-out-of-bounds, the supreme expression of both the miseries and the splendors of contemporary civilization, the Macedonia of the United States. It meets the most severe test that may be applied to definition of a metropolis--it stays up all night. Bu t also it becomes a small town when it rains." (John Gunther)
"She has become a wicked and wild bitch in her old age has Manhattan, bu tthere is still no sensation in the world quite like walking her sidewalks. Great surges of energy sweep all around you; the air fizzes like champagne, while always there is a nervous edge of fear and whispered distant promises of sudden violence." (Tom Davies)
"As for New York City, it is a place apart. There is not its match in any other country in the world." (Pearl S Buck)
"New York is at once cosmopolitan and parochial, a compendium of sentimental certainties. It is in fact the most sentimental of the world's great cities--in its self-congratulation a kind of San Francisco of the East." (John Gregory Dunne)
"Sometimes, from beyond the skyscrapers, the cry of a tugboat finds you in your insomnia, and you remember that this desert of iron and cement is an island." (Albert Camus)
"It isn't like the rest of the country--it is like a nation itself--more tolerant than the rest in a curious way. Littleness gets swallowed up here. All the viciousness that makes other cities vicious is sucked up and absorbed in New York." (John Steinbeck)
"New York remains what it has always been: a city of ebb and flow, a city of constant shifts of population and economics, a city of virtually no rest. It is harsh, dirty, and dangerous, it is whimsical and fanciful, it is beautiful and soaring--it is not one or another of these things but all of them, all at once, and to fail to accept this paradox is to deny the reality of city existence." (Paul Goldberger)
"Over the great bridge, with sunlight through the girders making a constant flicker upon the moving cars, with the city rising up across the river in white heaps and sugar lumps all built with a wish out of non-olfactory money. The city seen for the first time, in its first wild promise of all the mystery and the beauty in the world." (F Scott Fitzgerald)
"New York is large, glamorous, easy-going, kindly, and incurious, but above all it is a crucible--because it is large enough to be incurious." (Ford Madox Ford)
"New York is the only real city-city" (Truman Capote)
"When I had a look at the lights of Broadway by night, I said to my American friends: 'What a glorious garden of wonders this would be, to any who was lucky enough to be unable to read." (GK Chesterton)
"A great many people go after success simply for the shiny prizes it brings…And nowhere is it pursued more ardently than in the city of New York." (Stephen Birmingham)
What's your take on the city that never sleeps? Which author's opinion of New York is closest to your own?