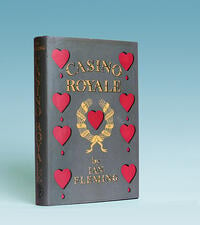 Today marks the 60th anniversary of the publication of Ian Fleming's first James Bond novel, Casino Royale. The book would be the first of twelve Bond novels and two short-story collections that Fleming wrote himself, and the first in a long line of Bond novels by multiple other authors like John Gardner and Raymond Benson.
Inspiration for Casino Royale
Ian Fleming served as an officer in the British Navy, and he drew upon these experiences for his debut novel. On a wartime trip to Portugal with Admiral Godfrey, the director of British Intelligence, Fleming went to Estoril Casino. Because Portugal was neutral, many spies from warring countries were present. Fleming says that he was "cleaned out" by a chief German agent at his table; Godfrey offers a different account, saying that Fleming played only with German businessmen and imagined the German agent later. Either way, the seeds of James Bond were planted in a Portugal casino.
As for James Bond himself, Fleming said that his invented secret agent was a "compound of all the secret agent types I met during the war." The casino seemed a logical place to introduce Bond because "skill at gambling and knowledge of how to behave in a casino were seen...as attributes of a gentleman."
Creating James Bond
Though the name "James Bond" has become synonymous with adventure and intrigue, Fleming originally intended him to be a rather boring chap. He borrowed the name from another James Bond, an ornithologist who wrote Birds of the West Indies. Fleming had that volume on his shelf at his Jamaica home. He said, "It struck me that this brief, unromantic, Anglo-Saxon and yet very masculine name was just what I needed."
As for the 007 designation, Fleming drew from two places. The first was a reference to British naval intelligence achievement of breaking the German diplomatic code. Most important, perhaps, was decoding the Zimmerman telegram (document 0075), which led to the United States' entering the war. Meanwhile, Elizabethan polymath and spy John Dee would sign his letters to Elizabeth I with "00" and an elongated "7" to indicate that the letters were for the queen's eyes only.
Fleming introduces most of Bond's character traits and idiosyncracies within the first few pages of the book, though he reserves the details of Bond's signature martini for chapter 7. The drink would eventually be nicknamed "the Vesper" after Vesper Lynd.
Writing Casino Royale
Fleming began writing Casino Royale on February 17, 1952. He set out to write to distract himself from his upcoming wedding to pregnant girlfriend Ann Charteris. When Fleming finished the novel on March 18, 1952, he called it a "dreadful oafish opus." He showed it to ex-girlfriend Clare Blanchard, who advised him not to publish it at all--or to at least publish under a different title.
But Fleming moved forward with publication, and the first edition was released on April 13, 1953. Fewer than 4,300 copies were printed. The book received positive reviews from the critics and quickly sold out in the UK. Sales in the US were slower, though subsequent James Bond novels were successful on both fronts.
Casino Royale has been adapted for the screen three times since its publication. In 1954, it was the basis for an episode of the CBS television series Climax!, with Barry Nelson as CIA agent "Jimmy Bond." A 1967 spoof of the novels starred David Niven as "Sir James Bond." And in 2006, Casino Royale became the 21st official film in the Eon Productions series, starring Daniel Craig as James Bond. This last adaptation further spurred interest in James Bond and Ian Fleming, introducing a new audience to 007.