Today we celebrate Preservation Week! Organized by the American Library Association (ALA), the event reminds us of the importance of preserving not only our personal past, but also the vast resources of our libraries. In 2005, a comprehensive national survey showed that US institutions hold over 4.8 billion items, 63% of which are in libraries. Uncounted items held by individuals also include books, manuscripts, maps, photographs, ephemera, audio recordings, and objects.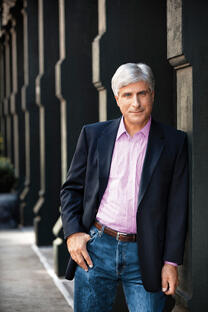 Internationally bestselling author Steve Berry is this year's national spokesperson for Preservation Week. History is at the heart of all Berry's novels, and he and his wife, Elizabeth founded History Matters in 2009. The foundation is dedicated to historic preservation, and the couple travels the world raising money to save historical treasures through galas, lectures, workshops, and other events. Berry was kind enough to talk with us about his role as spokesperson, the importance of preserving history, and his writing process.
Books Tell You Why: When did you first discover your interest in history?
Berry: It goes all the way back to my teenage years. History was always something that fascinated me. Then the first adult fiction book I read was Hawaii by James Michener, this sweeping saga that traces the islands' history. When I started to write, I naturally gravitated toward historical subjects. When I teach writing, I don't teach the adage "write what you know." I tell my students, "write what you love." And I'm fortunate to incorporate unique history into my work.
Books Tell You Why: What's your favorite period in history?
Berry: I used to think it was the Middle Ages, but now I've learned so much about different periods, from the rule of Alexander the Great, to the history of Crimea, Asia, and America. So I don't really have a preference.
Books Tell You Why: What led you to participate in Preservation Week?
Berry: The ALA just called up and asked, which I'm sure had a lot to do with my books and with History Matters. I've always been fascinated with trying to recapture history that's been lost, to rediscover the past. I'm certainly honored that they invited me, and we're trying to grow the event. It's a rather new concept, so it's a work in progress.
This year the theme of Preservation Week is "Pass It On." Our goal is to help individuals recognize the momentous historic value in the pieces of history they own, from family photos to old books and other items, and to teach them how to preserve these personal treasures. We'll have a big event with ALA at the Smithsonian, with a team of curators in attendance. But there are also Preservation Week events all around the country, so you don't have to be in Washington, DC to participate.
Books Tell You Why: Tell us a little about your work with History Matters.
I've always taken an active interest in history, and I am lucky enough to travel all over the world to research my books. My wife and I consistently saw that the money for historic preservation has pretty much dried up and decided to step in. Essentially we travel to different communities to help them raise money for that preservation. For instance, in Raleigh, North Carolina a historic cemetery had been destroyed by a storm; it looked like a war zone. I went there to teach a writer's workshop and raise money to clean up the cemetery.
Books Tell You Why: Why is this mission so important to you? Why is history so important?
Berry: How would we possibly understand ourselves, who we are, and what we are, without history? When a new emperor of China took power, he would eliminate all traces of the previous dynasty, wipe it from the face of the earth. Over the centuries, they forgot who they were--and what they'd accomplished. Jesuits in the sixteenth century showed a water clock to a group of Chinese, and the Chinese were amazed. So were the Jesuits...because the water clock was invented in China! When you lose your sense of history, you lose your sense of identity. It's absolutely vital to know where we come from, to understand the past.
Books Tell You Why: Your novels weave a rich tapestry of history, which must require substantial research. What is your writing process?
Berry: The process usually begins with an inspiring bit of history. For instance, my upcoming book,The King's Deception, began when I learned about a little village outside of London called Bisley. The town has an odd tradition where they dress up a young boy in Elizabethan costume and parade him through the town. It's been done for the past 300 to 400 years. But why? So I sought to find the reason behind this ritual and found a legend. At the center of that legend is a truth that still has great relevance today.
So I start with that kernel of history and move forward with research. Generally I consult at least 300 sources for each novel and make at least one trip per novel. The entire research process takes about eighteen months for each book. There's a great used book shop near my home here in St. Augustine with an extensive history section, so I'll go there and buy as many books as I can find. That part usually takes about six months, and it's being done while I write the novel before it; as soon as I'm done writing a novel, I already have the research done to start writing the next one.
Books Tell You Why: Which authors are your favorites or have impacted you the most as an author?
Berry: I own a complete collection of Michener's works, and he's certainly one of my favorites. But I'm also indebted to a number of other writers. David Morrell is an outstanding thriller writer, as are Clive Cussler, Robert Ludlum, and Dan Brown. I learn different things from different books, and when I read it's like I'm reading a textbook. I like to learn from other writers, to read in the genre and study what other people are doing. I liked DaVinci Code, for the way Brown paced the novel. I've taken a lesson from that and revisited the way I pace my own novels. When I teach writing, I really emphasize the importance of that kind of reading, which is really studying your craft.
Books Tell You Why: What do you love about teaching writing?
Berry: I like that moment when I see the light bulb go off. I remember that moment when the light went off for me and I realized I was a writer. When people are struggling and I can explain something in a new way, that's rewarding. I owe that to writers because other writers did that for me. I think it's incumbent for professional writers to assume that role. At the same time, I don't believe that there's such a thing as a "writing teacher." But there are people who can teach individuals to teach themselves to write.
Books Tell You Why: At what point did you decide you wanted to publish your work, to become a professional writer?
Berry: I was in a different situation than many writers. I never had to make that transition from unpublished to published because I set out to be published from the beginning. In 1990, I finished my first book, and it was terrible. But I kept writing. I wrote eight novels, and five of them made it. But I was rejected 86 times, and it took 12 years. I didn't actually think I'd make a living as a writer, though, and was quite surprised when I was able to do that.
Steve Berry is an internationally acclaimed author whose books consistently grace The New York Times, USA Today, and Indie bestseller lists. His forthcoming book, The King's Deception, will be released on June 11, 2013. Raised in Georgia, Berry earned a law degree from Mercer University and practiced law for 30 years. Since he began his career as an author, Berry has penned multiple novel series, stand-alone novels, and ebooks. Through his History Matters foundation, Berry has empowered local communities to preserve their past--and reached over 2,000 students in writing workshops. To learn more about Berry, please visit his official website.