This week we celebrate the life-changing power of books and literacy with Children's Book Week. Since 1916, Children's Book Week has taken various forms, but its mission has stayed the same: to promote excellence in children's books.
A Quick History of Children's Book Week
Children's Book Week arose from a perhaps unlikely organization: the Boy Scouts of America. In 1913, the organization's librarian, Franklin K Matthiews, began touring the country to promote high expectations and standards in children's literature. He suggested a week-long event that would bring together not only librarians, but also booksellers and publishers. Matthiews envisioned a celebration of children's books supported by all the people and entities with a stake in children's reading and literacy.
Matthiews found two important allies in his effort. The first was Frederic G Melcher, the editor of Publishers Weekly. Melcher famously said that "A great nation is a reading nation"; he believed that reading and literacy were the keys to a successful democracy. The second was Anne Carroll Moore. The Superintendent of Children's Works at the New York Public Library, Moore was an incredibly influential figure in the library world.
Thanks to the efforts of Matthiews, Melcher, and Moore, Good Book Week was celebrated in November 1916. It was co-sponsored by the American Booksellers Association, the American Library Association, and the Boy Scouts of America. The event took hold and exists to this day in a very similar form.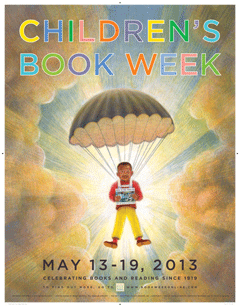 In 1944, the recently launched Children's Book Council began administering the event and renamed it "Children's Book Week." In 2008, Children's Book Week was moved from November to May. That same year, Every Child a Reader took responsibility for the event. Every Child a Reader is the philanthropic arm of the children's publishing industry.
Every year, Children's Book Week offers promotional materials to use in schools, libraries, and other venues. Their celebrated posters and bookmarks are designed by leading children's book illustrators. This year is no exception: Brian Selznick illustrated the poster, while Grace Lin was responsible the bookmark.
Brian Selznick
Brian Selznick won the Caldecott Medal in 2008 for The Invention of Hugo Cabret. It was Selznick's first Caldecott, though he'd been a runner-up for The Dinosaurs of Waterhouse Hawkins in 2002. It was also the first time that a Caldecott was awarded to a long book. Hugo Cabret is 533 pages and includes 284 illustrations. Selznick said it's "not exactly a novel, not quite a picture book, not really a graphic novel, or a flip book or a movie, but a combination of all these things." Selznick cites Maurice Sendak and Remy Chalip as inspirations.
Grace Lin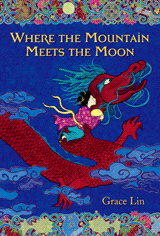 The daughter of Taiwanese immigrants, Grace Lin was raised in New York City. She often incorporates her heritage into the style and content of her books. Her Where the Mountain Meets the Moon was a 2010 Newbery Honor book. Year of the Dog was nominated for the 2007-2008 Texas Bluebonnet Award and an honorable mention for the Asian/Pacific American Awards for Literature in 2007.