Today marks the 60th anniversary of Sir Edmund Hillary and Tenzing Norgay's arrival at the summit of Mount Everest. Both Hillary and Norgay were true adventurers, and their accomplishments have inspired generations.
The expedition marked Britain's ninth to Mount Everest. The team, which was led by John Hunt, included over 400 people; there were 362 porters and 20 Sherpa guides. Luggage for the trip weighed over 10,000 lbs. When Hillary and Norgay reached the summit, Hillary took the now-iconic photograph of Norgay with his ice axe. There's no photograph of Hillary because, Norgay says, he declined Norgay's offer of a photograph. Hillary also took several photographs looking back down the mountain as evidence that the pair had actually reached the summit. The pair were often pushed to admit which man first set foot on the summit, but they always asserted that they'd reached it together, at the same time, as a team.
Sir Edmund Hillary
Hillary discovered his interest in adventure and climbing while he was still in secondary school. By the age of 20 he'd completed his first climb, of Mt. Ollivier. During World War II, Hillary served the Royal New Zealand Air Force as a navigator. In 1951 he was part of the British reconnaissance mission to Mt. Everest, and the following year he participated in an unsuccessful attempt to summit Cho Oyu.
Hillary didn't restrict his adventures to the mountains; he also reached the South Pole overland in 1958 as part of the Commonwealth Trans-Atlantic Expedition. Hillary later successfully reached the North Pole, making him the only person to reach both poles and the summit of Mt. Everest.
Following Hillary's summit of Everest, he devoted much time to philanthropy. He established the Himalayan Trust, which funded the construction of schools and hospitals in Nepal. Along with Hunt, Hillary was knighted by Queen Elizabeth.
Tenzing Norgay
Born Namgyal Wangdi, Tenzing later changed his name at the advice of a respected monk. he was born in late May, though the exact date is unknown. After summitting Mt. Everest on May 29, Tenzing celebrated his birthday on that day. Tenzing joined his first Everest expedition in 1935, when he was 20 years old. Two other team members failed their medical test, and Tenzing was selected as a replacement. He did three Everest expeditions in the 1930's as a porter.
Tenzing then took a position as the batman to a Major Chapman in the Princely State of Chitral. During the Indian partition in 1947, Tenzing returned to Darjeeling with his two daughters. He donned one of the major's old uniforms and rode all the way home without a train ticket. Later that year, Tenzing was made a sirdar (guide) after performing a miraculous rescue of Sirdar Wangdi Norbu.
During the 1953 Everest expedition, Tenzing's fast actions saved Hillary from plummeting into a crevasse. He secured Hillary's rope with his ice axe. From then on, Tenzing was Hillary's preferred climbing partner. The following year, Tenzing was named the first Director of Field Training at the Himalayan Mountaineering Institute. He served as sirdar for the first American tourist group admitted into the country in 1975. In 1978, Tenzing founded Tenzing Nordar Adventures, leading trekking adventures into the Himalayas. His son now runs the company.
Tenzing was not knighted along with Hillary and Hunt, and there's been speculation that Indian Prime Minister Jawaharlal Nehru would not grant permission for him to be knighted. But he did receive the George Medal from Queen Elizabeth II.
Rare Books about Everest Adventure
For collectors of rare books, Hillary and Tenzing's adventures on Everest and beyond have offered limitless fascination and possibility.
High Adventure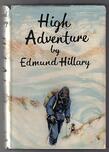 High Adventure is Hillary's definitive and entertaining memoir of his Himalayan quest. It takes us step-by-step up the slopes of Everest, describing vividly and in great detail the agonizing climb that he and Tenzing embarked upon, the perils they faced, and the dramatic final ascent that forever secured them a place of honor in the annals of human exploration.
Collectors look for the first edition, the first US edition, and the Franklin Press edition of this classic in adventure literature.
Sir Edmund Hillary & the People of Everest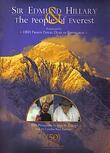 When Hillary and Tenzing reached the summit of Mt. Everest on May 29, 1953, they congratulated each other with a handshake and a hearty embrace. It was the beginning of a lifelong relationship between Hillary and the Sherpa people. Sir Edmund Hillary and the People of Everest is a story of giving back.
A beautiful edition, signed by Edmund Hillary "E. P Hillary". Book and dust jacket are in As New condition.

Touching My Father's Soul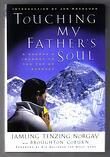 As Climbing Leader of the famed 1996 Everest IMAX expedition led by David Breashears, Jamling Norgay followed the footsteps of his legenday father, Tenzing. He reflects on the experience in Touching My Father's Soul. Introduction by Jon Krakauer and foreword by his holiness The Dalai Lama.
This copy is a most attractive First Edition/First Printing in unread Fine condition in alike dust-jacket, signed by author Jamling Norgay Tenzing and co-author Broughton Coburn directly on the title page.
No Latitude for Error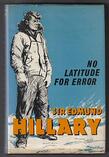 No Latitude for ErrorNo Latitude for Error is Sir Edmund Hillary's personal story of his part in the great Transarctic Expedition. It was his enthusiasm for polar exploration that made him plan and train the New Zealand expedition with the greatest efficiency, so that all his vital tasks were completed ahead of schedule. An exciting adventure, told in Hillary's plain, natural style.
A most attractive First Edition/First Printing in Fine condition in alike dust-jacket with minor rubbing and small closed tear in back. This copy signed by author Edmund Hillary directly onto the title page.

After Everest: An Autobiography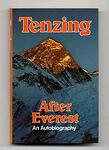 Tenzing, the uneducated Sherpa who had a lifelong ambition to conquer Mount Everest, eventually returned from the summit with Edmund Hillary as a hero. In this continuation of his autobiography Tiger of the Snows, he tells his story of traveling, climbing and teaching.
A beautiful First Edition/First Printing in Near Fine condition in flawless dustjacket, this copy of After Everest is signed by Edmund Hillary directly on the title page. Limited foxing to page edges, otherwise in Fine condition.