With the London International Antiquarian Book Fair this weekend, book lovers will descend on the illustrious city in record numbers! If you'll be among the visitors, you'll want to check out these literary hotspots!
The British Library
Containing over 150 million items from around the world, the British Library is one of the world's great repositories of knowledge.Currently on exhibition is "Propaganda: Power and Persuasion," "the first exhibition to explore international state propaganda from the 20th and 21st centuries." The exhibition has earned rave reviews. Friday's screening of Eisenstein's Strike (USSR, 1925) is the perfect complement to the exhibit.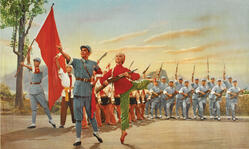 The Globe Theatre
Today the Globe Theatre stands a few hundred yards from its original site. American actor Sam Wanamaker championed the rebuilding of the legendary theatre, and now the site is dedicated to furthering international understanding of Shakespeare's works. You won't want to miss Gavin Rookledge's special presentation volume of The Tempest, a rebinding of the 1926 edition by Arthur Rackley. The volume is made entirely of materials that come from the sea!
Charles Dickens Museum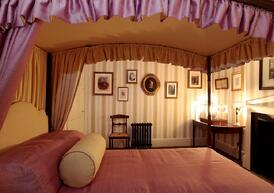 Since 1925, the Charles Dickens Museum has been home to the world's finest Dickens-related collection. Dickens' former home (1837-1839) now contains over 100,000 personal items, including manuscripts and first editions. Through June 23, visitors can enjoy "The Dickens News: The Underground Edition." The exhibit gives a voice to the diverse cultures of London and explores Dickens' keen interest in social reform.
Fitzroy House
Fitzrovia has long been the home of bohemian writers and literary figures, including George Orwell, Arthur Rimbaud, George Bernard Shaw, and Virginia Woolf. Chartist meetings, including some attended by none other than Karl Marx, were also held in the area. Now the Fitzroy House is home to the museum of an unlikely literary figure: L Ron Hubbard. The museum features communications equipment from bygone days.
Dr. Johnson's House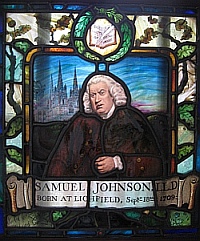 When Cecil Harmsworth opened up Dr. Johnson's House in the early 20th century, he was determined that the home would not be filled with "irrelevant 18th-century bric-a-brac." Every item in the collection is connected with Johnson or contributes to the ambience of the impoverished writer's cheerful home. He declined to include Johnson's death mask, for instance, because it was too gloomy, and Chippendale furniture because it was too fine.
Booth #208
If you're looking for a little bit of Dickens, a dash of Shakespeare, and plenty of other literary treasures, come and visit us at Booth #208 at the book fair this weekend. We even have a few complimentary tickets left for you and a guest.