Today, June 22nd, is renowned author Dan Brown's birthday. He has much to celebrate considering Inferno, his latest book released last month, is the number-one hardcover novel on The New York Times Bestseller List. Since publishing The Da Vinci Code in 2003, he has been one of the world's most popular (and controversial) authors, forever ingrained into the landscape of contemporary fiction. While it seems every book he releases becomes an overnight blockbuster, it may surprise you that Dan Brown wasn't always the King Midas of the modern thriller novel.
Brown wrote his first novel, Digital Fortress, in 1998. It was a techno-thriller about a mysterious attack on the NSA's computer system, perpetrated by a person displeased with the US government's surveillance of its own citizens. Brown would go on to write another two novels, one of them being Angels & Demons, but none of his first three received much success. Each had only 10,000 first edition copies printed.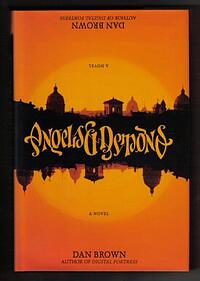 Still, Angels & Demons provided one of the crucial ingredients to Brown's success. It was the first of his novels to feature Harvard professor of symbology, Robert Langdon. This character is considered by Brown to be his alter ego, sharing his June 22nd birthday, and would go on to populate his subsequent novels, including The Lost Symbol and Inferno. Langdon would also receive cinematic life in the actor Tom Hanks in the films Angels & Demons and The Da Vinci Code.
The Da Vinci Code is considered one of the most popular books of all time and propelled Dan Brown to the bestseller list in its first week of release. Readers were captivated as characters Robert Langdon and Sophie Neveu followed the reasons for a mysterious murder in Paris' Louvre museum. Soon, they unearth an ancient feud between the Priory of San and Opus Dei over a possible lineage of Jesus Christ. Because of its controversial religious implications, The Da Vinci Code has a history of bans and criticism, but it has nonetheless become immensely popular, with tens of millions of copies sold.
With all of the captivated readers (and some irritated bystanders) Dan Brown's writing could never escape public attention. His next book, The Lost Symbol, released in 2009, was another smash hit. It again followed Robert Langdon, but this time it was through the labyrinthine history and mystery of freemasonry and Washington DC.
Inferno, his most recent novel, takes place in Italy as Langdon evades government assassination and decrypts symbols of medieval Italy. It appears to be another plot-filled, gripping read that are best enjoyed over in the summer. It is merely another successful effort from one of the most popular mystery and detective writers of this generation.