Tomorrow we celebrate Independence Day in the United States. We usually associate the holiday with the Founding Fathers: George Washington, Aaron Burr, John Adams, Thomas Jefferson, and Benjamin Franklin. And while these great men certainly played pivotal roles in the birth of a new nation, they were supported by strong leaders whose contributions often go uncelebrated. One such man was John Rutledge, who hailed from none other than Charleston, South Carolina. Richard Barry recounts Rutledge's life in Mr. Rutledge of South Carolina.
A Marriage of Wealth and Politics
The son of an Irish immigrant physician, Rutledge received his education from his father and private tutors. He went to London to study law at the Middle Temple and was admitted to the English Bar in 1760. Soon after, Rutledge returned to Charleston, where he soon made a fortune as a plantation and slave owner. He believed that men with wealth had the greatest stake in society, and therefore had a duty to serve in government. Meanwhile, Rutledge had also studied Enlightenment philosophers during his time in London and also believed that government was a contract, and that people had certain inalienable rights that should not be compromised by any governing body.
Rutledge resolved to enter government, and in 1761 he was elected to the provincial assembly as representative of Christ Church Parish. He served in this capacity until the Revolution began to take shape. In 1765, Rutledge represented South Carolina in the Stamp Act Congress, which was called to determine the colonies' response to Britain's new internal taxes on the colonies and infringement on the colonies' self-government. Rutledge advocated moderation, suggesting that the colonies avoid completely severing ties with Britain, while still insisting on some sovereignty. Rutledge also chaired the committee that drafted the colonies' request to repeal the tax altogether.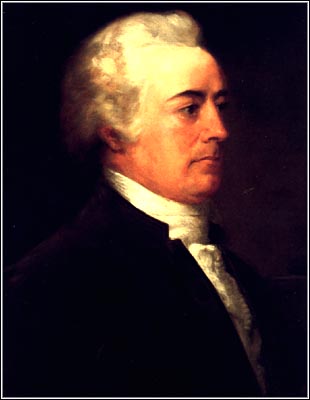 Continental Congress and State Government
Rutledge was elected to the first Continental Congress in 1774 based on his moderate views and commitment to non-violent action. He supported an embargo on English goods and a boycott of English markets--though he worked hard to keep a South Carolina staple, rice, off the embargo list. Rutledge attended the second Continental Congress in 1775, but was replaced the following year by his younger brother Edward--would be the Rutledge to sign his name to the Declaration of Independence.
Rutledge returned to South Carolina and was increasingly convinced of the need for independence. He joined the local Committee for Safety, which was actually the political arm of the Revolutionary cause. It was in this capacity that he helped to draft South Carolina's first constitution. From 1776 to 1778, Rutledge served on the state legislature as president of the lower house. He resigned from the post, however, when the legislature insisted on amendments to the new constitution, notably the disestablishment of the Anglican Church.
The following year Rutledge was elected governor of South Carolina. He led the state during its time fo greatest danger, from 1779 to 1782. In 1780, as Britain besieged Charleston, the state legislature granted Rutledge war powers, which gave him the sovereignty to do anything for the good of the people, with the exception of ignoring due process for arrested citizens. The city fell in May 1780, and Rutledge's property was seized. He would never recover from that personal financial loss.
Rallying for Independence
Rutledge managed to escape to North Carolina, and he immediately turned his attention to retaking Charleston. He set about rallying the local troops. But they'd recently been devastated in a battle at Camden, NC, a loss that many considered the death knell for the revolutionary effort. Rutledge managed to muster a second army, led by General Nathanael Green, and the troops regained control of most of South Carolina in 1781.
Rutledge reassumed his role as governor and sought to unify the state again. He granted pardons to Loyalists, so long as they agreed to begin six months of militia duty within 30 days. The following year, as the end of the Revolution approached, Rutledge resigned as governor and went back to the state legislature's lower house. He mostly remained there through the end of his political career.
Rutledge and the Constitutional Convention
Rutledge was lauded for his dedication to protecting the southern states' political and economic interests. He believed that the Articles of Confederation were too weak, and that the new country needed a strong central government. Rutledge proposed that the proceedings of the Continental Congress be kept confidential, and that all participants should take an oath of secrecy. Rutledge also advocated wealth as a basis for representation; an unrestricted slave trade; election of the President by Congress; and election of Congress by state legislatures.
Rutledge proved an active and influential member of the Convention; he served on five committees, even acting as chair for the Committee on Detail, which set each meeting's agenda. Rutledge also brought a spirit of compromise to the proceedings, famously asking "Is it not better that I should sacrifice one prized opinion than that all of us should sacrifice everything we might otherwise gain?"
After the Convention, Rutledge went on to play a key role in South Carolina's ramification process. He sepnt a year as presidential elector in 1789, joining the unanimous decision to elect George Washington. He acted as associate Justice of the Supreme Court for a year and from 1791 to 1795 presided as Chief Justice of the South Carolina Supreme Court. President Washington nominated Rutledge to replace Chief Justice John Jay, but Congress refused to swear him in because he'd so vociferously opposed Jay's treaty with Great Britain.
After Rutledge's wife died, he suffered a recurring illness that effectively ended his career as a public servant. He passed away on June 18, 1800. Though John Rutledge is often overlooked by the history books, his work made a profound impact on the emergence of America as a nation.