In the world of fishing literature, no figure has endured as Izaak Walton has. His masterful work, The Compleat Angler, has become a true classic in the genre. A friend of famous figures like John Donne and Charles Cotton, Walton built a name for himself not only as a fisherman, but also as a poet and biographer. He's a beloved figure to this day, and collectors strive to add his works to their personal libraries.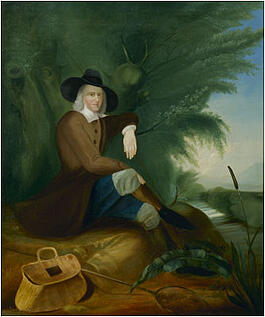 Izaak Walton was born around 1594 in Stafford. His father, an innkeeper, died before Walton was three, and his mother remarried another innkeeper with the surname Bourne. He eventually owned and ran the Swan in Stafford. When Walton came of age, he settled in London and began trading as an ironmonger. By 1614, he had a shop on Fleet Street, and in 1618 he joined the Ironmonger's Company. He also became verger and churchwarden of the local parish, befriending the vicar--none other than John Donne.
Following the English Civil War, Walton purchased Halfhead Farm. He was part of a general exodus of Royalist gentlemen who sought homes in the English countryside. Walton let the farm to tenants, but kept access to the excellent fishing along the river which bordered his property. Walton's friend Charles Cotton summarized the gentlemen's retreat to in his poem "The Retirement," which first appeared in the fifth edition of The Compleat Angler.
Walton as Biographer
Walton's writing was largely driven by what--and whom--he loved. Just as his interest in fishing drove his devotion to writing The Compleat Angler, his affinity for his comrades led him to write Lives of John Donne, Henry Wotton, Rich'd Hooker, George Herbert, &C. He'd entered into correspondence with Sir Henry Wotton, who intended to write John Donne's biography; in addition to being a friend of Donne, Walton had also contributed an elegy to the 1633 edition of Donne's poems. But Wotton left the task to Walton, who completed Donne's biography in 1640. It met with approbation from critics.
Wotton had passed away the previous year, and Walton undertook his biography as well. Though Walton finished in 1642, the biography wasn't published until 1651. Walton published his work on Hooker in 1662; Herbert, in 1670; and Bishop Robert Sanderson in 1678. All these men were dear friends of Walton, and the biographies are valuable more as pictures of their character than as sources of exact knowledge.
The Compleat Angler
Walton published the first edition of The Compleat Angler in 1653, and he spent the next 25 years adding to it. He intended the book to celebrate the spirit and art of fishing, rather than to act as a how-to guide for the sport of angling. Dedicated to Walton's dear friend John Offley, The Compleat Angler includes both prose and verse. Walton himself was not an expert in fly fishing; for that section he relied on his friend Thomas Barker, a retired cook and humorist who went on to write his own angling treatise six years later. Walton was, however, adept at fishing with live bait, particularly worms, grasshoppers, and frogs.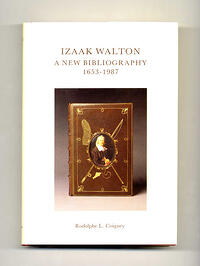 The Coigney bibliography is a vital tool for collectors of Izaak Walton.
Walton's book was almost immediately a success, and the second edition was published in 1655. The third edition was issued in both 1661 and in 1664. The fourth edition was published in 1668, and the fifth edition came out a full eight years later. By this time, the original thirteen chapters had grown into 21 and included a second part by Charles Cotton. In the second and subsequent editions, Walton also answered criticism that the roles of the two original interlocutors, Piscatore and Viator, was lopsided toward Piscatore. Walton changed Viator's name to Venator and added the falconer Auceps.
Subsequent editions have been published since Walton's fifth edition. Notable is the 1931 edition, which includes twelve illustrations by legendary illustrator Arthur Rackham. The two-volume Bell and Daldy edition from 1864, which includes both The Compleat Angler and Lives, includes several charming woodcut illustrations. The 1896 Dent edition edited by Andrew Lange contains 88 woodcuts by Edmund J Sullivan.
Walton's Legacy in Literature and Culture
Walton has become such a beloved figure because he treated both his biographical subjects and the sport of fishing with such reverence and affection. In turn. other literary figures have adopted the same tone regarding Walton. Charles Lamb, for example, wrote to Samuel Taylor Coleridge, "[The Compleat Angler] breathes the very spirit of innocence, purity, and simplicity of the heart....it would sweeten a man's temper at any time to read it; it would Christianize every discordant angry passion; pray make yourself acquainted with it."
"The Inimitable" Charles Dickens evoked Walton's name in A Tale of Two Cities, when he drew a parallel between grave robber Jerry Cruncher's nighttime "occupation" and the sport of fishing. And across the pond, Washington Irving included Walton in his humorous essay, "The Angler," illustrating Walton's incredible popularity. Meanwhile in the twentieth century, numerous authors have alluded to Walton and The Compleat Angler.
Walton and The Compleat Angler will undoubtedly remain treasures among fishing enthusiasts and rare book collectors alike. Which edition of the work is your favorite?