Naipaul has said that "half a writer's work is the discovery of his subject matter. And a problem for me was that my life had been varied, full of upheavals and moves." Yet Naipaul found his authorial voice relatively early; after two failed attempts at writing a novel, Naipaul found inspiration in his childhood neighbor from Port of Spain.
An Auspicious Debut
It was 1955, two months before his 23rd birthday. Naipaul finished this first novel, Miguel Street, in only six weeks while working on a literary program for the Caribbean Service in the BBC freelancers' room at the Langham Hotel.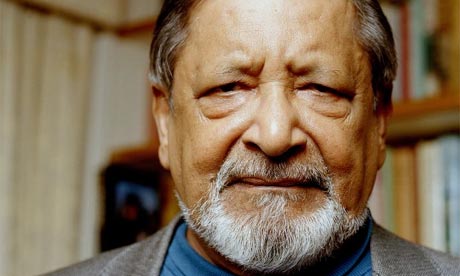 But this work wouldn't be published until after The Mystic Masseuse (1957), which won the John Llewellyn Rhys Memorial Prize, and The Suffrage of Elvira (1958), which won the Somerset Maugham Award. Naipaul would go on to earn numerous accolades, including the Hawthornden Prize (1964); the WH Smith Literary Award (1968); Man Booker Prize (1971); the Jerusalem Prize (1983); and the David Cohen Prize for lifetime achievement in British Literature (1993). In 2001, Naipaul was awarded the Nobel Prize in Literature. The Nobel committee said, "Naipaul is a modern philosophe carrying on the tradition that started originally with Lettres persanes and Candide. In a vigilant style, which has been deservedly admired, he transforms rage into precision and allows events to speak with their own inherent irony." The committee also likened Naipaul to legendary author Joseph Conrad.
Travel and Politics
Naipaul proved quite the prolific writer. In addition to novels, he's also published travel writing. These include four books about India: The Middle Passage (1962); An Area of Darkness (1964); India: A Wounded Civilization (1977); and India: A Million Mutinies Now (1990). The Return of Eva Peron and The Killings in Trinidad, both published in the same volume in 1980, explore Naipaul's journeys to Argentina, Trinidad, and the Congo. Both Among the Believers: An Islamic Journey (1981) and Beyond Belief (2012) delve into his travels through Iran, Indonesia, Pakistan, and Malaysia.
Naipaul insists that he has no political affiliation, noting that "to have a political view is to be prejudiced. I don't have a political view." Yet politics and religion have long been points of contention between Naipaul and others. He has openly called Islam a form of "imperialism," a theme he often explores in his works of both fiction and non-fiction. Many also descry Naipaul's unsympathetic view of the Third World; idealogue Edward Said observed that Naipaul "allowed himself quite consciously to be turned into a witness for Western prosecution...[promoting] colonial mythologies about wogs and darkies." Meanwhile Salman Rushdie denounced Naipaul after he voiced support for the RSS-, VHP-, and BJP-led anti-Muslim riots in Gujarat. Rushdie called Naipaul "a fellow traveller of fascism [who[ disgraces the Nobel award."
Rocking the Boat
It's not only Naipaul's take on colonialism and Islam that have raised eyebrows. He's well known for expressing unpopular opinions. He once referred to the simplicity of Ernest Hemingway as "bogus." But his take on female writers has garnered the most negative attention. Naipaul said that women writers are subject to "sentimentality, the narrow view of the world," a trait that made their writing inferior. He's been unapologetic about these comments. This hasn't stopped female writers from appreciating Naipaul's genius; Joan Didion wrote in the New York Review of Books, "The world Naipaul sees is of course no void at all; it is a world dense with physical and social phenomena, brutally allive with the complications and contradictions of actual human endeavor."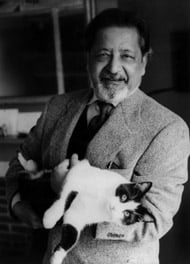 Naipaul sometimes indicates that he feels inaccurately represented. He authorized Patrick French to write his biography, The World Is What it Is. But the book paints Naipaul as a shallow and vain personage; its subject was naturally disappointed. Naipaul lamented, "One gives away so much in trust. One expects a certain discretion. It's painful. It's painful. But that's quite alright. Others will be written. The record will be corrected."
Naipaul will undoubtedly continue to contribute to global conversations about literature, politics, and religion. His place as a great thinker has earned him attention among rare book collectors, as well. Collectors of Nobel laureates' works, modern fiction, travel writing, and British literature all often seek Naipaul's works.