Today Elmore Leonard passed away at his home, surrounded by his family. The American author had recently suffered a stroke. Leonard was an incredibly prolific author who occupied the worlds of popular culture and literature.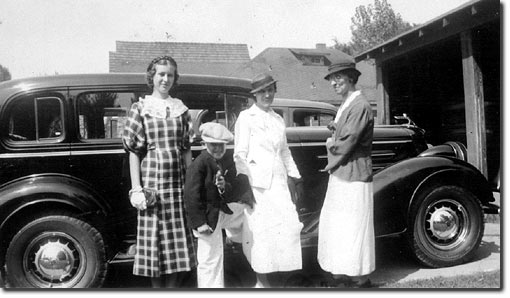 As a child, Leonard was infatuated with characters who flouted the law like Bonnie and Clyde.
Leonard was born in New Orleans, Louisiana on October 11, 1925. His father was an executive at General Motors Corporation, and for the first several years of Leonard's life, the family moved frequently. But in 1934, the family settled in Detroit, a city that would later figure prominently in Leonard's work. The following year Leonard exhibited his first interest in writing, composing a play inspired by the classic novel All Quiet on the Western Front. The novel had recently been serialized in the Detroit newspaper, but Leonard was more inspired by the 1930 film adaptation of the book. Following this brief brush with the writing life, Leonard turned his attention to athletics. Throughout school, he played baseball and football.
When Leonard graduated from high school in 1943, he tried to enlist in the Marines. He was rejected due to poor eyesight--only to be drafted shortly thereafter. Leonard served in the Seabees until June 1946. He then enrolled at the University of Detroit, majoring in English and Philosophy. The following year, Leonard's father moved to Las Cruces, New Mexico and bought a car dealership. Leonard had planned to work there after graduation, but his father died of a heart attack.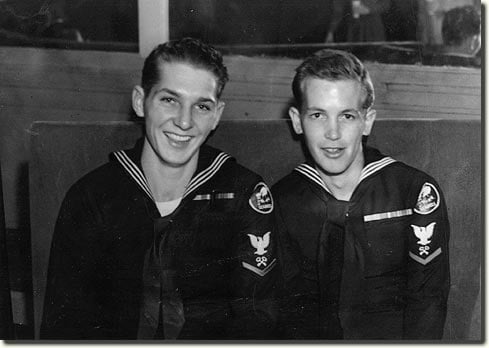 Leonard (right) during his service in the Navy
Leonard had to pursue a new career. He went to work for advertising agency Campbell Ewald and was soon writing ad copy. But Leonard had greater aspirations: he wanted to write for Hollywood. He started writing Western stories on the side, because these stories were growing quite popular. Leonard focused on the Calvary and Apaches of Southern Arizona in the 1880's, selling stories to pulp magazines, men's magazines like Argosy, and even one story to the Saturday Evening Post.
Leonard had penned five western novels and thirty short stories by the end of the 1950's. In 1961 he quit his job to write full time. The market for westerns had all but evaporated, and Leonard turned his attention to more contemporary tales. But he still had to take freelance ad writing jobs to support his growing family. It took him five more years to finish his first non-western novel. The Big Bounce was a success, and around the same time Leonard sold the film rights to his novel Hombre. Soon he was selling to Hollywood on a regular basis.
Leonard's reputation continued to ascend. In 1984, the Mystery Writers of America voted La Brava best novel. And in 1985, Glitz made the New York Times bestseller list. Leonard was called the "greatest living crime writer." Then the film adaptation of Get Shorty became a box office hit in 1995. Quentin Tarantino turned Leonard's Rum Punch into "Jackie Brown," and Steven Soderbergh adapted Out of Sight for the big screen in 1998. Leonard had cemented his reputation as a writer of compelling, dramatic stories fit for Hollywood.
Among Leonard's influences are Ernest Hemigway, whose spare style Leonard often imitated. He also noted that reading George V Higgins' Friends of Eddie Coyle showed him that he should "loosen up" and "get into scenes quicker."
Leonard wrote his 40th novel in 2005 at 80 years old. The Hot Kid features Leonard's iconic character Carl Webster, and it received the best reception of any of Leonard's works. He followed up with Comfort to the Enemy, which was first published as a 14-part serial novel in the New York Times. Leonard was awarded the Cartier's Diamond Dagger Award and the Raymond Chandler Award in 2006; the F Scott Fitzgerald Award in 2008; and the PEN USA Lifetime Achievement Award in 2009.
Photos: elmoreleonard.com