September 1 marks the birthday of Edgar Rice Burroughs, most famous for writing the Tarzan series. What began as a serialized story in a pulp magazine became a pop culture phenomenon, and Tarzan remains a powerful character in our collective memory. But Burroughs' journey to authorial stardom was studded with rejection, and he almost gave up writing entirely!
Popular in the Pulps
By the early twentieth century, pulp magazines had become incredibly popular forms of entertainment. Manufactured from cheap paper with high pulp content (hence the name), these magazines were packed with a wide variety of genre fiction, from adventure and mystery, to sci-fi and romance. The stories were told in installments, so people had to buy multiple issues to finish a story.
But in 1912, the editors of All-Story Magazine decided to depart from this model. Editor Thomas Metcalf wrote a letter to readers explaining the decision, "If you will stop and realize how many thousands and thousands of stories an editor has to read, day in, day out, you will be impressed when we tell you that we read this yarn at one sitting and had the time of your young lives....It is the most exciting story we have seen in a blue moon, and about as original as they make 'em." Tarzan of the Apes made its debut in the following issue, which was a smashing success. This adventure story was the start of a true empire that included not only pulp magazines and books, but also movies, radio programs, and comics, not to mention a host of promotional products which included not only toys and clothing, but even ice cream and gasoline!
Initial Rejection
It wasn't Burrough's first work, however; he'd published his first novel, Under the Moons of Mars in All-Story Magazine the previous year. Metcalf had jumped at the opportunity to publish it, and was so thrilled that he immediately asked Burroughs to write another story, this time an Ivanhoe-style tale set in England. Burroughs obliged, writing The Outlaw of Torn in just two weeks! But Metcalf rejected the story. He encouraged Burroughs to take up his pen again, but to write the story he wanted to tell, instead of the one that someone else suggested.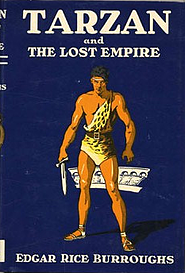 Burroughs was committed to building his writing career, so he took Metcalf's advice. He sent Metcalf an outline of the story he intended to write:
"The story I am on now is of a scion of a noble English house--of the present time--who was born in tropical Africa where his parents died when he was about a year old. The infant was found and adopted by a huge she-ape, and was brought to live among a band of fierce anthropods. The mental development of this ape-man in spite of every handicap, of how he learned to read English without knowledge of the spoken language, of the way in which his inherent reading facilities lifted him high above his savage jungle friends and enemies, of his meeting with a white girl, and how he came at last to civilization and to his own makes most fascinating writing and I think will prove an interesting read."
Set up for Sequels
Burroughs first named his protagonist Zantar, which he soon rejected. The next option, Tublat-Zan, didn't stick either. Finally, on the third try, he came up with Tarzan and decided to stick with it. Readers absolutely loved Tarzan, but they were incredibly frustrated that he didn't live happily ever after with Jane Porter. In this move Burroughs had been more savvy than he may have realized; because Tarzan didn't settle down with Jane, he was "free" for other adventures--and Burroughs capitalized on that with a series of fantastic sequels. Tarzan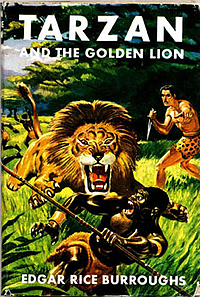 journeyed to Opar, an outpost of Atlantis that was the Romans' last forgotten stronghold; to Pal-ul-Don, where prehistoric men and dinosaurs still roamed; to the City of Gold, where the natives hunted men with lions; and to Pellicidar, the land of eternal day located at the center of the earth.
All these stories proved quite successful, and they gave Burroughs time to work on a sequel to Tarzan of the Apes. He turned in The Return of Tarzan to Metcalf in January 1913. He expected the same enthusiastic reception that his other Tarzan stories had gotten. Instead, he got a brief rejection from Metcalf, "For the love of Mike! Don't get discouraged!" This time, Burroughs grew despondent. But then he decided on another course of action. He sold The Return of Tarzan to a rival pulp magazine--and the story met with the same high sales that All-Story Magazine had enjoyed.
Expanding the Empire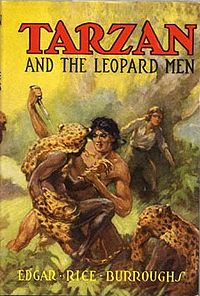 But Burroughs still wasn't being paid all that much for his work. All-Story Magazine and similar works sold for about 15 cents an issue. Authors were generally not paid based on sales, since it was impossible to determine which individual story had driven sales. Burroughs rightly decided that publishing his stories as books would be more profitable--and expand his readership. Yet he met with further rejection from just about every publisher he approached. Their responses were often along the lines of "we think it deserved all the success you say it had as a magazine story," but that it wasn't fit for publication as a book.
Only Albert Payson Terhune, editor of the New York newspaper Evening World, took much notice of Burroughs. He decided to serialize it in the newspaper, and soon periodicals across the country were contacting Burroughs about following suit. Suddenly, book publishers were knocking on Burroughs' door, instead of the other way around! Burroughs eventually published Tarzan of the Apes through Chicago-based AC McClurg and Company. When it was first published in June 1914, the book cost $2. Now a first edition in fine condition easily sells for $60,000.
Tarzan Comes to the Big Screen
The book got mostly positive reviews, and film producers began expressing interest in a movie adaptation. Burroughs sold the rights to Tarzan of the Apes almost immediately, but the studio was a bit lost about how to produce the movie: after all, the cost associated with creating a jungle complete with wild animals--not to mention the question of ensuring everyone's safety--was a considerable concern. Thus it was The Lad and the Lion, which had Tarzan-like elements but presented fewer production obstacles, was Burroughs' first story to hit the big screen. It debuted in 1917 and starred Vivian Reed, "The Girl with the Million-Dollar Smile."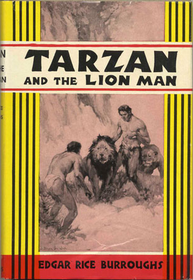 The following year
"Tarzan of the Apes" debuted at the Broadway Theater in New York City. The producer promised that viewers would see "the largest and finest specim
ens of apes to be found...not two or three lions, but a herd of twenty or thirty...hyenas, wild
boar, leopards, antelope, and al other numerous fauna of Central Africa will appear." Though the film was filmed in the (ultra exotic) Morgan City, Louisiana, the producers managed to deliver on many of these promises, and the film was one of the first to gross over $1 million.
Burroughs wasn't particularly satisfied with the casting of Elmo Lincoln as Tarzan, however. He'd imagined his protagonist as a lean,lithe figure, not a barrel chested wrestler like Lincoln. But audiences raved about Lincoln, and soon there was a whole series of spin-offs. Multiple men were cast as Tarzan, including James Pierce, a football player who would eventually marry Burroughs' daughter, Joan. All these films were silent until the 1929 "Tarzan the Tiger."
This film's rudimentary soundtrack was the first to include Tarzan's yell. Alas, it wasn't the powerful war cry that Burroughs had hoped for. But soon he'd have a unique opportunity to represent his story differently.
A Bold Rewrite
Metro Goldwyn Mayer (MGM) executive Irving Thalberg came to Burroughs in 1931 about producing a Tarzan movie with sound. Burroughs was excited about the opportunity--but he'd already sold the movie rights. The solution: rewrite Burroughs' story and make a new movie under a different title! MGM significantly simplified the story, removing most of the dialogue and all of the background on how Tarzan came to the jungle in the first place. They also changed the American Jane Porter to an English Jane Parker.
Because Tarzan didn't speak much, producers were free to cast someone who looked like Burroughs' concept of Tarzan. They settled on Olympic swimming champion Johnny Weissmuller, who was considered one of the most perfectly formed men in the world. The movie was filmed in Los Angeles and in Crystal Springs, Florida, but some authentic African scenes were also borrowed from another movie called "Trader Horn." The movie was ideal for movie-goers of the Great Depression because it offered a complete escape from daily life. And though Weissmuller didn't speak much, he did utter the classic "victory cry of the bull ape, " better known as "the Tarzan yell." That sound became legendary and catapulted Tarzan to instant recognition.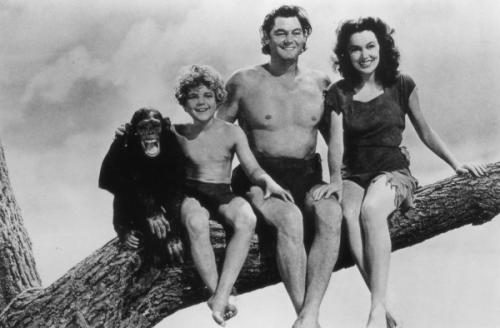 Johnny Weissmuller poses with Cheetah, Johnny Sheffield, and Maureen O'Sullivan during the filming of "Tarzan Finds a Son" (1939).
Adapted for Comics and Radio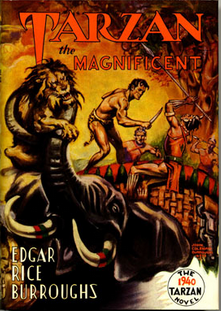 Meanwhile both comics and radio programs had become incredibly popular, and Tarzan found a place in both. Soon adaptations of Tarzan were appearing as comic strips across the country. And on September 10, 1932, Tarzan made its radio debut. Burroughs' daughter, Joan, played Jane, and her husband and former Tarzan-actor Pierce played Tarzan. The show wasn't live, however. It was recorded on phonographs and shipped to radio stations all over the nation. This way it had a wider audience and much more elaborate sound effects. The show had a "live" premiere at Fox Pantages Theater in Hollywood, sponsored by Signal Oil Company. The company had invested fully in Tarzan promotional merchandise, even offering Tarzan gasoline.
This first radio show broadcast every night for fifteen minutes and lasted two full years. When it ended, Burroughs decided to produce his own sequel program called "Tarzan and the Diamond of Asher." This program, broadcast in 1934, lasted thirteen weeks. Burroughs followed up with "Tarzan and the Fires of Tohr," which was produced but never broadcast. The radio program was revived in 1951, but by this time interest had waned significantly.
Collecting Tarzan
The Tarzan series was undoubtedly one of the most successful series of all time. He remains a fascinating character to this day, and works by Burroughs are extremely popular among collectors of first editions, pulp magazines, comic books, and ephemera. They're valued not only for their place in pop culture, but also for their brightly colored, eye catching artwork. If you're interested in collecting Edgar Rice Burroughs, you'll find information about his works in multiple traditional bibliographies. These online resources from Edgar Rice Burroughs enthusiasts Bill and Sue-On Hill's weekly online fanzine are also a terrific place to start, Zeuschner's Exhaustive Scholar's and Collector's Descriptive Bibliography remains a standard bibliography for all works by Edgar Rice Burroughs.