If you're new to the world of book collecting, you may have encountered multiple uses of the word "facsimile." It's an important term for collectors to understand in various contexts, as a "facsimile" anything--book, dust jacket, signature, etc.--can substantially impact the true value of a rare book.
Facsimile Editions
A facsimile edition is an exact reproduction of the entire content of a book. Usually published in limited quantities, facsimile editions are a terrific option for collectors who can't afford an original, or in situations where the original is so rare, there's virtually no chance of obtaining it. Libraries may also produce or rely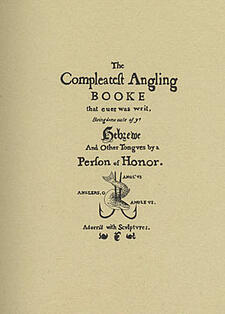 on facsimiles as research tools, particularly when the original volume is particularly fragile or susceptible to damage during handling.
Facsimile editions are certainly less valuable than their original counterparts. But they can be beautiful in their own right. The 1970 Freshet Press edition of The Compleatest Angling Booke That Ever Was Writ, for example, is a beautiful leatherbound volume with mould-made Nideggen paper from Germany and Bertini-made decorative endpapers. A few small presses even specialize in producing high quality facsimiles. Collectors who strive for completion will often seek both the the original and the facsimile edition of a particular book.
You can generally spot facsimile editions relatively easily. They usually carry a note to the text, indicating which edition of the original work was used. The copyright page will list the facsimile date--which is generally much later than the original book was published. And in some cases, it will be easy to tell from the lighter borders on each page that the content is a photoreproduction of the original.
Facsimile Signatures
A facsimile signature is one that has been reproduced from the original and is printed or stamped on the book. Facsimile signatures may appear in a number of places:
Impressed on the book's cover as a decoration
At the end of the author's foreword or introduction
Accompanying a photograph of the author, usually on the frontispiece (particularly common in the mid- to late-1800's)
On the title page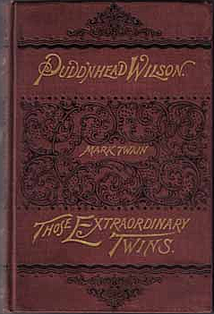 Novice collectors sometimes mistake facsimile signatures for real signatures, which are more valuable. Close inspection of any signature is important. Facsimile signatures generally feel completely smooth to the touch, since they're printed, not written, on the page and leave no indentation. Reputable dealers will always indicate that a signature is a facsimile in their description.
Some authors produced a wide variety of books with facsimile signatures. A few notable books that bear facsimile signatures include the American Publishing Company's edition of Pudd'nhead Wilson by Mark Twain. The signature appears on the frontispiece. Similarly, the first edition of Beatrix Potter's Wag-by-Wall has a picture of Potter with a child and a facsimile signature underneath.
Facsimile Dust Jackets
Facsimile dust jackets pose an interesting problem for both rare book collectors and dealers. They've become increasingly common as printing technology has improved, and it can be difficult to discern whether a dust jacket is indeed an original or a facsimile. Unlike an original dust jacket, a facsimile adds absolutely no value to a book.
The first successful mass produced facsimile dust jacket was produced by Gerry de la Ree, a book collector and publisher from New Jersey. Unable to find a replacement dust jacket for HP Lovecraft's The Outsider, he designed and produced his own. For a while, Easton Press was also producing facsimile dust jackets, and they weren't always marked as such. Regardless of whether the facsimile status is indicated on the dust jacket itself, the Antiquarian Booksellers Association of America (ABAA) requires that dealers fully disclose facsimile dust jackets.
It can be tough even for experts to spot facsimile dust jackets, but there are often a few telltale signs. Because facsimiles are made with more modern paper, they're usually lighter, smoother, and stronger than their original counterparts. And in the 1990's, paper manufacturers began adding fluorescent optical brightening agents--making the paper glow under a dark light. Paper produced prior to the 1990's won't glow.
What's your take on collecting facsimile editions? Do you ever settle for a facsimile when the original is simply out of reach? And how do you feel about the use of facsimile dust jackets?