As a woman who collects rare books, ephemera, and vinyl records, I think about the gendered aspects of collecting a lot more than some other people might. I've been collecting for years—well, for decades, really. I have a few different collections that I've been developing over the years, and those collections are quite disparate from one another. The variety of the items in these collections means that I end up interacting with many different kinds of sellers and collectors, so my experiences aren't limited to a single temporal period, genre, or medium. What I continue to find, dishearteningly, is that women often are still treated differently than men when it comes to collecting. Certainly, there are more women collectors and more women rare booksellers than there were in previous decades and generations. Yet the playing field doesn't feel quite equal.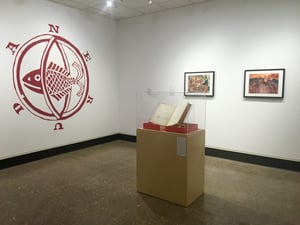 Women Are Collectors, Too
This piece is more personal than others. It considers the gender biases in book collecting through anecdotal evidence that has shaped my own experiential knowledge. While I can't speak for all women collectors, I do want to explore some of the persistent biases that affect women who are collecting in this second decade of the twenty-first century. Now bear with me: I want to recall a few anecdotes.
I was in a record and book store in the Boston, Massachusetts area not too long ago—a place that has some used vinyl and used books, and also specializes in rare vinyl and music ephemera. I was flipping through the collection of "rare records" with my back to the store owner and another man in the shop. They were having a conversation about their wives. The customer described this particular store, and other records stores, as "safe spaces for men who want time away from their wives." The store owner laughed. Now, of course I recognize that book and record store owners have to be friendly to customers, and maybe that customer gives this particular shop a lot of business. And of course, this tired trope of the man who wants to escape his wife is not one I'm shocked to hear. At the same time, however, where does this leave someone like me as a collector—a woman in the shop who is looking for rare items to add to her collection? I had actually been holding a record that I was going to buy. I put it back and left, and I haven't returned to that store since. It was a shop I used to really enjoy browsing in, too. This isn't the only record store owner or music ephemera specialist to engage in these seemingly age-old ideas about women in music, or women who collect records. I once bought a very rare object for my Factory Records collection from a music ephemera specialist who accidentally forwarded me an email in which he expressed confusion to a fellow male music dealer about my being a woman who was collecting this stuff.
Much more recently, at the New York International Antiquarian Book Fair, I had two encounters that actually led me to leave the fair before I made it to all of the booths. Can I tell you just a bit about them? You can draw your own conclusions. First, I was browsing in a booth that had a wide variety of publications and ephemera from Eastern Europe. I can read Russian, some Czech, some Polish, and some Bosnian/Croatian/Serbian. I was looking for Soviet poetry that I might add to a collection of mine. I picked up a small handmade Vladimir Mayakovsky book, and the seller immediately came over to talk. I was about to tell him about some of the truly rare Mayakovsky pieces in my collection when he said: "That's written in Russian. If you're looking for Mayakovsky poetry, you can buy the English translations pretty cheaply in paperback form." I considered saying more, but I ultimately decided it wasn't worth it. I handed him the book, I walked away, and I pulled out my phone to type a note to myself about what the bookseller had just said. I do wonder: did everyone who entered that booth get the same treatment? Or might that bookseller have responded differently if I looked like someone else?
I browsed through some of the other booths (many great booths with friendly and egalitarian-minded booksellers, I might add) before I started browsing in a booth that had some ephemera from various anti-colonial revolutions in the late 1950s and early 1960s. Here's where I tell you that I'm a postcolonial literature scholar. I have a Ph.D. in English language and literature, and I specialize in Anglophone fiction and international human rights law (I also have a J.D.) arising out of the so-called "Global South." There were some other people in the booth browsing, looking through books and ephemera. I picked up a pamphlet—I'd call it a zine, I think—with various images of the civil war in Nigeria from 1967-1970, known more commonly in the west as the Biafran War. The bookseller started to tell me a little bit about where the pamphlet came from—great! I love learning more about the physical history of the objects I buy!—when he shifted to explaining to me where Nigeria is located. I tried to say, "I actually research and teach on West African anti-colonial literature and theory." As so often happens, he cut me off, and continued to explain the relevance of the pamphlet to twentieth-century social movements. At this point, I had to leave the book fair. It was raining.
I could tell you many more stories like these, and I suspect a lot of other women collectors could, too.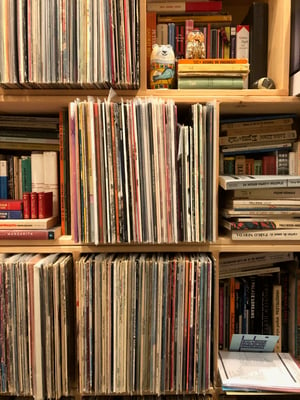 Bookstores and Record Shops as Gendered Spaces
These anecdotes bring me to the question: Are bookshops and record stores gendered spaces? If they are, do they need to be? Sometimes I think about the Enlightenment salons of the 17th and 18th centuries that provided a space outside the academy for women—who weren't allowed in the academy, to be clear—to engage in philosophical conversations. Salons, of course, also became places where men "could talk politics without risk," as a review article in The New York Times described them. Do rare book and ephemera shops have anything in common with the salon? Are they spaces in which women assert themselves as equals, yet are often disregarded by others who want those spaces for themselves?
And of course, the whole idea of "bibliomania," or the seemingly mad pursuit of "first editions, true editions, black letter-printed books, large paper copies; uncut books with edges that are not sheared by a binder's tools; illustrated copies; unique copies with morocco binding or silk lining; and copies printed on vellum," is one that "became common among gentlemen," according to Lorraine Berry.
I am heartened to see articles in The Paris Review like this "The Rare Women in the Rare-Book Trade" piece, which illumines the important role women play in the rare book world. It's great to learn more about women collectors. Yet even that article highlights women who are collecting books by and about women, or materials connected to the "political, cultural, and intellectual history of women," as Lisa Baskin's collection gets described. I'm not saying we don't need to increase the visibility of these kinds of texts and to vehemently argue that they're objects worthy of collecting since others don't think the same—we still do. But why do we need the qualifier of women collectors? Why are we not simply collectors? And are women only able to break into the collecting world if they choose objects connected in their content to women, to feminist activism, for example, or other types of materials that "male dealers [aren't] interested in"? Certainly, it's not just materials related to women's liberation movements that canonical dealers eschew. Much literature and ephemera that has been excluded from the literary canon as a result of imperialism and colonialism, too, continually finds itself on the margins (or outside those margins altogether).
Sometimes I wonder if we just need to change the frameworks we use to talk about who collects and what is collectable. After all, even that article in The Paris Review begins one of its paragraphs by perpetuating the very idea we want to push back against: "When most people hear the term rare books, they imagine an old boys' club of dealers seeking out modern first editions, mostly by men." What if we simply started the conversation over, and began it with a sentence about how the book collecting world includes a diversity of people who have made a diversity of literatures and ephemeral materials collectable in the twenty-first century? As Chimamanda Ngozi Adichie often points out, the way we tell stories matters. Whenever I see Riot Grrrl zines or Guerrilla Girls installations, I know there are many people with whom I must share the kind of experiential knowledge I've described. Those women make me know that biases can be confronted powerfully with language.
I don't want to forget to point out, though, that the article in The Paris Review does highlight the Honey & Wax Book Collecting Prize for women book collectors in the U.S. under age 30—an amazing prize created by Heather O'Donnell and Rebecca Romney that encourages and supports women collectors bringing together books and ephemera in a wide variety of fields.
Sometimes I also wonder if the rare book world is doing just a bit better in terms of its egalitarian aims than the rare vinyl and music ephemera world. I browse around in a lot of record stores, and it's still rare (no pun intended) to see shops owned entirely by women. I don't want to suggest in any way that all record stores are engaging in some of those sexist tropes I discussed earlier. Many of my favorite record stores are run by people I respect and appreciate as simply great humans—Record Grouch, Superior Elevation, and Academy Records, to name a few. But I would like to see more women collectors in the book and record stores I frequent.
Ultimately, I'm not entirely sure how to change the scene, but supporting women collectors and shop owners certainly can't hurt. Without a doubt, let's shift our framing of these narratives. And quite honestly, in stores and at fairs, all it might take is a quick check for sellers: are you about to engage with me in the same exact way—same questions, same language, same demeanor—you'd engage with a man who's looking at your books, ephemera, or records? Because believe me when I tell you that I'm also interested in buying what you have for sale, but not if you fail to see me as a collector.