Tomorrow, the United States celebrates Thanksgiving, a holiday of family—and yes—food. We know the usual staples—turkey, mashed potatoes, stuffing, gravy—but there's always room for some creativity to enliven an old tradition. Here are some delicious, literary-inspired dishes to impress your entire guest list, or at least make you excited for a festive and hearty meal.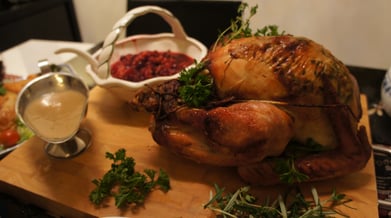 By the time of the Founding Fathers, Thanksgiving Day had already been cherished as a delightful, national celebration, and its nascent staple, the turkey, was esteemed as quintessentially American by Benjamin Franklin and Alexander Hamilton alike. And as early as 1789, George Washington declared the feast a federally sanctioned event.
To reconnect with this centuries-old tradition, we've unearthed some of the holiday's old-fashioned dishes and recipes as passed down to us by books, each written over a hundred years ago.
Oyster pie, from
A Dear Little Girl's Thanksgiving Holiday
, 1912
"It would fill a whole chapter if I were to tell you about all the good things on that table," wrote Amy Ella Blanchard in A Dear Little Girl's Thanksgiving Holiday, a 1912 children's story about the joy of wholesome family Thanksgiving delights. "We are going to have sandwiches and cakes and nuts and apples and cider and a whole lot of things," says one delighted character, and Blanchard lists further additions to the bountiful feast, including persimmons, buckwheat cakes, chicken pies, and two "huge brown turkeys"—one for each end of the table.
But one particular dish from this century-old feast that caught this reader's attention was the "oyster-pie," a meal we're more likely to neglect today in favor of the sweeter pumpkin, apple, and plum varieties. But for those looking for a culinary adventure this Thanksgiving, there are a handful of oyster-pie recipes online, featuring hearty vegetables (like carrots, onions, and celery), and as much as a pint of tasty oysters to boot. Below we've included a video from a chef from New Zealand (where this sort of dish remains popular) so that you can make one yourself.
Pumpkin pie from scratch, from
A Thanksgiving Story of the Peabody Family
, 1850
In enthusiastic, somewhat awkward purple prose, Cornelius Mathews describes an opulent holiday feast in his 1850 book, A Thanksgiving Story of the Peabody Family. (For what it's worth, the controversial writer had a reputation for being indulgent, and Mathews's own contemporary, Edgar Allan Poe, went on to describe one of the author's works as "one of the most trashy novels that ever emanated from an American press.")
But we can trust Mathews to give an account of an ebullient, classic Thanksgiving Day. "Dishes streamed in, one after the other, in a long and rapid precession, piles of home-made bread, basins of apple-sauce, pickles, potatoes of vast proportion and mealy beauty," he wrote. "The whole Peabody connection, arranged in stately silence in the front parlor, looked on through the open door in wonder and expectation of what was to follow." This sensation of waiting will strike us as familiar, as well as the fare that Mathews describes: the two most exciting items are turkey and pumpkin pie, demonstrating that one hundred and fifty years ago, Thanksgiving tables were very similar to our own. Though their pumpkin pie entails one slight difference in preparation: the Peabody family servant, Mopsey, makes the pie using a pumpkin grown on the family property. Here's a recipe for making a delicious pumpkin pie from scratch.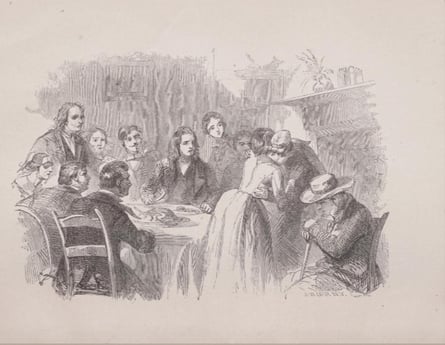 Cider applesauce, from "An Old-Fashioned Thanksgiving," 1882
In 1882 Louisa May Alcott published "An Old-Fashioned Thanksgiving," a story about a New Hampshire family ("poor in money, but rich in land and love") as they prepare the holiday feast, all while falling victim to a proliferation of gentle accidents and mishaps. In the beginning of the tale, Ma describes all the effort involved in preparation while "giving a stir to cider applesauce." For those interested in adding a little bit of classic New England fare to the Thanksgiving table, check out this delicious recipe, which entails boiling your apples in cider and dressing them with a spice bouquet featuring cinnamon, nutmeg, and vanilla.
Do you have any favorite Thanksgiving dishes, from family tradition or books or otherwise? Let us know in the comments below!