Published in 2000, Comrades: Brothers, Father, Heroes, Sons, Pals exhibits an application of Stephen Ambrose's historical knowledge to a modern topic of great importance to the author. Known for his work as a historian and biographer, Stephen Ambrose's work on his many subjects are combined into an effort to show the importance of male friendship in a society where it is difficult to express.
Summary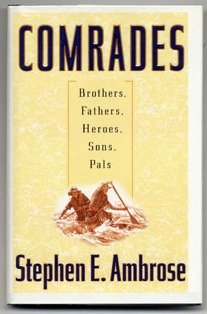 Throughout the book, Ambrose explores noteworthy male friendships, both from history and from his own life. He starts his narrative with an example from his own life, his brothers, as he discusses their experiences together that formed the lifelong bonds that allowed them to move past distances and misunderstandings.
Ambrose continues on to examine the relationships between Dwight D. Eisenhower and his brother Milton, the soldiers of Easy Company, Lewis and Clark, Crazy Horse and He Dog, the Custer brothers, and Ambrose's relationship with his father. He also looks at how lacking friendships can negatively impact people through his discussion of President Nixon.
Friendship
Ambrose's exploration of different facets of friendship sheds light on to how different friendships help one develop. In his examples of family friendships, he shows that family can transcend their niche from "only my brother" to one of the most important and desirable friendships.
One of the more interesting examples he uses is the relationship between the Eisenhower brothers. During Dwight's time as president, Milton served in several roles, the most important of which was as his brother's personal advisor. The brothers were close as children, which led to their relationship growing from brothers to friendship as they grew. The trust resulting from their relationship helped Dwight shape his time as president and the policies he put forward. Through this example, Ambrose shows the importance of lifelong relationships and how they can evolve into new, different facets.
Platonic, same-sex friendships are often passed over as inconsequential or unnecessary in the grand scheme of life and relationships. It is easy to focus on family or love and ignore the platonic. The Ancient Greeks were rather insightful with their inclusion of four different types of love, something often forgotten in a fast paced, modern society that values simple friendships less with every new app created to keep friends connected. The exploration of different kinds of friendships, all unique and all important, gives readers insight into the necessity of friendship and how it forms humanity.
Sources:
Ambrose, Stephen. Comrades: Brothers, Fathers, Heroes, Sons, Pals. (Sep. 17, 2000). Retrieved Aug. 29, 2019, here.
Comrades: Brothers, Fathers, Heroes, Sons, Pals. (n.d.). Retrieved Aug. 29, 2019, here.
Eisenhower Brothers. (n.d.) Retrieved Aug. 29, 2019, here.
Milton S. Eisenhower Dies at 85: Served as Adviser to President. (May 3, 1985). Retrieved Aug. 29, 2019, here.