Astrid Lindgren was born on November 14th, 1907. At the age of 14 in 1921 Astrid published På vår gård (On Our Property) in the Vimmerby Tidning. In 1933, her first children's stories were published. During WWII, she wrote "War Diary." After her daughter Karin named Pippi Longstocking, Lindgren wrote her story down and sent it to the publishing firm Bonniers, who rejected it. She edited her work and submitted it to Rabén & Sjögren for consideration in a compassion for books for girls. Pippi Longstocking was published in 1945. Over the rest of her career, Lindgren published many children's stories, but Pippi Longstocking remains her most loved character.
Plot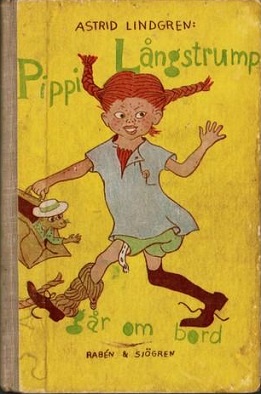 Pippi Longstocking, Langstrump in the original Swedish, is a nine year old girl who has bright red hair styled in gravity defying pigtails. After her mother's death when she was a baby and her father vanishing at sea, Pippi moves to Villa Villekulla. She lives with Mr. Nilsson (her pet monkey), her pet horse, and a suitcase full of gold. She meets and befriends Annika and Tommy Settergren, who help Pippi learn about life on land after she spent most of her life at sea with her father. Pippi's eccentric behavior and superhuman strength add humor to the story as she and the Settergren siblings go on adventures and run into trouble as only children can.
Controversy
Despite being one of the most popular children's literature characters, controversy over the character of Pippi Longstocking has followed the book since its publication. It is commonly censored due to Pippi's anti-authoritarian nature and rule breaking. While adults are concerned about the bad example she may set for children, most children know that her behavior is wrong. As a role model for the women's movement, her subverting of the expected gender role of little girls is often met with criticism.
Adaptations
After its publication, the novel was frequently read on air to radio audiences. A theatrical adaptation in the original Swedish was first performed in 1946 before going on tour in Sweden. Despite some concern for Pippi's behavior, she was frequently used in merchandizing and advertising. In 1969, a television adaptation was released in Sweden, which tied in to the film series released in the 1970s. Pippi is widely considered one of the favorite characters found in children's literature and an example of a strong feminist character.
Quotes
"No, I don't suffer from freckles", said Pippi. The lady finally understood. Then she happened to glance at Pippi and exclaimed: "But, dear child, your whole face is covered in freckles!" "That's right", said Pippi. "But they don't bother me. I like them! Good morning to you!"
"'Why I walked backwards?' Pippi said. 'We live in a free country, don't we? Aren't you allowed to walk any way you want? Let me tell you that in Egypt every single person walks like that and no-one thinks it's strange in the slightest.'"
''Come in or stay where you are, it's entirely up to you,' called Pippi. 'I never force anyone!''
"I have never tried that before, so I think I should definitely be able to do that."
"But still, if it's true, how can it be a lie?"
"You understand Teacher, don't you, that when you have a mother who's an angel and a father who is a cannibal king, and when you have sailed on the ocean all your whole life, then you don't know just how to behave in school with all the apples and ibexes."