Baseball has long been America's pastime. Heroes have thrilled fans and achieved glory. Lore has shrouded the sport in expectations and fantasies. But what about when someone uses America's pastime to fool Americans? George Plimpton, editor, writer, and sportsman, did just that when he published The Curious Case of Sidd Finch.
Who is Sidd Finch?
Developed by George Plimpton, Sidd Finch is a fictional English baseball trainee for the New York Mets. Growing up, Finch spent his childhood in an orphanage before going to Harvard, where he dropped out after one semester. He learned how to pitch while he was in the mountains of Tibet by throwing rocks and meditating. When he was discovered throwing his legendary fastball at 168 miles per hour, the Mets signed him, bringing him to spring training, despite his remaining uncertainty if he wanted to play professionally.
Finch is characterized as wearing only one boot while pitching, leaving his other foot bare, and always carrying his French horn. Plimpton envisioned Finch as being tall, awkward, and shy with ears and feet a little too big.
The Sidd Finch April Fool's Day Joke
Plimpton developed Sidd Finch for an April Fool's Day joke at the request of Mark Mulvoy, the managing editor for Sports Illustrated. Accompanying the article, Lane Stewart, a photographer for Sports Illustrated, provided pictures of his friend Joe Berton, a junior high school art teacher, as Finch, including images of Berton with Mel Stottlemyre, the Mets' pitching coach. The Mets and Sports Illustrated worked together to help make Plimpton's story believable.
Berton was given a uniform, featuring the number 21, and full access to the spring training complex, including the bullpen during games. When the article was released at the end of March, Mets fans rejoiced at their good luck. There was clamor from fans for more information and disgruntlement from other publications that the Mets had given Sports Illustrated the story. Other major league general managers questioned the commissioner, Peter Ueberroth, if players were able to safely bat against Finch's fastball. Some discerning readers started to pick up on a hint Plimpton left in the secondary headline. It read:
"He's a pitcher, part yogi and part recluse. Impressively liberated from our opulent life-style, Sidd's deciding about yoga—and his future in baseball."
The first letters spell out "Happy April Fools Day - Ah Fib." As fans caught on, the Mets staged Sidd Finch Retirement Day, with Barton returning to his role to make the announcement.
Post-ruse Legacy
After the success of his hoax, Plimpton developed his article into a novel that was published in 1987. Expanding on the information in the Sports Illustrated article, Finch is given a girlfriend and a contract with the Mets. Readers follow his exploits as he decides if he should continue to play professionally.
Franklin Library published The Curious Case of Sidd Finch in 1987 in a limited print run. These editions are signed by Plimpton and bound in genuine leather with raised bands. They feature gilded, sewn-in pages with a satin marker (see photo above).
Perhaps the most lasting impact is Joe Berton. Despite being over 30 years since Sidd Finch was introduced to the public, Berton is still recognized on the streets. He is asked to sign baseballs, bobbleheads of Finch, and other memorabilia. Fans enjoy telling him their experience with the article, and most wish Finch was real.

Interested in books and baseball? Read on!
"A life is not important except in the impact it has on other lives." – Jackie Robinson
It was just six days prior to the start of the 1947 season when baseball—and the world and culture in which the sport exists—would be forever changed. Jackie Robinson, baseball phenom and the first professional African American to play in the major leagues, was called up from a Brooklyn Dodgers minor league team to start at first base on Opening Day.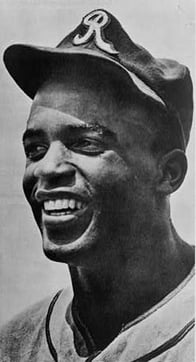 Robinson had spent the few years prior scaling the heights of semi-professional and professional baseball, from the Negro League's Kansas City Monarchs to the Montreal Royals, the Dodgers AAA minor league club. During his rise, Robinson encountered vicious racism and endured ridicule, discrimination, and even death threats, all the while letting his outstanding level of play shine and respond in the face of vitriol and anger.
Though Robinson failed to get a hit in his major league debut, he walked and scored a run en route to a 5-3 win that opened the doors for African Americans—and minorities in general—in professional baseball and beyond. Robinson's 10-year career with the Dodgers included a host of honors including the Rookie of the Year award, 6 consecutive All-Star appearances, and the 1955 World Series championship.
Robinson was inducted into the Major League Baseball Hall of Fame in 1962, and in 2004 the MLB designated April 15 Jackie Robinson Day in honor of Robinson's legacy and achievement in breaking the color barrier in America's national pastime. Read more >>
Sources:
Plimpton's Famous April Fool's Joke in Sports Illustrated. (2014). Retrieved Jan. 28, 2019, here.
Plimpton, George. (Oct. 15, 2014). The Curious Case of Sidd Finch. Retrieved Jan 28, 2019, here.
Schwarz, Alan. (Apr. 1, 2005). An Old Baseball April Fools' Hoax. Retrieved Jan 28, 2019, here.