Beloved children's book author and illustrator Beatrix Potter was a staple in many childhoods. Perhaps best known for her Peter Rabbit stories, Potter was a prolific writer with familiar, enchanting illustrations. In 1944, Wag-by-Wall, originally intended for The Fairy Caravan, was published for the first time in The Hornbook Magazine. When published as a book, illustrations were omitted since Potter did not include them in any drafts. The setting of the book is based on the Lake District Potter lived in and loved. Her detailed descriptions of the setting and characters serve as an excellent example of Potter's skill as a storyteller and her magical ability to enrapture readers of all ages.
Biography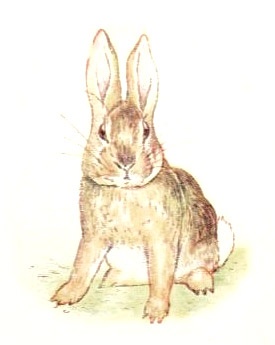 Beatrix Potter was born on July 28, 1866, in London, where she spent most of her childhood. Growing up, she loved classic fairy and folk tales, often drawing her own versions of the tales along with original works about her pets. Family holidays in Scotland helped Potter develop an interest in nature, leading her to study natural history. Using her skill as an artist, Potter helped produce more accurate drawings of fungi, which helped her become a skilled scientific illustrator. In 1901, the picture letters she sent to children she knew were turned into her first book, The Tale of Peter Rabbit, which she privately published. She accepted an offer from Frederick Warne to commercially publish her work in 1902. Potter continued to publish at a rate of two or three books per year, all of which were successes, along with other marketing merchandise. Purchasing land in the Lake District, Potter became dedicated to preserving land from development and serving her community. On December 22, 1943, Potter died, leaving her land to the National Trust to preserve the countryside of the Lake District.
Summary

of Wag-by-Wall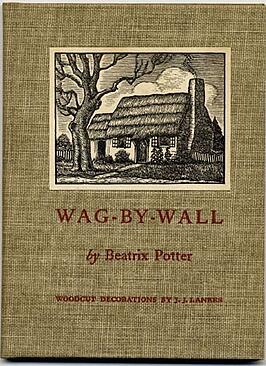 Sally Benson lives in a little cottage, belonging to her mother and grandparents before her, that is modestly furnished except for the "Wag-by-Wall"clock. Her grandfather made a bit of money selling cattle, but nobody knows what he did with it since he did not spend it. With her husband's death, Sally struggled to repay the debts accrued during her husband's long illness. She loves her little house with its singing kettle, bees, thatched roof, owls, and animals. When a year of famine comes, the crops are ruined and Sally's pig dies, forcing her to sell the cow to pay the debts. It seemed as if she must also sell the cottage and move to the poorhouse.
Her only daughter had married a wastrel, and when Sally no longer had money to give them, they disappeared from her life. On Christmas Eve, Sally receives a letter telling her that her daughter and son-in-law had died, leaving a neighbor to take in their daughter out of pity, but the neighbor was unable to keep her. Sally, not having the means to send or care for her granddaughter, despairs. An owl falls down the chimney, knocking down an old stocking full of gold pieces. Sally was able to fetch her granddaughter, buy a new cow and pig, and keep up her farm, living until an old age in contented comfort.
Collecting Wag-by-Wall
First editions of Wag-by-Wall in Fine and Near Fine condition can be found for around $500 depending on the seller, but copies can also be found for under $100. Limited editions can be found for nearly $2,000. Copies of the 1978 reprinting can be found for as low as $20.
Source: Lear, Linda. (2011). About Beatrix Potter. Retrieved October 25, 2018, here.