Are you thinking about a trip to Boston at some point in your future? Boston's rare book scene is unparalleled when it comes to a city featuring stellar rare bookstores, literary historic sites, and fabulous special collections libraries and archives. Whether you are planning to shop for rare books while you're in the historic city or in Cambridge just across the Charles River, or you're hoping to learn more about rare books and ephemera through research in archival collections, Boston has more than something to offer. If you're traveling to the Boston area for work or pleasure, there are a wide variety of rare book options that you might consider indulging in while you're there, and the options get even better if you decide to visit during Boston Rare Book Week.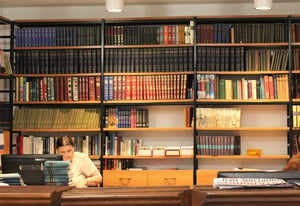 Rare Bookstores in the Boston and Cambridge Area
The Boston area is home to a number of longstanding and exciting rare bookstores. From bookstores in downtown Boston to those in Cambridge around Harvard Square, you're certain to find something you'll want to add to your collection. We'll get you started in Downtown Crossing at Brattle Book Shop. As the store says, it's "one of America's oldest and largest" used, rare, and antiquarian bookstores. There are two floors of used books, a third floor that is full of rare and antiquarian books—and is open for browsing!—and a sale lot outside. Brattle Book Shop has a wide range of specialties, and offers books and ephemera from modern and contemporary global writers to historic Boston-based maps and postcards. The store has been in business since 1825, and it currently stocks more than 250,000 objects. And if you're looking for a book to read while you're traveling in Boston, there's also a large outdoor sale lot open year-round.
Nearby to Brattle Book Shop, and just a short walk away, is Commonwealth Books. This shop features some exciting rare and antiquarian books, including modern first editions, poetry, art and architecture, and ephemera. The store also offers books in other fields and genres, including philosophy, religion, and history. After you spend some time at Commonwealth Books, you might plan to walk down through Boston Common and down to Newbury and Boyleston streets. Bromer Booksellers and Gallery is located on Boylston right by the Copley T stop, and just a walk around the corner from Boston Public Library. Bromer Booksellers has a gallery that features exhibitions, and rare and antiquarian books in a broad range of areas that include book arts, children's books, illustrated books, miniature and movable books, and literature more generally.
If you're willing to venture a little bit outside of downtown Boston to seek out rare books, there are some great shops offering rare and antiquarian books nearby. In Jamaica Plain, you can visit Boston Book Company, which focuses on subjects that include Americana, Japan and East Asia, Maps and Travel, Medicine and Science, and Botany and Pharmacology. The shop has been operating since 1979 and recently celebrated its 40th anniversary. Heading north and crossing the Charles River into Cambridge, you should also stop by Raven Used Books in Harvard Square. This bookstore has a particularly broad range of subjects, including many academic press books and texts in literary and philosophical theory. They also have a great selection of art books, and a small rare book cabinet near the register that houses interesting and unique modern first editions, art books, and poetry.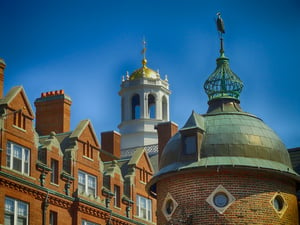 Archives and Special Collections in Boston
Are you hoping to conduct rare book research while you're in Boston? We couldn't possibly provide you with information about all of the archives and special collections in the area, but we can tell you about a handful of them.
The Houghton Library at Harvard University has a phenomenal collection of rare books and writers' papers. The library houses the Emily Dickinson Collection, the John James Audubon Collection, the Houghton Library Bookplate Collection, Modern British and Irish Culture Collections, the Science Fiction Collection, the Harvard Keats Collection and Keats Family Books, and the Chinua Achebe Collection. Beyond modern books and papers, there's a Papyri at Houghton Library Collection, and a digital collection of Medieval & Renaissance Manuscripts. The library also holds a number of drama collections, including Russian Theatrical Designs, the Tennessee Williams Collection, and Shakespeare Promptbooks. Harvard also owns one of the 48 surviving copies of the Gutenberg Bible, which is, as the library explains, "the first major work printed in Europe with movable metal type." The Harvard copy was printed on paper (as many as 45 of the 270 copies printed were done on vellum), and it is on display for visitors in the Harry Elkins Widener Memorial Rooms.
Heading out of Cambridge and back into Boston, the Rare Book Collection at Boston University also has a variety of holdings that should be of interest to rare book collectors and scholars. In addition to early editions of works by Ariosto and Dante, the Howard Gotlieb Archival Research Center also holds papers from Alexander Pope, Lord Byron, Samuel Taylor Coleridge, Jane Austen, Charles Dickens, Ralph Waldo Emerson, henry David Thoreau, Herman Melville, Walt Whitman, and Elizabeth Browning. If you're particularly interested in late nineteenth and early twentieth century literature, the Isabel Anderson Collection of Poetry and the Joseph Conrad Collection will be particularly exciting.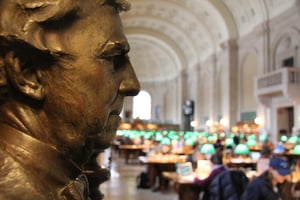 You can also visit special collections libraries outside Boston's vast university system. Most notably, the Boston Public Library has an incredible collection of manuscripts, maps, and fine arts books, in addition to holding what it describes as "235,000 rare or historically significant printed books." The Boston Athenaeum also has a rare book and manuscripts archive, including the Rare Book Collection of the Boston Athenaeum. As the Boston Athenaeum describes the collection, the materials reflect "the collecting interests of the Library as it has narrowed its focus from being encyclopedic in the 19th century to its current focus on the humanities." The Boston Athenaeum has particular strong collections pertaining to early American history, as well as author collections that include Lord Byron and T.S. Eliot materials.
Over in Somerville, Tisch Library's Special Collections at Tufts University feature "more than 9,000 rare books that range in date from the Middle Ages to the 21st century," according to the library. In terms of the oldest texts, the library houses a 13th-century Latin Bible and fragments from 12th-century medieval manuscripts.
Museums in the Boston area also have rare book collections. Museums in the Boston area also have rare book holdings. There's always the Museum of Fine Arts, and just a short walk from the MFA, you can access rare books and art at the Isabella Stewart Garner Museum in the Fenway area.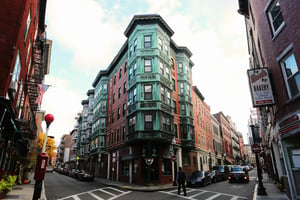 Boston Rare Book Week: Book Fairs, Exhibits, Auctions, and So Much More
The Boston International Antiquarian Book Fair is one of the oldest and most-visited book fairs in the U.S., and it's certainly an event to consider if you'll be in Boston in November. The Boston International Antiquarian Book Fair typically takes place in conjunction with the Boston Book, Print & Ephemera Show as part of Boston Rare Book Week. Typically held either the second or third week in November each year, the book fairs take place in addition to one of Skinner's biannual book and manuscript auctions. Nearby, Boston Public Library, the Museum of Fine Arts (MFA), and Harvard University Libraries offer exhibits for rare book lovers in the city.
Beyond taking in book fairs, book auctions, and museum exhibits, you can also get a map that will point you to Boston's Literary District. While you can certainly visit the historic sites that make up the literary district at any time of the year, readings and other events are often planned around Boston Rare Book Week. To be honest, you'll need more than just a few hours if you're planning to cover all of the sites on the map. Indeed, there are a total of 87 historic sites. Although they're in relatively close proximity to one another, especially if you're willing to ride the T and take some long strolls, the map is truly several days' worth of book history sites.
Just a sample of what's on the map: Edgar Allan Poe's birth spot, location of The Colored American Magazine (the "first monthly publication targeting an exclusively African American readership," according to the map), Lois Lowry's residence, Henry David Thoreau's childhood home, Nathaniel Hawthorne's residence, Robert Lowell's family home, Benjamin Franklin's birthplace, Louisa May Alcott's residence, Robert Frost's residence, the home of Sylvia Plath and Ted Hughes, the Charles Street Meeting House (where figures like Frederick Douglass and Harriet Tubman gave speeches in opposition to slavery), and the "Make Way for Ducklings" sculpture created in tribute to Robert McCloskey's children's book. And that's only a handful of the sites! Boston rare bookstores in Boston proper (i.e., not including shops in Cambridge across the river) also appear on the map.
And reader, that's not all you can find during Boston Rare Book Week. While you're in the city, you can plan to stay at the Omni Parker House, or simply stop into the historic hotel for dinner or a drink while you think about all the rare books you've just seen. This spot used to be where the members of the Saturday Club met, including literary figures such as Ralph Waldo Emerson, Henry Wadsworth Longfellow, and John Greenleaf Whittier.
There's so much to see and do in Boston, and you certainly won't find your time there lacking when it comes to rare book events, sites, and shops. And if you have more time to spend in the area, and you're particularly interested in nineteenth-century American literature, you might consider doing some research into nearby Concord, Massachusetts, where the homes and gravesites of a number of prominent novelists are now museums open to the public. But don't take our word for it—schedule a trip to find out for yourself!