For many authors and illustrators, the ability to make your own book is quite appealing. If you're interested in collecting fine press objects or bookmaking through the art of letterpress, what are your options? One of the more interesting possibilities for contemporary authors who want to pursue letterpress comes from Boxcar Press. Unlike other presses, Boxcar Press isn't always printing books (although it does have printing capabilities). Instead, it's making polymer plates for letterpress bookmakers and broadside artists who are interested in modern fine press. We'll tell you a little bit more about the polymer plates that Boxcar Press makes, and then we'll tell you about some of the great resources it offers to those who are new to letterpress as well as those who have been doing letterpress for quite awhile.
What is a Polymer Plate, and Why Should I Use One?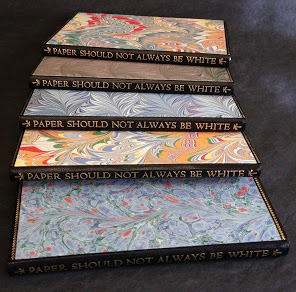 Back in 2011, Boxcar Press started making polymer plates for other retail establishments doing letterpress work. More than 15 years ago, making these tools involved, as the press reminisces, "washing out polymer plates by hand for about 5 other letterpress printers that we knew." At this point in time, the press has more than 10,000 clients worldwide, including a number of notable-name presses. At the same time, individuals who are making letterpress books and broadsides in their communities can also order plates.
So you're probably thinking: great! I'm interested in doing letterpress (or I've been doing traditional letterpress for awhile now), but what are polymer plates, and why should I use them? Polymer plates, also known as photopolymer plates, essentially replace letterpress stereotypes from the earlier twentieth century. As you might know, stereotypes typically were made of lead, and they made printing large, detailed images a little bit easier. These plates were etched metal, and they had raised letters and images—essentially, everything that needed to be printed on the page in a single plate. Stereotypes were commonly used at newspapers, but others doing letterpress could make use of them, too.
Now, you can order your own polymer plate from an image you create electronically.
Making Your Polymer Plate Image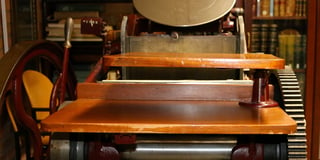 If you want to have Boxcar Press make a polymer plate from your own design, there are a couple of ways you can go. Generally speaking, you'll need to turn the file into either a PDF file (with fonts embedded) or an EPS file (with type outlined). Many bookmakers rely on Adobe Illustrator to design a page or broadside, as well as to set type. You can also use Adobe InDesign, Adobe Photoshop, and potentially some other programs.
What happens next? You send your file to Boxcar Press, you provide some additional details, you submit payment, and then you get plate proofs along with your plates! Once your plates arrive, you can use them in your own or your community letterpress to get started on your next bookmaking project.
And there's another nice thing about buying from Boxcar Press: the company likes to see letterpress benefiting communities. According to the company's website, "we like to give away (or discount) our platemaking services to worthy causes," which have included food banks, letterpress broadsides made by terminally ill kids, and banned book projects at universities.
If you're interested in learning more about bookmaking or designing your own broadsides, you should get to know more about letterpress and the exciting products you can make with the help of Boxcar Press. In the meantime, why not add some more fine press items to your book collection? See some of Books Tell You Why's letterpress inventory below. Those presses, authors, and artists are also excited about the possibilities of letterpress in the twenty-first century.
Letterpress Inventory:
| | |
| --- | --- |
| | Two Ponds Press published The Brownsville Boys: The Jewish Gangsters of Murder, Inc. in 2012. Written by Larry Sullivan, this is Copy #49 of 50 copies for sale, signed by the author and artist, from a total edition of 60. Read more>> |
| | Mark Twain's Adventures of Huckleberry Finn gets the fine press treatment from Pennyroyal Press in this 1985 edition. It's a beauty. Read more>> |
| | Aurora Teardrops by Harold Budd and illustrated by Jane Maru is an impeccable collaboration brought together by Heavenly Monkey. Heavenly Monkey publisher Rollin Milroy worked with Harold and Jane for over two years on the book's content and design. Read more>> |
| | Nawakum Press published notable writer and environmentalist Rachel Carson's Undersea in 2010. Undersea was originally published in the September issue of The Atlantic Monthly in 1937. This edition includes Carson's signature. Read more>> |
| | This edition of The Golden Key by George MacDonald was illustrated by Charles Van Sandwyk for Pegana Press in 2015. The edition was limited to only 80 copies. Read more>> |