As a poet and writer born in Illinois in 1878, it might seem obvious that a collection of Carl Sandburg's works would pay homage in some fashion to the Midwest. Yet more than many authors coming out of the Midwest, Carl Sandburg's works truly conjure images of rolling prairies and Midwestern cityscapes. Although Sandburg ended up spending the last part of his life in rural Western North Carolina, the subject matter of his poems, biographical writings, and other texts always hearken back to the middle part of the country. From visualizations of cornfields and cornhuskers to biographical writings about Abraham Lincoln, Sandburg's work is firmly rooted in Illinois soil. And although he spent more than two decades at his Flat Rock, North Carolina home, his ashes ultimately were buried in Galesburg, Illinois in 1967. Given the deep connection between Sandburg's work and the Midwest, we want to give you some tips and advice for building a "Midwest" collection featuring the books of Carl Sandburg.
Chicago Poems (1916)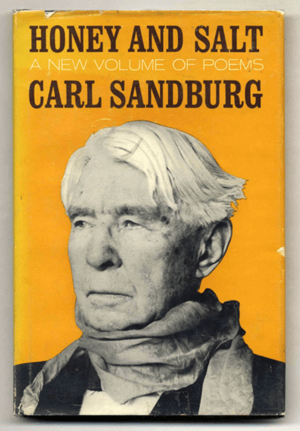 One of the early and highly collectible books of Carl Sandburg's poetry is Chicago Poems (1916). This book was published in 1916 by Henry Holt, and it was the first collection of Sandburg's poems to appear in book form. Prior to this book, two pamphlets of his work were printed privately. While this is one of the first books that you might consider for a collection in terms of its date, it is one of the rarer and more expensive first editions to find. The dust jacket on the first edition includes a lengthy quote from Edgar Lee Masters in small-point font, justified on both margins.
Masters wrote of the book:
"It is with high explosives that Carl Sandburg blasts from the mass of Chicago life these autochthonous masks and figures of modern circumstance. Poetry here prophesies of Industrial America, Business America, and its consummations. He is an observer with sympathy but without fear; compassionate but with an epic restraint, thoughtful without a synthetic purpose, philosophical and therefore without a solution, and comprehensive of a vast spectacle of restlessness, aspiration and pain. He puts words to the uses of bronze . . . . His book is sound, daring, inclusive of many types in the city, and makes a contribution to American literature of emancipating influence, and of permanent importance either in itself or in its effect."
The book appeared in "The New Poetry" series from the publisher.
Cornhuskers (1918)
The next major collection of Sandburg's poetry was also published by Henry Holt just two years following the debut of Chicago Poems. The language of Sandburg's poems in Cornhuskers (1918) moves readers from the city of Chicago and into the farming fields outside. His words conjure images of farming communities and cultivated land outside the constructs of time:
I am here when the cities are gone.

I am here before the cities come.

I nourished the only men on horses.

I will keep the laughing men who ride iron.

I am dust of men.
The Chicago Race Riots (1919)
The next book of Sandburg's to which we want to draw your attention is The Chicago Race Riots (1919). While most American readers know Carl Sandburg as a poet first—and sometimes as a biographer second—he largely began his full-time writing career as a journalist for the Chicago Daily News. One of the major moments he covered was that of the Chicago Race Riots, known in some cases as the Chicago Race Riot of 1919. Sandburg's book includes chapters on the racism that led to the riots and even included a chapter entitled, "After Each Lynching."
According to the National Parks Service, Sandburg's book provided a distinct and necessary perspective given that it included "input from the NAACP, local residents, and Union members when the riots started on July 27th at the unofficial 'white only beach." In 1965, the NAACP awarded Sandburg for his "lifelong commitment to social justice."
Poems of the Midwest (1946)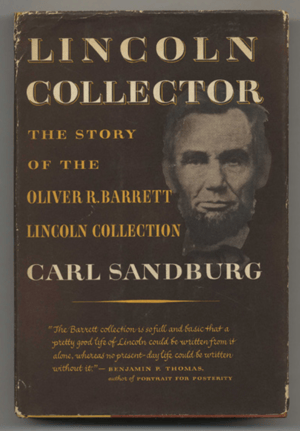 If you're looking for a relatively inexpensive book to function as a centerpiece of your "Midwest" collection, you might consider a collection of Sandburg's poetry, Poems of the Midwest (1946). This collection reprints two earlier Sandburg books we've already mentioned: Chicago Poems (1916) and Cornhuskers (1918). It was published in a limited edition of only 950 copies by World Publishing in Cleveland, and it came in a dust jacket adorned with images of windswept cornstalks. It's also illustrated with black and white photos.
The Abraham Lincoln Biographies
Finally, we'd be remiss in helping you to craft a Midwestern Carl Sandburg collection without discussing his Abraham Lincoln biographies. In 1926, the first of Sandburg's Abraham Lincoln biographies was published. That two-volume collection, Abraham Lincoln: The Prairie Years, was so well received that Sandburg actually recorded a spoken version of it for a record album. 1939, the next four volumes of his Abraham Lincoln biography were published. That four-volume collection, Abraham Lincoln: The War Years, ultimately won Sandburg the Pulitzer Prize in 1940. While these books are not rare, per se, they would make up an essential element of any Carl Sandburg collection focused on the Midwest.
If you're interested in Carl Sandburg or literature arising out of the Midwest more generally, we recommend seeking out some of the editions we've mentioned here.