How common are antiquarian bookstores in other parts of the world? If you ask the International League of Antiquarian Booksellers (ILAB), you'll learn that many shops exist across the globe. From South America to Europe, and from Australia to East Asia, booksellers have direct links to ILAB. Yet where does India fall in this map?
For much of the 20th century, India was a literary center of South Asia (and, in many ways, of the world). Kolkata, known as Calcutta throughout the century, served as a publishing hub. It also produced many world-renowned writers, such as the Nobel-prize winning poet Rabindranath Tagore. In fact, the Rare Books division of the National Library of India--located in Kolkata--contains nearly 5000 monographs and 3000 manuscripts. So how has the used book trade on the subcontinent remained off the global map, so to speak? We had the opportunity to interview the owner of what is perhaps one of the last bookstores of its kind in Delhi. Our conversation with Mr. Sanjiv Jain of Southex Books & Prints can help us to think about the role of antique book buying in India and to imagine what its future might look like.
Literary History on the Subcontinent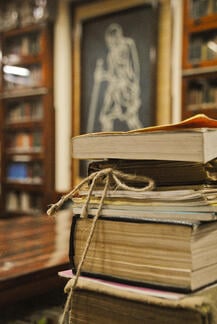 In the early 20th century, West Bengal, a state in eastern India, was the face of the region's literary scene. Mirroring the "coffee house" culture in Europe at the time, the adda (pronounced "uddah") became a place in which Indian writers and readers could get together and chat about literature. While the adda as a location of cultural production had its issues—gatherings that took place mostly excluded women, for example—it nonetheless helped to produce "a modern Bengali reading public," as Dipesh Chakrabarty, the notable postcolonial historian, has explained.
To be sure, West Bengal famously produced Rabindranath Tagore. In 1913, the poet and essayist became the first non-European writer to win the Nobel Prize for his poetry collection, Gitanjali. Interestingly enough, the Tagore family played a role in the early days of Southex Books & Prints. According to Mr. Jain, his father opened the book shop in Kolkata somewhat "by chance" in the 1960s with the help of Mr. Subho Tagore, a cousin of Rabindranath:
"My father, Mr. G.C. Jain . . . used to work as an electrical engineer in the early 1960s with Britannia Engineering Company in Calcutta (now Kolkata). Britannia had locked out in 1967, and then my father's interest was nurtured by Mr. Subho Tagore, a knowledgeable and a well-known art lover, [who] matured it into a thriving firm." Mr. Jain's father started the business in Calcutta, and later moved it to Delhi in 1982 "for better business opportunities." Mr. Jain currently runs the shop with his father and elder brother, and his daughter and niece—"the next generation"—have plans to continue the family trade.
Searching for Antiquarian Books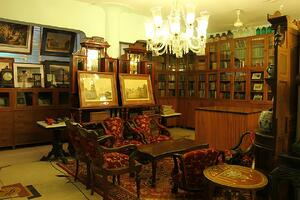 While many of the bookstores in India offering rare titles have disappeared from Mumbai, Bangalore, and even Delhi, Mr. Jain's shop remains a stronghold in South Extension, a neighborhood in New Delhi. For instance, in Mumbai (formerly Bombay), most used books are sold by street vendors in stalls along Mahatma Gandhi Road near the Flora Fountain. Yet these sellers stock mostly new titles with gentle wear. At Mani Bhavan, the Mahatma Gandhi Museum and Reference Library, visitors can peruse shelves of antiquarian books owned and read by Gandhi himself. These texts, however, are not for sale. In most cases, if you want to buy one of the titles you see at Mani Bhavan, you'll likely have to opt for a newly printed one in a bookstore. But not at Mr. Jain's shop. While the shop is a little bit hard to find—it's located in a residential section of South Extension, and a "Beware of Dog" sign hangs outside the entrance to the building—it's worth the search.
Want to know more about what this store has to offer? Mr. Jain graciously offered to share his thoughts on the antiquarian literary trade in India, the kinds of books he collects, and some of the notable items in his collection. After visiting his store in Delhi, we can attest to the fact that he has some magnificent objects in his shop.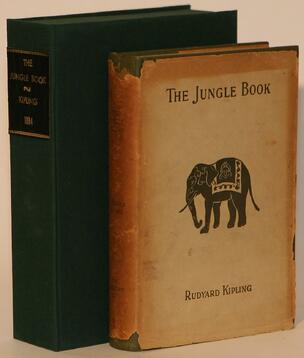 Books Tell You Why: As a rare books dealer in India, do you specialize in literature related directly to the subcontinent? And do you find most of your titles in India or elsewhere?
We specialize in antiquarian books, lithographs, maps, and engravings related to the Indian subcontinent. We have around 4000 rare books, many first editions, and over one hundred signed limited editions including: The Jungle Book by Rudyard Kipling (1894) and The Second Jungle Book (1896) (both signed), and Passage to India by E. M Foster (1924) . . . The oldest in the collection is A discovery of Sect of Banias by Henry Lord published in 1630. The book talks about the social custom manners of life [in the] Indian business community.
We source books from princely states, old libraries, [and] private collectors . . . . Lots of rare books available in India belonged to zamindars (rich land lords during British Rule), royal families, and scholarly people.
Books Tell You Why: Do most of your buyers come from India? Or do you find many foreigners making their way into your shop?
We have different classes of buyers for our goods, [including] institutions, industrialists, tourists, embassies, professionals, and collectors. Many Indian investors are buying books and lithographs [for the purpose] of investment.
In the international market, a great body of works by Thomas and William Daniells, Henry Salt, Prince Alex Soltikoff, Emily Eden, [and] R.M Grindlays of Grindlays Bank fame [the National Bank of India] are very popular, as they have depicted Indian lifestyles, costumes, and manners in their work. During [the period of the] British Raj, India was a flourishing kingdom, and stories about black magic and snake charmers were doing rounds throughout Europe. To document this, artists were recruited by the British Army . . . and they were commissioned to capture the flavors of India back then. Books like Oriental Scenery by the Daniells, Costumes of Western India by Grindlays, Les Hindous by Frans Balthazar Solvyns are some of the important works on India and are in demand among our buyers.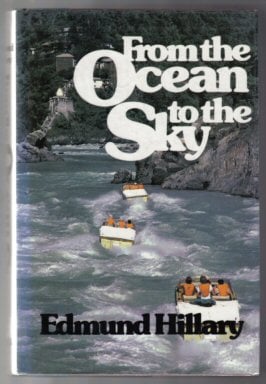 Books Tell You Why: You have some amazing works by Rabindranath Tagore, as well as some other very important signed letters. Can you tell us more about them?
Yes, we do have few items that belonged to the famous Tagore family. We have a letter by Rabindranath Tagore to his publisher, asking about the publishing of his work. It was written in the year 1924. There is also one greeting card from Tagore to Ramsay MacDonald (the first Labour Party Prime Minister of the United Kingdom) thanking him for his financial donations to Shantiniketan (1929).
We recently sold a set of poems written and illustrated by Francis Martindale, which she presented to Avanindra Nath Tagore. The pages are in a leather flap with the initials A.B. embossed in gold. We also have paintings drawn by Rabindranath, Abindranath, and Gagendranath Tagore in our stock. Also, we have original signed letters by Florence Nightingale, Jawahar Lal Nehru (first Prime Minister of India), Indira Gandhi, Mother Teresa, and many more.
Books Tell You Why: How do you envision the future of the rare book business in India?
According to me, India is an upcoming market. It is not as vibrant as in cities like London and New York, which have a large number of dealers selling antiquarian rare books. But with the awareness among the masses and the growing economy, the market for [rare books] is developing in India . . . . In the past, antiquarian and rare books in the Indian market were difficult to find due to lack of awareness about their value and their price, and thus they were not well curated. But with the internet and mass media, people are showing keen interest in preserving as well as buying.
Today, when the value of antiquarian and rare books increases many times over, it's a better investment than gold. Many major auction houses [recently have] had a series of auctions on Indian art and books, both old and modern. I think with a platform like this, India is making a good mark in the international [arena].
Take a Trip: Look for Rare Books in India
Many rare books that deal with the history and literature of the Indian subcontinent have been published by large Western presses like Macmillan, while others are linked to smaller publishers in places like Kolkata, Delhi, and Bangalore. If you want to learn more, you might just have to schedule a trip to the subcontinent to see for yourself!