If you're planning a visit to Sweden and are a collector of rare books, you'll have options aplenty in Stockholm. There are currently fifty-two antiquarian and rare booksellers registered with the International League of Antiquarian Booksellers (ILAB), and fifteen of those shops are located in Stockholm, Sweden's capital. Of course, antiquarian booksellers can be found throughout the country, in cities like Lund, Uppsala, and Gothenburg. We recommend starting on the snowy streets of Stockholm, and perhaps stopping into one of the city's many coffee shops in between browsing for a boost of caffeine to aid in your book hunt.
Swedish Books in Stockholm's Rare Book Shops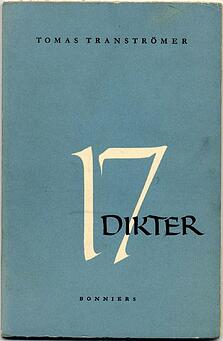 If you're interested in adding books in Swedish to your collection, the ILAB bookstores in Stockholm are a great place to begin. As you might imagine, rare and antiquarian shops in Sweden's capital have works by more than just Swedish authors, and in numerous Nordic languages. You might seek out, for instance, some of the early works of Tomas Tranströmer, the Swedish poet who was awarded the Nobel Prize in Literature in 2011. There are numerous rare works of Tranströmer's to be found, and many first editions, too. For instance, we spied a first edition of Tranströmer's third book of poems, The Half-Finished Heaven [Den halvfärdiga himlen], at Rönnells Antikvariat, one of our favorite Stockholm bookshops just on the edge of Norrmalm and Östermalm. This poetry collection was published by Bonniers, one of the largest publishers in Sweden. Other Tranströmer books to keep an eye out for include first editions of 17 Poems [17 dikter] (1954) and Secrets on the Way [Hemligheter på vägen] (1958) both also published by Bonniers.
If you're a big fan of Stieg Larsson's books, such as The Girl with the Dragon Tattoo [Män som hatar kvinnor] (2005) or The Girl Who Played with Fire [Flickan som lekte med elden] (2006), you shouldn't have too much trouble finding Swedish first editions of these novels. Unfortunately, these books, which make up part of Larsson's Millenium series, were published posthumously. As such, neither you nor any other collectors will be able to own a signed first edition. Larsson passed away in Stockholm in 2004 at the age of fifty. His now globally famous works were not discovered until 2005, at which point they were published by Norstedts Förlag.
Stig Carlson and Lyrikvännen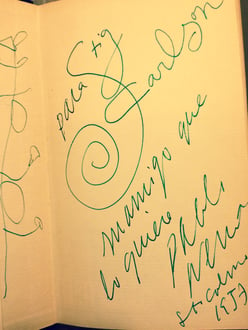 Although not as well known as Tranströmer, Stig Carlson was also closely affiliated with the poetry scene in Stockholm. A poet himself, he founded FIBS:s lyrikklubb in 1952, which went on to publish poets from around the world. He also served as the editor of the poetry club magazine Lyrikvännen from 1953-1971 (until his death). Following his death, FIB:s lyrikklubb named the Stig Carlson Award after the editor, and the prize was given to deserving poets until 2005.
A number of antiquarian bookstores in Stockholm have copies of Lyrikvännen for sale, and numerous books of poetry in Swedish have the mark of FIB:s lyrikklub. The most exciting find we had in Stockholm related to Stig Carlson was at Antikvariat Hundörot in Södermalm. What did we happen upon? A first edition of Pablo Neruda's Den Stora Oceanen (1956), published by FIB:s lyrikklub. But the book isn't just a first edition. It belonged to Stig Carlson, and it has a glorious inscription to the editor from Pablo Neruda during the Chilean poet's 1957 visit to Sweden.
Stockholm is one of our favorite places to engage in literary flânerie, hoping to happen upon a glorious bookstore or two full of rare and antiquarian texts. And if you're not willing to leave your book shopping up to chance, we recommend seeking out some of the fantastic book dealers listed by ILAB. Happy Scandinavian literary travels!