Are you planning a trip to the Nordic countries anytime soon? If you'll find yourself in Finland, there are dozens of rare and antiquarian bookstores to keep you busy as you explore Helsinki on foot, and there are more shops scattered north of the capital city. There are nineteen members of the International League of Antiquarian Booksellers (ILAB) in the country, and fifteen are located in Helsinki. Many have storefronts with regular hours if you're planning to wander around the city, while some others require an appointment to visit the shop. And if you decide to take a quick ferry trip across the Baltic like so many in southern Finland do, you can even add an Estonian used, rare, and antiquarian bookstore to your itinerary.
Finnish Rare Bookstores in Central Helsinki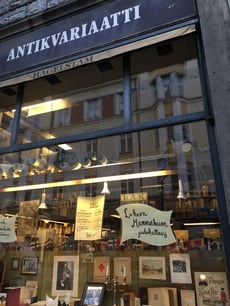 We recommend starting your tour of Finland's rare and antiquarian books in Helsinki. Your first stop should be at C. Hagelstamin Antikvaarinen Kirjakauppa. This well-curated store has a wide range of titles in Finnish, Swedish, some English, and even Russian. In addition, the shop sells rare maps and other ephemera. If you're interested in literature, art, or design, you'll be very pleased to see a number of shelves devoted to such books. Given that Finnish design has a long history—and remains popular in the country and abroad—we highly recommend browsing the bookstore's sections of architecture and design. We were impressed by the large number of Finnish cookbooks, too. Even if you don't speak Finnish, the images in the cookbooks and design books alone should keep you more than happy.
We should add that this bookstore also has a very impressive collection of rare Russian literature. Since the Nordic country shares a border with the Russian Federation and was an autonomous region of the Russian Empire before 1917, a number of rare and antiquarian Russian books have made their way across that border. Given that it can be difficult and sometimes impossible to take any items out of Russia that are more than 50 years old, you might have more luck adding to your rare Russian book collection by shopping in Helsinki.
Another of our favorite shops in Helsinki is Antikvariaatti Sofia, located at Vuorikatu 5. The storefront is very inviting, providing passersby with a clear view into this alluring bookstore. The books are primarily in Finnish. There is a large poetry section, as well as a large and well-curated Finnish design section. We came away with a number of poetry books, as well as a Marimekko design catalogue from the 1960s.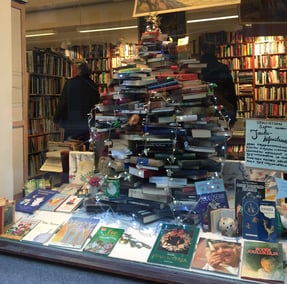 Other shops that you might seek out around Helsinki include Antikvariaatti Vilho, Antikvariaatti Punainen Planeetta, Antikvariatti Dekkarikeidas, Antikvariaattii Syvä uni Oy, and Divari & Antikvariaatti Kummisetä.
Heading Out of the Capital City
Heading north out of Helsinki, you will find ILAB members located in a variety of cities across southern Finland. For instance, in Lahti, about a one-hour drive from Helsinki, you'll find Antikvaarinen Kirjakauppa Aleksis K., which specializes in literature and history books. About two hours north of Helsinki, but in a more westerly direction than the city of Lahti, you can find Antikbariaatti Pufendorf in the city of Hauho. While this shop does not have an official storefront, you can find them participating in local book fairs and other literary events.
And as we mentioned, if you decide to visit the country and take a trip across the Baltic Sea to Estonia as so many Finns and visitors do, you can make a quick stop into a large rare and antiquarian bookstore in Tallinn, Estonia. Raamatukoi Antikvariaat is located on the outskirts of the Tallinn Old Town, which is among the most well-preserved medieval cities in Europe and is currently a UNESCO World Heritage Site. The shop stocks books primarily in Estonian and Russian—we can't imagine that the large number of rare and antiquarian Russian texts should come as a surprise given that Estonia was occupied by the Soviet Union from 1944-1991. There's a nice selection of poetry and fiction at this shop, as well as a number of shelves with vintage ephemera.
We love shopping for rare and antiquarian books in the Nordic countries, and we highly recommend a visit to Helsinki. Happy book travels!