Before traveling to Mexico City, we thought Buenos Aires had more used and antiquarian bookstores than anywhere else in the world. While that might still feel true while walking the streets of the Argentinian capital city—it seems like there's a used bookstore on just about every corner—we were nearly just as giddy to discover the sheer number of shops in this capital city.
Similar to in Buenos Aires, there's a map of bookstores selling old and rare books that covers four major regions of the city ("Mapa de librerías de Viejo de la Ciudad de México"). It's published by the Social Sciences and Humanities division of the Universidad Autónoma Metropolitana. Like any rare or antiquarian book collectors, discovering such a map was enough to make our day (and indeed, the remainder of our time in Mexico City). With a total of 62 bookstores to visit—and that's just the list of shops mentioned on the map—we recommend planning at least a few days for book shopping in this Latin American city warmly referred to by its residents simply as CDMX.
Bookstores in the Centro Histórico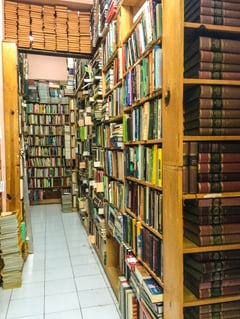 If you're traveling to Mexico City, we're guessing you already have plans to visit the neighborhood known as the Centro Histórico, or the historic center of this metropolis. The Zócalo, or the large plaza of CDMX, is in this part of town. Nearby, the Palacio de Bellas Artes, the Museo Nacional de Arte, and the San Ildefonso College provide visitors with access to some of the most significant works of the Mexican muralism movement of the 20th century, featuring works by Diego Rivera, David Alfaro Siqueiros, and José Clemente Orozco. But we're hoping that you didn't just come to Mexico City for its large-scale art. To be sure, the rare and antiquarian bookstores in the Centro are among the best in the city.
A large cluster of bookshops in the historic center are located on Calle Donceles, where 17 different bookstores exist within only five blocks of one another. One of our favorite shops is Librería El Laberinto. If you speak or read some Spanish, you might know that the bookstore's name translates as "the labyrinth," and it is, indeed, labyrinthine. The owner of the shop told us that it has been in his family for the last 80 years. In addition to an extraordinary and rare copy of Pablo Neruda's "Que Despierte El Leñador" published by Taller de Gráfica Popular, the owner told us that his family has owned and sold two true first editions of Neruda's Canto General, published in 1950 by Talleres Gráficos de la Nación. Each of 300 of the first editions destined for subscribers was signed by Neruda, Diego Rivera, and David Alfaro Siqueiros (Rivera's and Siqueiros' lithographs were used as the endpapers at the front and back of the first edition).
In addition to bookstores on Calle Donceles, a number of shops are tucked into side streets throughout the Centro, so be sure to engage in some flânerie while you're in the historic center of the city.
Roaming through Roma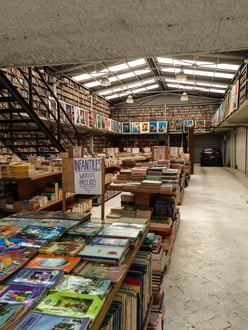 Another street with a pretty impressive cluster of rare and antiquarian shops selling Spanish-language books is located in Colonia Roma. This CDMX neighborhood not only houses bookshops, it's also home to a number of the city's record stores, as well as coffee cafes and hip restaurants. We recommend strolling along Álvaro Obregón, one of the main streets in the area.
Two of our favorite bookshops in this part of town are located here, nearly next door to one another: A Través del Espejo and Ático. Both look like bookstores out of a dream, lined from floor to ceiling with titles dating back centuries. In particular, A Través del Espejo has a number of art books that should tempt any collectors interested in paintings and sculptures from the 18th century to the present.
Other Bookstores, Other Neighborhoods
We haven't even begun to discuss many of the rare and antiquarian bookshops in CDMX, but in parting, we couldn't possibly end without encouraging you to visit a number of the stores in the neighborhood of Coyoacán. Not only are some of the shops enormous in terms of their square footage, but you'll also be very near to La Casa Azul—the home of Frida Kahlo and Diego Rivera. After you spend a number of glorious hours among local booksellers, head to the Museo Frida Kahlo to see the artist's personal library, preserved for visitors along the walls of her studio.
If you're looking for a city filled with shops that you thought only existed in your book collector's dreams, look no further than the bookstores in Mexico City. For those of us living in the continental U.S., it's only a short plane ride away.