If you're traveling to Korea and are considering some rare book shopping, we recommend dedicating at least one full day in Seoul to explore the city's bookstores and rare books market. While most of the antiquarian bookstores specialize in Korean-language texts—in other words, you'll need to know some Korean, either written or verbal, to have a good chance of locating an author you've set out to find—several of the book-buying options in South Korea's capital city also have books written in other East Asian languages, as well as in English and other Western languages. Earlier this year, we spent a week tracking down the best rare book shopping options that the city had to offer.
Buying Books in Insadong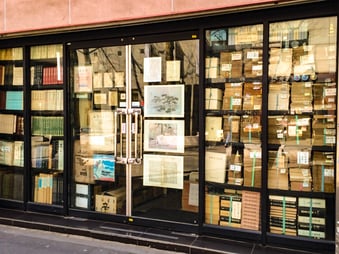 Booksellers throughout Korea are beginning to explore ways of expanding into the global book marketplace. Since 1989, the Antiquarian Booksellers' Association of Korea (ABAK) has been the home of rare and antiquarian booksellers in Seoul. Affiliated with the International League of Antiquarian Booksellers (ILAB), ABAK now has close to 30 members throughout the country. Of those ABAK member, nine are located in South Korea's capital city.
If you're visiting Seoul for the first time, chances are you've read about Insadong—a neighborhood with traditional shops, antiques, and art galleries. Insadong street, a long pedestrian walkway that runs through the neighborhood, is home to one of the oldest rare bookshops in Korea, Tongmunkwan. This shop has been in business for the last 75 years, and it remains a book lover's dream: books shelved from floor to ceiling, showcasing many 19th- and 20th-century texts that you're not likely to find elsewhere. Given that the shops surrounding Tongmunkwan tend to stay open later than the bookstore, it can be easy to miss if you're strolling along Insadong street. Be sure to keep your eyes open for the bookstore gem.
Also in Insadong, the Insa Classic Culture Center houses numerous smaller rare book shops that each tend to have their own sets of hours, as well as large glass display cases running along the hallways filled with rare books for sale. If you find yourself in the Insa Classic Culture Center, you'll also be in close proximity to the Hwabong Gallery and Hwabong Book Museum, which showcases some of Korea's most interesting books-as-objects. For instance, the smallest book in existence—which you'll need a magnifying glass to inspect—is on display in this basement gallery.
Cheonggyecheon Secondhand Book Street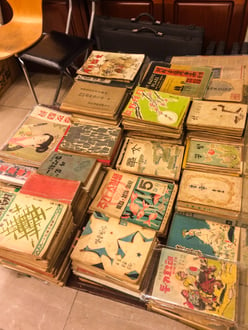 If you're interested in more digging than browsing, we recommend taking Line 4 of the Seoul Metro to Dongdaemun Station. Once you arrive, take Exit 9 and walk toward the small waterway. Soon you'll see Cheonggyecheon Secondhand Book Street in front of you. If you arrive too early in the morning, the shops will be closed, and you'll see few signs of rare and antiquarian books. By arriving around noon, however, you'll be guaranteed to encounter a number of rare booksellers setting up shop along the street. Books fill—and in fact are overflowing within—these spaces. Unless you speak Korean, you might have difficulty locating a specific author or title. However, browsing until you find a hidden gem is always worth the time spent.
In addition to bookshops selling titles in Korean, there are several English-language bookstores specializing in rare books. For example, you might explore the titles in Itaewon Foreign Bookstore, a store that has been open since 1973 and carries primarily English-language titles.
Regardless of the types of books you're seeking or the bookshops you travel to, we can guarantee that the rare book trade remains alive and well in Seoul. We invite you to travel to the peninsula to see for yourself.