Are you thinking about expanding your collection of rare books to include promotional objects connected to a book's release, advertisements, textiles, photographs, and other objects? What you might be thinking about doing is expanding your collection to include ephemera. Many rare book collectors and sellers focus on ephemera, and the term can have a variety of meanings. For some people, the term ephemera is defined narrowly referring to print materials that were not designed to last, such as postcards or newspaper advertisements. For other people, the term can be applied much more broadly to include many different objects, which may or may not be paper-based, that speak to the notion of ephemerality in one way or another. If you're considering a shift toward ephemera in your collection, you'll need to acquaint yourself with some terminology that can help you to shape your collection and to understand the condition of objects that you might be thinking about purchasing.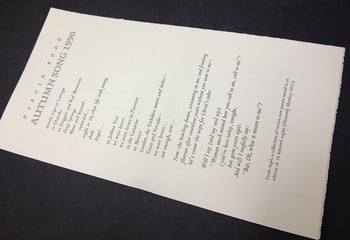 Ephemera
Before we get into some of the terms you'll need as you build your collection, we want to draw your attention to the variety of definitions that exist to define ephemera itself. According to the Oxford English Dictionary (OED), ephemera means "that is in existence, power, favour, popularity, etc. for a short time only; short-lived, transitory." Another dictionary, Merriam-Webster, defines ephemera as "something of no lasting significance," and further identifies it as "paper items (such as posters, broadsides, and tickets) that were originally meant to be discarded after use by have since become collectibles."
The Ephemera Society of America uses the word in the plural, describing it as "precious primary source information . . . bits and bobs of vintage (and current) . . . paper items." Yet The Ephemera Society of America also explains that, when it comes to collectors of ephemera, "these days the field has been expanded to include such things as tobacco tins, photographs, radio premiums, textile swatches, vinyl record albums, items made of celluloid and wood . . . [and] various items which were indeed likely to have been saved, such as wedding invitations, marriage certificates, passports, birth certificates, wills, deeds, divorce papers, stock certificates, promissory notes, and many other vintage documents."
All of this is to say, ephemera can be what you make it and ultimately what you choose to collect, from three-dimensional objects to single sheets of paper. What all of these materials have in common, then, is their transience—the risk that, because of their materiality, they could soon cease to exist. Given that ephemera can include so many different types of objects, you will need to learn about the terms that are appropriate to the specific kinds of materials you plan to collect.
Broadside
Broadsides are often considered to be part of the larger category of ephemera. Broadsides are typically single sheets of paper that have been printed on only a single side. At one time, broadsides were often used as posters or advertisements to announce events that were occurring or to promote products or persons. They were traditionally quite large, designed to be seen in public. In more contemporary fashion, broadsides can take many different sizes and shapes, and they often include poems or printed verse.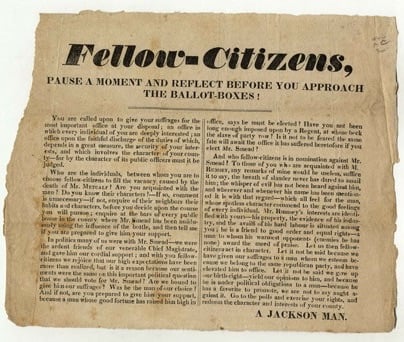 Broadsheet
When a broadside has been printed on both sides (like a page of newspaper, for example), then it is known as a broadsheet instead of a broadside.
Facsimile
If you are looking for original ephemera—as we assume you are if you're a collector!—you should know that the term "facsimile" refers to a reproduction of an original. Depending upon the specific object, a facsimile may still be collectible because it might have been reproduced in a particular time and place. But if you believe you're looking at an original printing and see the word facsimile in the description, you should know that the object is a reproduction.
Foxing
This is a term that you'll also see to describe rare books. It refers to spots or patchy areas that are discolored, typically in a brownish or rust color. Foxing occurs when paper ephemera has not be stored properly.
Toning (or Age Toning)
Distinct from foxing, toning (or age toning) refers to a paper object that has become a yellowish color overall as a result of time. While paper ephemera can be stores in particular ways to diminish or reduce toning, many types of paper age over time if they are not stored in specific ways.
Creasing
For ephemera that can be folded or bended, an indication of creasing can mean that the object has been folded or bended, and evidence of that folding or bending is present. For example, if a cinema lobby card has been folded in half for storage, that fold line will usually be described as creasing.
These are just a handful of helpful terms to get you started as you begin collecting ephemera. The world of ephemera is vast, and we encourage you to explore the possibilities, from nineteenth-century textile swatches to eighteenth-century broadsides to twentieth-century music memorabilia.