C.S. Lewis is one of the most important Christian intellectual and influential writers of the twentieth century; it's unlikely anyone would argue with that. Lewis has inspired generations of fiercely loyal readers and collectors. His books are staples not only in fantasy and children's literature, but also in theology. Certainly, Lewis distinguished himself as a classic in world literature. The Library Journal says of Lewis:
"Lewis's writing takes on a life of its own, as the more it is read, the more insight the reader gains into a mind unhampered by either style or doctrine. In his uniquely dynamic way, Lewis experiments with looking at the universe, people, and God from a variety of angles. There is a sense that, though Lewis is presenting his true inner self, he is in no way attempting to force these truisms onto others but is merely looking for others to walk the road with, in sweet converse, both listening and sharing the deep secrets of souls."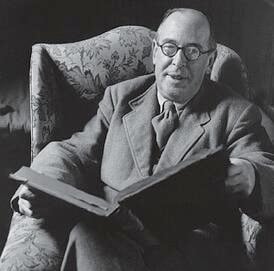 Lewis was born in Ireland in 1898, and you may be surprised to learn that he declared himself an atheist at the age of fifteen. Perhaps the most important turning point for CS Lewis was being appointed Fellow and Tutor in English Literature at Oxford University, where he met his best friend and fellow literary scholar, JRR Tolkien during his 29-year service. He converted to Christianity, citing Tolkien and the works of GK Chesterson as influences, and began what would be an epic career in literature. The two would go on to be members of The Inklings, an informal group of Oxford faculty with a shared interest in literature and theology. And CS Lewis would also dedicate The Screwtape Letters to Tolkien. He also nominated the Lord of the Rings author for the Nobel Prize for literature in 1961, but the award went to laureate Ivo Andric.
A member of The Inklings clarified that the group, which met in the 1930's and 1940's in CS Lewis and JRR Tolkien's Oxford rooms, was "neither a club nor a literary society, though it partook in the nature of both." Members read aloud manuscripts of such legendary classic works as The Hobbit, The Lord Of The Rings and The Chronicles of Narnia. The Inklings served to receive the readings of unfinished compositions, and the mythopoeic society was established as a non-profit organization in 1971. Both Lewis and Tolkien reference each other and the meetings of The Inklings as providing support and inspiration for their work.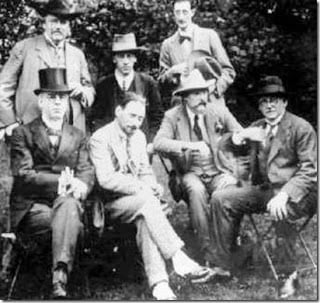 Can you spot Lewis and Tolkien among the Inklings?
The most important literary contributions made by CS Lewis were his theological and fantasy works read by millions and viewed in major motion picture adaptations. He remains one of the most popular Christian faith writers of this century. His mass appeal is aided by his mastery of language and logic, and by his tendency to avoid matters where Christians disagree and instead focus on beliefs that are held in common by believers of the faith. Lewis famously said, "We read to know we are not alone," and he consistently strived to find common ground through the written word.
On friendship, Lewis wrote, "Friendship is unnecessary, like philosophy, like art...It has no survival value; rather it is one of those things which give value to survival." Certainly, however, he found much value and inspiration in his friendship with Tolkien. Thanks to their friendship and their works produced during the years they spent at Oxford, our libraries are enriched with the works of these epic authors.