The list of Caldecott Award Winners—those books that have been recognized by the Association of Library Service to Children for being the most distinguished American picture book for children—is long and varied. The Little House, Madeline, Where the Wild Things Are, Frog Went A-Courtin', and many more famous books might come to mind when thinking of the Caldecott honor. However, there are more than a few unusual treasures that you've probably never heard of. Now we bring them off the shelves, clear some dust, and introduce you to these winners of one of the highest honors in children's book publishing.
1. The Egg Tree, Katherine Milhous, winner 1951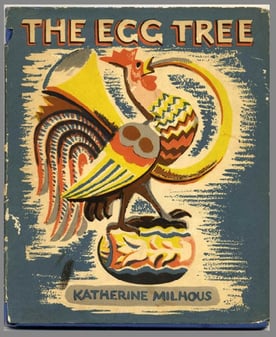 This story starts with a traditional egg hunt and a young girl frantic to find even one egg, and it ends with a family having a tree decorated with blown, hand-painted eggs. The odd thing about this Easter story is that it doesn't seem like one. It embraces this subplot of creativity with a family blowing eggs and decorating a tree, and when it becomes an attraction and visitors begin arriving, the Easter Bunny is gently remembered in the final scene, bringing the holiday back into the narrative.
2. The Biggest Bear, Lynd Ward, winner 1953
We all remember being about ten and worried about the lack of massive bear skins on the sides of our barn, right? Well, Johnny Orchard has the same issue, and disgusted with his father and grandfather's lack of desire to kill and skin a bear for their barn so they could be more like the other neighbors, Johnny takes to the woods, armed and ready, to do the deed himself. Instead, he brings back a mischievous bear cub and hilarity ensues. The book then takes a strange, bittersweet turn, and the realities of farm life are revealed, but not examined, in these incredible illustrations done by Lynd Ward.
3. Sam, Bangs & Moonshine, Evaline Ness, winner 1967
In this book, a young girl lives in a fantasy world until she can't anymore. Little Samantha tells everyone her mother is a mermaid because she doesn't want to be a girl with a dead mother. This is one of the sad truths that haunt this little tome. It tells of imagination and how it can be a harmful thing. Sam, Bangs & Moonshine is part simple picture book, part heart-breaking coming of age story, all with accompanying distinguished illustrations.
4. Duffy and the Devil, Harve and Margot Zemach, winner 1974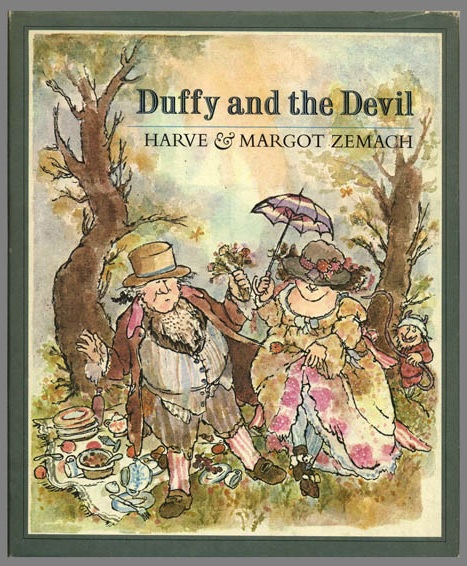 Duffy and the Devil is a slight variation on the story of Rumpelstiltskin with some mischievous differences and additional humor. To start, rather than a young girl being put in a precarious situation by her dishonest father, this story stars a young maid who herself lies, not about being able to do the miraculous, but rather about the expected maidly duty of sewing clothes. She makes her own deal with the very evident Devil, and though the ending is nearly the same, there's a cheeky twist that will bring a smile to you and your child's face. This tale is a fun, silly, romp that lets you enjoy an old story in a new way.
5. Shadow, Marcia Brown, winner 1983
Haunting drawings and an even eerier poem make up this book, translated and illustrated by Marcia Brown. The "shadow" in question is not necessarily the natural shadow cast by light, but rather a memory and a ghost of former self that attaches itself and slips back and forth in existence during the life and experiences of a person. Deeply ingrained in the tribal culture of Africa, the shadow is a frightening and spiritual presence, beautifully communicated and explored with language free of sentimentality.
6. Golem, David Wisniewski, winner 1997
A city is under attack by libel, violence, and anti-semitism and a rabbi goes forth to the wilderness to dig up clay and create a giant to protect and validate his people. This is just the beginning of this larger-than-life, historically set, and very odd, sweet tale of the lengths a leader might go to keep his people out of danger. As the Golem—the giant brought to life—comes to terms with his existence, something larger than the fate of the people is at stake, and by the end, the reader may be as conflicted as the characters about the cost of safety. Golem is an interesting story from so many perspectives, with imagery both fascinating and powerful.
7. My Friend Rabbit, Eric Rohmann, winner 2003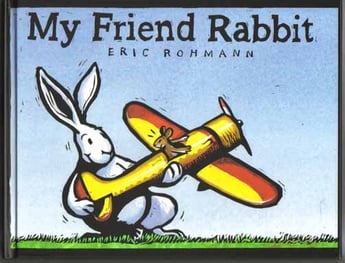 Delightful. That's the word for this book. My Friend Rabbit is an affectionate story from the point of view of someone who loves his friend, but can still recognize both the faults within and the cost of the company. The language is concise and easy to read, and the illustrations are funny and elaborate. The message—that our friends are not perfect, but they are valuable—is a good one. My Friend Rabbit is great little book for the very young, and the young at heart, with a solid, realistic message.
8. This is Not My Hat, Jon Klassen, winner 2013
Not your hat? At least he's honest, even if he is a little thief. This is a funny book, and deeply subtle with the language. As the little fish swims away with a hat that does not belong to him, he first justifies, and then hides, and his fate is not even seen in the last page, but (spoiler alert) he doesn't get to keep the hat. It's not his. It's not his hat.