Teamwork makes the dream work. And in the case of Ingri and Edgar Parin d'Aulaire, that dream became beautiful illustrations that reached a world-wide audience. Indeed, the d'Aulaire's are a remarkable artistic pair, completing almost all of their well-known work together.
Continuing our quest to examine Caldecott award-winning artists more closely, today we turn our attention to Ingri and Edgar d'Aulaire. The couple won the Caldecott Award in 1940 for their book Abraham Lincoln. What about their artistic style appealed to so many? What else are they famous for? What should you know if you'd like to begin collecting their works?

Who are Ingri and Edgar Parin d'Aulaire?
Ingri d'Aulaire was born Ingri Mortenson in 1904 in Kongsberg, Norway. Edgar Parin d'Aulaire was born in 1898, spending much of his young life in both France and Italy. He had an artistic background. His father was a well-known Italian painter, famous for his portraits, and his mother was a musician.
Both Ingri and Edgar received encouragement and tutelage from famous artistic minds of their day—Ingri was prodded by Harriet Backer, a Norwegian female artistic pioneer, to pursue a career in the arts, and Edgar studied under Henri Matisse. The pair met through their studies and pursuits of art, and they were married in 1925. Not long after they were married, they immigrated to the United States and began their careers as artists in their new country.
Initially, they worked separately. Edgar focused mostly on woodcuts while Ingri earned her keep as a portrait painter. But soon, they teamed up and turned their attention to children's books, and the rest, as they say, is history.
Interestingly, the d'Aulaires focused a good portion of their work on history—the history of people, places, and culture both in their homeland, and in America. The couple published over 20 books for children, and several of their most well-known include Abraham Lincoln, which won the Caldecott in 1940, as well as Ola (1932), Pocahontas (1946), d'Aulaire's Book of Greek Myths (1962), and its follow up, Norse Gods and Giants (1967), which was republished as 'Aulaires' Norse Gods and Giants and later as d'Aulaires' Book of Norse Myths.
Beyond the intricate and captivating illustrations of the d'Aulaire's books, what makes them even more worthwhile is the research that went into their creation. They traveled overseas researching Columbus, went to the heartland to look into Lincoln, and between the two of them, had a mastery of five languages. As a result, they were able to both communicate and research using original documents.
Examining the d'Aulaire's Artistic Style
Beautiful Feet Books, a publisher that has been instrumental in carrying on the d'Aulaire's legacy and work through their republication of several notable titles—including many of the historical biographies mentioned above—summed up the d'Aulaire's style in this way:
"Their books were known for their vivid lasting color. a result of the pain-staking process of stone lithography used for all their American history biographies. This was an old world craft in which they were both expert, which involved actually tracing their images on large slabs of Bavarian limestone."
Why else have you heard of the d'Aulaires?
Beyond the Caldecott Award, the d'Aulaire's works have received high praise. Edgar illustrated Children of the Soil: A Story of Scandinavia by Nora Burglon, which was nominated for a Newbery Award in 1933.
The couple's book titled Trolls was hailed by The New York Times Book Review as one of its Outstanding Books in 1972, and it was a finalist for the National Book Award.
For their body of work, the d'Aulaires were awarded a Regina Medal from the Catholic Library Association in 1970. According to its website, the Association's only standard for giving out the award is that the recipient displays "excellence" in his or her work.
In 1974, the couple earned the U.S. nomination for the Hans Christian Andersen Award.
Collecting Ingri and Edgar Parin d'Aulaire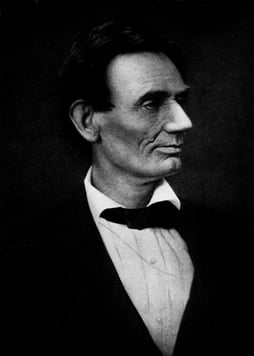 Abraham Lincoln, first edition
The D'Aulaire's biography of Lincoln was praised by the New York Times upon its publication for being "an easy-running text unclouded by sentimentality." As we mentioned above, the subject matter was expertly researched, and the result is not only the fabulous illustrations for which it was awarded the Caldecott, but also well-done text. First editions were published by Doubleday in 1939. Look for "first edition" printed on the copyright page to ensure that the copy you are purchasing is, in fact, a first edition. Such a copy with an in-tact dust jacket and in fine or near fine condition will sell for over $1,000.
d'Aulaire Biography Pack from Beautiful Feet Books
This pack includes all seven of the d'Aulaire's biographies: Abraham Lincoln, Pocahontas, George Washington, Benjamin Franklin, Buffalo Bill, Lief the Lucky, and Columbus. Beautiful Feet Books republished them in the 1990s, and the are exquisite. The whole pack costs around $100.
Ola, first edition
Ola is the book that put the d'Aulaires on the map. Published in 1932, it tells the story of the adventures of a Norwegian boy. A nod to life in Norway, Horn Book Magazine described the book perfectly in its review: "Scandinavian culture comes alive in the detailed illustrations (particularly the wedding meal scene) and the lyrical text by these master storytellers." We've seen first edition copies for sale for around $100.
d'Aulaire's Book of Greek Myths, first edition
The d'Aulaire's Book of Greek Myths is an essential guide to Greek mythology for countless children since its publication in 1962. Indeed, it is often a child's introduction to the topic, as it is extensive, with 192 pages covering nearly 50 Greek myths. The drawings are fresh and life-like, and the text is well-researched (the d'Aulaire's spent time in Greece, of course) and full of interesting and informative observations. First editions with the illustrator's signature will sell for around $500.