The Caldecott Medal is awarded annually to the children's book whose illustrations represent the best work being produced in the field of children's book illustration. This honor is the highest award in the nation for children's illustrators, for which even a nomination is considered a remarkable achievement. Throughout the years, most illustrators have only won one award, with several winning two. However, only two illustrators, since the conception of the award, have won the medal three times. Those two artists are Marcia Brown, and today's subject of our Caldecott Winning Illustrators series: David Wiesner.
Who is David Wiesner?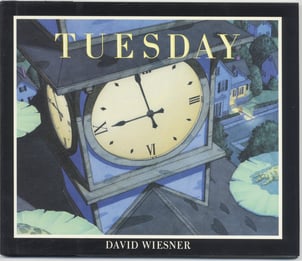 David Wiesner was born in New Jersey in 1956. He attended the Rhode Island School of Design, graduating with a Bachelor of Fine Arts degree in illustration. The first book he illustrated was Honest Andrew by Gloria Skurzynski in 1980. That same year, his illustrations appeared on the cover of Man From the Sky by renowned children's book writer Avi. His work was soon in high demand, with his illustrations appearing in numerous books by other writers. It wasn't until 1987 that he wrote his own book, Loathsome Dragon, with his wife as coauthor. The decision to begin writing and illustrating his own work paid off the very next year when his Free Fall was named a Caldecott Honor Book. Throughout his career, he has illustrated dozens of books, both for others and his own works; his illustrations have accompanied stories by such beloved authors as Laurence Yep and Marianna Mayer. He has been awarded the Caldecott Medal three times throughout his career, tying him for the most medals ever awarded to an individual, along with the late Marcia Brown. He has also been named a Caldecott Honor finalist three times for Free Fall, Sector 7, and Mr. Wuffles!. He has been nominated for the Hans Christen Anderson Award, which is the highest honor in the world for children's book illustration.
Where else have you heard of Wiesner?
In 1985, Wiesner was chosen to illustrate a picture book version of Steven Spielberg's hit film E.T.: The Extraterrestrial. E.T., The Storybook of the Green Planet was written by William Kotzwinkle. In 1997, he created the story and artwork for a computer game titled The Day the World Broke. Opening in 2017, an art exhibition titled David Wiesner and the Art of Wordless Storytelling started in the Santa Barbara Museum of Art but has since traveled all around the country.
Examining Wiesner's Artistic Style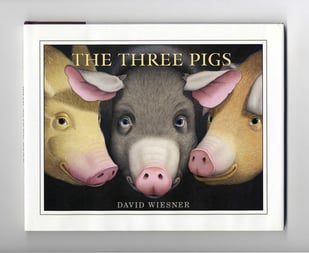 Wiesner most often utilizes watercolors for his illustrations. While he does occasionally include text with his words, his most common means of storytelling is through wordless picture books. He often elects to omit words, instead telling his story through just the power of his illustrations. He pairs his detailed drawings with whimsical storytelling, resulting in fanciful and imaginative books well-loved by both children and adults.
Collecting David Wiesner
Tuesday
Tuesday was Wiesner's first Caldecott winner, earning him the medal in 1992. This charming book exhibits Wiesner's tendency to gravitate toward picture books containing illustrations rather than words. Though there are six words in the book, most of the story is communicated through art depicting the weekly levitation and exploration of frogs on their lily pads. This whimsical book is a perfect example of Wiesner's work.
The Three Pigs
Ten years after his first medal, Wiesner was awarded a second time for The Three Pigs. A take on the traditional story of the three little pigs who build houses of varying effort and success, this shows the pigs meeting a fate besides being eaten. When the wolf blows their houses away, they fly out of the illustration and onto the pages of another fairy tale, setting them on a journey through some of children's most beloved fairy tales. This beautiful book is sure to delight both child and adult collectors.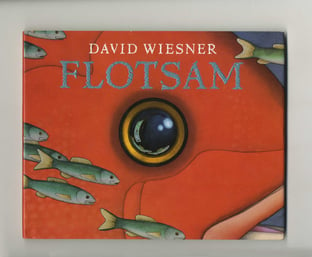 Flotsam
In 2007, Wiesner earned his third Caldecott Medal for Flotsam. This inventive wordless book depicts fantastical undersea worlds and ocean creatures, culminating in the realization that the boy who found the camera containing these images is meant to throw it back into the ocean for other children to discover.