Winning the Caldecott Medal is one of the highest honors an illustrator can receive. Winning the Caldecott Medal numerous times is a feat only a few can boast. Robert McCloskey is one of only a handful of artists who were awarded the Caldecott Medal on two different occasions (the others who have won twice are Barbara Cooney, Nonny Hogrogian, Leo and Diane Dillon, Chris Van Allsburg, and Chris Raschka, and only Marcia Brown and David Wiesner have won the award three times). In fact, he was the first ever two-time winner. So who is Robert McCloskey? What made him such an enduring figure in the world of children's literature?
Who is Robert McCloskey?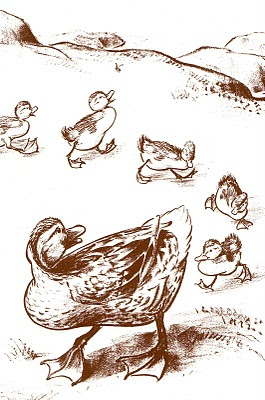 Robert McCloskey was born in Hamilton, Ohio in 1914. He moved to Boston for school in 1932 when he was accepted to study under scholarship at Vesper George Art School. After two years, he was asked to return to his hometown to complete bas-relief sculptures for a municipal building in Hamilton. From there, he moved to New York to hone his craft at the National Academy of Design.
After his studies, McCloskey attempted to sell his artwork, but when that didn't work, he considered his artistic career a "bust". Fortunately, he turned his attention to children's literature, and after getting some tough love from the first editor he approached with his portfolio (she famously told him to "shelve the dragons, Pegasus, and limpid pool business" in reference to his style), he turned his attention to what he knew—his upbringing in Ohio and the musical past times of his childhood. From there, his first book, Lentil, was born. Lentil was published in 1940. The following year, he published Make Way For Ducklings, his most famous book and the title that won him his first Caldecott Medal.
McCloskey actually went out and purchased ducks to observe and write about. He cared for them in his New York apartment. In an interview with Horn Books, McCloskey noted, "I lived with them in my studio in New York. And of course if I were doing that book today or even ten years, fifteen years later, I would have gone to where the wild ducks were and where I could study them — I would have gone to the country somewhere."
McCloskey published eight books of his own, including his second Caldecott Winner, Time of Wonder (1957). He also served as the illustrator for several other books, including Journey Cake, Ho (1953) which was written by his mother-in-law, Ruth Sawyer. McCloskey married Sawyer's daughter Peggy Durand in 1940, and the two had two daughters, Sally and Jane. McCloskey's family served as inspiration for much of his work.
He earned a Living Legend honor from the Library of Congress in 2000. According to the LOC's website, "The program honored individuals who have made significant contributions to America's diverse cultural, scientific and social heritage." The honor is no longer being bestowed as of 2018.
Examining McCloskey's Artistic Style
McCloskey used sepia drawings in Make Way for Ducklings which set them apart from the typical black and white drawings seen in many children's books of his day. Both his letterpress text and drawings in lithographic crayon on zinc are truly exceptional. He once said, "I think in pictures", and he described how his illustrations came to be by saying, "drawing is most of all a way of seeing and thinking".
McCloskey's representational style portrays the subjects of his story with life-like, accurate detail. He did, after all, observe real ducklings to assist in the writing of Make Way for Ducklings! And, as the Hamilton Heritage Hall website notes, his scenes and backgrounds, too, are quite realistic: "Evident from the richly detailed charcoal illustrations, McCloskey returned to Boston to sketch the book's background alive with parks, bridges, fences, streets, people and cars."
Why else have you heard of McCloskey?
McCloskey's works continue to be a staple on children's bookshelves. Not only was he awarded two Caldecott Medals, but several of his books were also chosen as Caldecott Honor books. Blueberries for Sal (1948), which tells the tale of a mother and daughter who go to pick blueberries for the winter and a bear and her cub who go to eat blueberries and is based off his own wife and eldest daughter, was a Caldecott runner-up. One Morning in Maine (1952) was also a Caldecott runner-up.
You may also be familiar with the statue in the Boston Public Garden that depicts Mrs. Mallard and her eight ducklings, Jack, Kack, Lack, Mack, Nack, Ouack, Pack, and Quack. The statue is something of an icon with tourists stopping to take photos with the ducks and Mrs. Mallard's head shiny from where children have patted it for years. On occasion, some of the Mallard ducklings have gone missing. Fortunately, they've all been returned to their mother.
Collecting Robert McCloskey
Make Way for Ducklings
True first editions of Make Way for Ducklings were published by Viking Press in 1941. Such copies will have the first state dust jacket with no mention of the Caldecott Medal. The reference to the Caldecott Medal was included in the second printing on the inside flap of the dust jacket. First editions include the line "First Published August 1941" on the copyright page as well as the $2.00 publisher's printed price. This is an incredibly rare collectible—because of how well-loved and well-read this book was (and is!), it is difficult to find fine or near fine copies in the first state. As such, first editions with the aforementioned points will sell for anywhere from $10,000-20,000, depending on the condition, with copies that are signed or inscribed by McCloskey fetching a higher sum.
Second state first editions with the Caldecott emblem included on the dust jacket are still valuable collectibles and will sell for anywhere from a couple thousand to several thousand dollars, depending on the condition.
Time of Wonder
First editions were published by Viking Press in 1957. "Published in 1957 by The Viking Press, Inc." should be written on the copyright page of true first editions, and the price of $3.50 is printed on first edition dust jackets. No mention of later printings is included on the first edition copyright page. These books are scarce and will cost a collector between $500 and $1,000. Collectors will pay on the higher end of the spectrum if the book in question remains tightly bound and if the dust jacket has maintained its rich color with minimal chipping/wear.
Lentil
First editions of Lentil were published by Viking Press in 1940. The first edition dust jacket has the publisher's $2.00 printed price on the front flap. First editions will sell for around $1,500, more if signed or inscribed by McCloskey, with the price dependent on the book and dust jacket condition. Second printings of Lentil were published in 1946 by Viking. Collectors can acquire this later printing for around $100-$200.
Sources: New York Times, Hbook.com, Hamilton Heritage Hall