Children's books are loved by people of all ages, not just kids. Some of the most loved books in this genre are from author Virginia Lee Burton. Her seven books all have whimsical drawings and an appeal that even modern children are drawn to, despite being written over 50 years ago. Burton's talent was recognized in 1942 when she was awarded the Caldecott Medal for her fourth book, The Little House. Since then, Burton's work has enthralled and inspired generations of children, adults, and collectors.
Who is Virginia Lee Burton?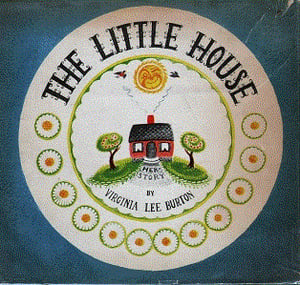 Virginia Lee Burton spent much of her childhood reading the picture books she was given by her father instead of playing with toys. When she was about eight, her family moved from New England to Carmel-by-the-Sea, California, a town full of artistic opportunities that Burton took advantage of throughout her childhood. After high school, Burton received a state scholarship to the California School of Fine Arts. She spent her two hour commute practicing her sketching by drawing her fellow passengers. A year later Burton moved back east and was set to join her sister as a dancer in New York, but her plans were changed when she stayed to care for her father in Boston.
Burton's sketching practice from her time in San Francisco payed off when she started working as a sketcher for the Boston Transcript. In 1930, at the age of 21, she enrolled in drawing classes held by George Demetrios. The following spring they married. After having their first son, the couple moved to the neighborhood of Folly Cove in Gloucester, Massachusetts where they had a second son. Throughout the rest of her life, Burton worked with the Folly Cove Designers to create painted fabrics. In 1937, Burton published her first book, Choo Choo. She published six other books over the course of her career. Mike Mulligan and His Steam Shovel was published in 1939, Calico the Wonder Horse, or the Saga of Stewy Stinker in 1941, The Little House in 1942, Katy and the Big Snow in 1943, Maybelle the Cable Car in 1952, and Life Story in 1962. The Caldecott Medal was awarded to The Little House in 1943. Burton died in 1968 at the age of 59.
Examining Burton's Artistic Style
Burton based most of her work on her real life experiences. She would draw the illustrations first before adding the words. When possible, she would attempt to use pictures rather than words. Houghton Mifflin Company, the publisher of her work, cites Burton as saying, "Each new book is a new experience, not only in subject material and research, but also in learning a new medium and technique for the drawing."
To test her work, Burton wrote for her sons. She would read her books to her sons to gauge their interest in the story. If after a month of reading the same book every night they would stay awake, Burton would know her book was ready for publication, allowing her style to be well received by children and adults alike.
Why else have you heard of Burton?
In addition to her own work, Burton contributed the illustrations to The Song of Robin Hood, which was nominated in 1948 for the Caldecott Medal. Burton also illustrated The Fast Sooner Hound by Arna Bontemps and Jack Conroy.
In 1952, Disney created an animated short based on The Little House.
Virginia Lee Burton: A Sense of Place, a documentary directed by Christine Lundberg, premiered in 2007. It covers her life and introduces viewers to archived pieces of her work.
Collecting Burton
Most of Burton's work is still published and can be found printed in paperback, hardcover, and board book ranging in price from just over $5 to $23. First editions of Burton's work, however, are very hard to find. The Little House and Mike Mulligan and his Steam Shovel are usually quite expensive, but copies of her other books can be found for several hundred dollars.

The Little House

This book tells the story of a house as the city grows and changes around it, leaving the house forgotten. Finding a first edition of The Little House with a dust jacket can be nearly impossible. First editions of this book in very good condition without a dust jacket can be found for around $2,000. With the dust jacket, it can be sold for over $12,000.

Mike Mulligan and His Steam Shovel

The endearing tale of Mike Mulligan as he works with his steam shovel to help others

is appealing to both children and adults. Copies of this book are easier to find than first editions of

The Little House. First editions in good condition with a dust jacket can be found for up to $8,000. Books from the second printing of the first edition can be found from $300 to $2,500.
Sources:
Those Telling Lines: The Art of Virginia Lee Burton. (n.d.). Retrieved July 20, 2018, here.
Timeship for Kids: Virginia Lee Burton. (n.d.). Retrieved July 21, 2018, here.
Image source here.