Pulitzer Prize winning novelist Anne Tyler, author of The Accidental Tourist, was born in Minneapolis Minnesota on October 25th, 1941. She grew up in rural North Carolina in a Quaker commune. Tyler did not attend a traditional school until she was 11 years old, instead going to the tiny schoolhouse that the mountain children attended in the mornings and in the afternoons going to homes within the commune to learn from those within the community.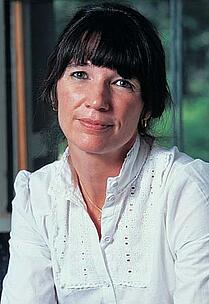 This unusual upbringing resulted in her having a certain distance from the "normal world," which allowed her to write from a unique perspective by which she observes with perhaps a greater clarity than most the intricacies of everyday life. Hers is writing which, much like that of John Updike, is an attempt "to give the mundane its beautiful due."
Tyler graduated from Duke University at nineteen years old, and then went on to focus on Russian studies at Columbia University. She worked as a librarian and bibliographer in New York City for several years before moving to Maryland.
The reclusive author rarely grants interviews or makes public appearances. In one rare interview with The New York Times, Tyler noted that Eudora Welty has been an important influence because "reading Eudora Welty when I was growing up showed me that very small things are often really larger than the large things."
Tyler has already penned nineteen novels and is reportedly working on a twentieth. She considers Dinner at the Homesick Restaurant (1982), her ninth novel, her best work. The novel was a finalist for both the PEN/Faulkner Award and the Pulitzer Prize in 1983. Tyler's next book, The Accidental Tourist (1985) was also a finalist for the 1986 Pulitzer Prize and won the National Book Critics Circle Award in 1985. Breathing Lessons (1988) earned the 1989 Pulitzer Prize.
Selected Titles by Anne Tyler

A Slipping Down Life

Since Tyler makes public appearances so rarely, her signatures are also relatively scarce. This copy of A Slipping Down Life bears Tyler's signature on the title page. It's a first edition with the common black "R" remainder mark on the front free endpaper, overall very Near Fine in alike dust jacket.

Earthly Possessions

John Updike said of this, Tyler's seventh novel, "This writer is not merely good, she is wickedly good." We offer several copies of Earthly Possessions, including one in unread Fine condition with dust jacket, signed by the author on the title page.

The Accidental Tourist

This award-winning title has long been a favorite among Anne Tyler collectors. Collectible copies range from a signed Easton Press edition to a charming first edition in about Fine condition with Tyler's signature on the title page.

Breathing Lessons

Breathing Lessons was the basis for a 1994 television movie starring James Garner and Joanne Woodward. This volume is a handsome first edition in unread Fine condition in Fine dust-jacket. A signed first edition of this book has been privately published by the Franklin Library, bound in leather with raised bands, featuring gilded sewn-in pages with a satin marker. Franklin Library at its best.

Ladder of Years

Tyler's thirteenth novel, Ladder of Years illustrates the author's masterful skill and subtle power. This edition, a charming first in unread Fine condition in equally unblemish dust-jacket, signed by author Anne Tyler directly on the front flyleaf.