She wrote her first formal work at 18 years old and lived until 42, but Jane Austen made the literary impact of much more prolific writers in only six published novels. With universally appealing works such as Pride & Prejudice (1813) and Sense & Sensibility (1811), Austen has amassed an impressive following the world over, and her works have been adapted into plays, TV series, and modern movies as varied as the film "Pride & Prejudice" and the American comedy "Clueless."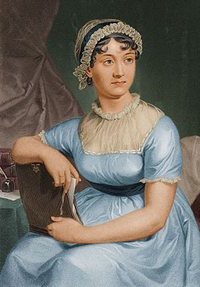 Born on December 16, 1775, Jane Austen lived during the Reagent period in England when women her age stayed close to home; studied sewing, entertaining, and language; and married for social and financial stability. Like the characters of her most popular novels, however, Austen refused to marry for convenience and spent her short life without the love of her dreams. She enjoyed the intellectual and jovial company of her five brothers and mother and father, Cassandra Leigh and Anglican Church leader George Austen, as well as the friendship and confidence of her only sister, Cassandra.
A Family Affair, the Austens Support Young Jane
Austen's family practiced recreating the popular plays and stories of their time during her childhood, and several family members made specific efforts throughout her life to support her talent. During her teenage years, Austen was given unfettered access to her father's extensive library and her family's careful attention for regular readings of her satirical comedies. Later in life when their father passed away, Austen's brothers supported her financially, opening their pockets and their homes to the Austen women. Austen's mother and sister relieved her of household duties so she could focus on writing, and when she believed she could make a living as a writer, her closest brother Henry acted as her literary agent.
After settling into her brother Edward's cottage in Chawton two years following her father's death, Austen reached a level of production not attained since her teenage years. She'd written dozens of short stories and letters during her earlier years, titling the work Juvenilia. Austen's first major work, however, was her most popular novel. She finished Elinor and Marianne in 1796, revising it in 1798 and eventually publishing it as Sense & Sensibility in 1811 under the pseudonym "A Lady." First Impressions was finished in 1797, revised and renamed in 1812, and published as her second novel, Pride & Prejudice, in 1813.
Literary Success and Promise
Now 38 years old and a popular published author, Austen continued to focus on her writing, completing her third work Mansfield Park, which was published under her name in 1814. Emma (1816) was the last novel published while she was alive and continued the theme of her identification with her characters. In this novel, the eponymous heroine declares that she is uninterested in marriage because she has financial security of her own. Jane Austen fell ill shortly after its publication, passing away July 18, 1817 and leaving her legacy to her brothers to publish the two remaining finished novels and a series of interesting and telling unfinished works.
Jane Austen's biographer Claire Tomalin describes the heroine of one of her earliest works, Lady Susan, as a woman "whose intelligence and force of character are greater than those of anyone she encounters." Though she passed away while still a middle-aged woman, one can only assume that an advanced version of the young woman writing that character would someday attain the same status.