Today we celebrate the birth of a novelist, poet, playwright, illustrator, graphic artist, sculptor, and Nobel Prize winner Günter Grass. He was born on October 16, 1927, in the Free City of Danzig, now Gdansk, Poland. Grass used his "frolicsome black fables [to] portray the forgotten face of history," as noted by the Swedish Academy when he was awarded the Nobel Prize for Literature in 1999.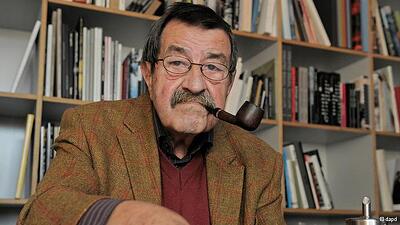 With The Tin Drum (1959), Grass would become a preeminent German writer, inspiring many with his ability to write with a full range of emotions and an outpouring of language. His books bring with them the great array of emotions that the German people seem to have experienced following the war. From relief to tremendous guilt, the reader experiences it all with Grass in The Tin Drum and the subsequent trilogy which continues with Cat and Mouse (1961) and is finished with Dog Years (1963). His works show the wide range of guilt and hope that Germany, Poland, and war ravaged Europe must endure.
Grass has become a controversial figure since his role in the Waffen-SS was revealed in 2006. As a very young man during the war years, many had assumed that his involvement with the Nazi war machine would not have gone beyond youth organization membership. However, it has been revealed that as a boy he attempted to join the submarine corps at 15, and was turned away. Later he was drafted into the Waffen-SS the combat force of the SS at 17. There Grass spent the final months of the war fighting in a Panzer division--which was later convicted en masse of war crimes by the Nuremberg tribunal. Many complain that as a writer who trumpets the moral compass of man and countries alike, it is hypocritical to have fought with for the same Nazi groups he blasts in his works. Others, such Ivan Nagel, a contemporary Jewish author noted that it took him 55 years to be able to talk about his trials as one of the persecuted, he understands how it may have taken Grass 60 years to talk about his shame and his disgrace in his 2007 autobiography, Peeling the Onion.
The power and variety of Grass' works have made him a perennial figure among rare book collectors. First editions of Grass books are often highly sought after among collectors of both modern first editions and the works of Nobel laureates.