August 16 marks the 75th Anniversary of the film premiere of The Wizard of Oz. Both the film and the novel on which it is based - The Wonderful Wizard of Oz by L. Frank Baum - have a timeless appeal beloved by children and adults alike.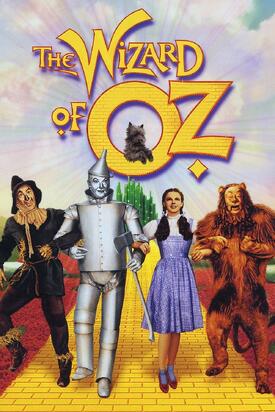 While the 1939 film remained true to much of The Wonderful Wizard of Oz, the filmmakers did take liberties. For instance, Dorothy's magic slippers in the novel were silver, not ruby red, and in the book, Dorothy does, in fact, go to Oz; she does not just dream that she is there. Regardless of the changes, it is clear that the masterful writing L. Frank Baum employed in The Wonderful Wizard of Oz set the stage for the film's success.
As a writer, Baum was inspired by children's literature of his time, including the work of Jacob and Wilhelm Grimm, Hans Christian Andersen, and Lewis Carroll. Plagued by ill health, he spent much of his childhood reading popular English fairy tales. Baum took from them what he liked - a focus on the imaginary world and a relatable child at the center of the story. And, he discarded what he considered unsettling - in his own words, "witches [and] goblins" and generally speaking, a lonely, scary environment.
Thus, The Wonderful Wizard of Oz is filled with helpful strangers, kindhearted companions, and a primarily supportive and unimposing environment in which his young protagonist can thrive. At the novel's heart, we see themes of friendship, self discovery, and newfound self-esteem. For Baum, it was a successful re-imagining of the fairy tale genre.
Interestingly, had it been up to Baum, his original and most famous novel would have concluded his affair with Oz. But, thanks to continued pressure from Baum's young readership, we are left with a robust collection of fourteen Oz classics from Baum himself.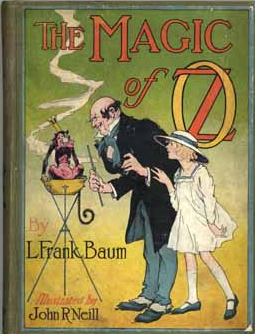 Baum often explained that he was compelled to continue writing about Oz due to the joy he found in pleasing his young readers; the same children wrote letter after letter begging for more tales of Dorothy and her Oz companions. According to the Library of Congress, an inscription written in a book given by Baum to his sister, states: "I have learned to regard fame as a will-o-the-wisp, which when caught, is not worth the possession; but to please a child is a sweet and lovely thing that warms one's heart and brings its own reward."
Baum's fourteen books include enchanting tales such as The Magic of Oz, detailing Dorothy's heroic attempt to save Oz from the mischief of Kiki Aru and his magical powers. Stories like The Tin Woodman of Oz and Glinda of Oz describe more thoroughly the intricacies of familiar characters. The series as a whole is remarkable.
The Oz series continued to grow and remain at the forefront of children's literature in the twentieth century, even after Baum's death in 1919. Other authors were recruited and asked to write the tales of Oz. In total, 40 books exist in what is considered the official Oz collection. Penned between 1900 and 1963, these works include Baum's original 14 stories and 26 others, written by six specially selected authors.
Bibliographia Oziana serves as a complete Oz reference work, explaining the complexities of the collection in full, while also providing concise summaries of each of the 40 stories.
Undoubtedly, L. Frank Baum was a master craftsman of the American fairy tale. The Wonderful Wizard of Oz and its sequels have provided inspiration for countless other works and film adaptations. Yet perhaps most importantly, these books have provided inspiration for generations of children both looking to find themselves and (within the books' pages) discover their own way home.