"I carry the memories of the ghosts of a place called Vietnam—the people of Vietnam, my fellow soldiers. More importantly, I carry the weight of responsibility and a sense of abiding guilt." —Tim O'Brien, in an interview with NPR.
Tim O'Brien, most notably acclaimed for his stories on the War in Vietnam, was born on October 1, 1947. Today, as the United States celebrates Veterans Day, we thought we'd take a closer look at O'Brien's life and work.
Upbringing and Military Service
O'Brien was born and raised in Minnesota, a setting that would frequently show up in his stories later on. He graduated from Macalester College in 1968 with a Bachelor's degree in Political Science, only to be drafted into the Vietnam War which he served in from 1968 to 1970. Little did he know that his military service would provide him with a lifetime literary career.
O'Brien served as an infantry foot soldier in an area along the South China Sea nicknamed "Pinkville" by the United States Army. The location of the infamous My Lai Massacre, Pinkville was still landmine-laced, poverty-stricken, and hostile to US troops. It was here that he learned the meaning of sin, death, and evil.
A Start in Journalism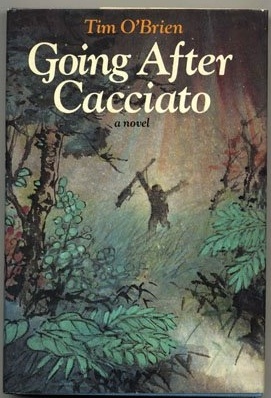 Following his time in the Army, O'Brien returned to school to work on a graduate program in government at Harvard University and began an internship at The Washington Post, writing articles on national affairs.
His work in journalism quickly sparked his interest in fictional writings and in 1973, his memoir If I Die in a Combat Zone, Box Me Up and Send Me Home was published. Other major writings such as Going After Cacciato (1978), The Things They Carried (1990), and Tomcat in Love (1998) quickly followed.
Despite illustrating the atrocities of war, O'Brien effectively portrays several issues in his novels which have made him one of the greatest authors of his time. Blurring the lines of morality and reality are significant attributes in his stories, leaving his readers questioning their own moral values and depiction of real life.
The term "Verisimilitude" is frequently applied to O'Briens's work, and he draws a distinction between "story-truth" and "happening truth." Due to O'Brien's mastery of these literary techniques, his works, particularly The Things They Carried, have become widely studied in schools across the United States.
O'Brien has openly cited Joseph Conrad as a literary influence, which is certainly apparent in his explorations of good, evil, and morality. O'Brien's writing style also shows some similarities to those of Ernest Hemingway and William Faulkner. Like Faulkner, O'Brien often shifts narrative perspective and plays with narrative voice.
Collecting Tim O'Brien Books
Tim O'Brien has received numerous awards for his writing, including the National Book Award in 1979 for Going After Cacciato. He was the first fiction writer to be awarded the Pritzker Military Library Literature Award, in June of 2013. His works are highly sought after by both collectors of modern first editions and those who concentrate on the Vietnam War or historical fiction.
Some chapters of Going after Cacciato first appeared in magazines, notably Shenandoah, Esquire, and Redbook. Serious collectors will incorporate issues of these magazines into their collections, along with the book itself. Pictured here is a handsome first edition in near fine condition with near fine dust jacket, signed by O'Brien on the half-title page.
And although O'Brien is certainly known for writing about the Vietnam War, he's also done more light-hearted projects. One of these is The Putt at the End of the World.
A favorite among golf enthusiasts, this entertaining novel explores the question of whether golf can save the world. We're proud to offer a first edition in unread condition, signed by all nine of the authors on the half-title page.
Collecting books and ephemera by Tim O'Brien has engaged and enthralled many a collector. Meanwhile O'Brien's archive is currently held at the Harry Ransom Center. Over 25 boxes of material include photographs, stories written before his literary career, research, personal effects, and military medals.
Thank you to all who have served and who continue to serve our country.