Can any writer, in literature's past or present, be compared to William Shakespeare? While most scholars would refuse to make such a bold statement, Kwame Anthony Appiah took this daring plunge when he wrote of Chinua Achebe's first novel, "It would be impossible to say how Things Fall Apart influenced African writing. It would be like asking how Shakespeare influenced English writers or Pushkin influenced Russians."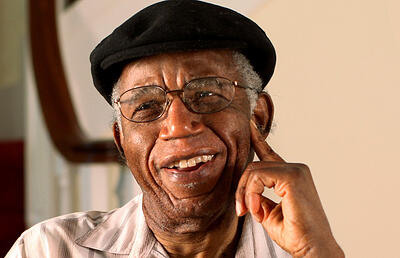 Things Fall Apart is certainly the most popular book to come out of Africa. It has sold more than 12 million copies and has been translated into over 50 languages. The story is set in Achebe's home country of Nigeria, and it examines the quality of life before and after British colonial rule. The narrative sends the main character, Okonkwo, on a wild and emotional ride. His life begins in poverty, but he is able to find success and impressive wealth through farming and village politics. Unfortunately, as the British take control of the region, everything begins to unravel for him, resulting in a bone-chilling and tragic conclusion. Achebe took the novel's title from a poem by William Butler Yeats, "The Second Coming."
Achebe was both praised and criticized for his idealistic descriptions of pre-colonial Nigeria and his bleak portrayal of how life changed under British rule. Debates continue to rage on how realistic the novel is, and whether it provides a trustworthy view of Nigeria during the late nineteenth century. In any case, an understanding of African literature must begin with this novel at the forefront.
In 1960, Achebe published a sequel to Things Fall Apart called No Longer at Ease. This was intended to be the second part of a longer work, along with Arrow of God (1964). Achebe wrote two more novels, but none of these later works were nearly as explosive or popular as Things Fall Apart. Nobel laureate Nadine Gordimer observed, "Chinua Achebe's early work made him the father of modern African literature as an integral part of world literature."
While Achebe's fame rests mostly on Things Fall Apart, his work includes more than just novels. He has also published several poems and articles of literary criticism. Achebe's work tends to feature the Igbo, a group found in southeastern Nigeria. Conflicts in his stories usually center on the clash of cultures and beliefs that resulted from colonization. He also describes the influences that successfully became a part of the southern Nigerian lifestyle, including the influences of the Christian church. Achebe gave his writing a folk-story feel, including old proverbs and oral traditions in his narratives and poems.
Despite his obvious mistrust for British colonizers, Achebe wrote all of his works in English and never stopped defending his choice to do so. Critics agree that Achebe certainly modeled his novels on works of classic Western literature, but they disagree about whether his works uphold that Western model.
Along with his creative work, Achebe analyzed other pieces of famous literature, especially those that dealt with Africa or colonization. He was quick to expose hidden (and obvious) racist or xenocentric themes. His papers often stirred up strong reactions from other critics. His lecture and related essay on Joseph Conrad's Heart of Darkness, in which he referred to the author as "thoroughly racist," was particularly controversial among academics.
As Achebe's success grew, he traveled frequently between the United States and Nigeria. After a car accident in the 1990s, he settled in America for good. He spent his final years teaching African Studies at Brown University in Providence, Rhode Island.
Achebe has significantly influenced authors all over the world. Nobel Prize-winning author Toni Morrison cites Achebe as an inspiration for her to tell her own stories. Critics often credit Achebe with enabling the emergence of African literature.
Achebe passed away March 21st, 2013 with many awards and recognitions attached to his name. Along with 30 honorary degrees issued from universities all around the globe, he won several prestigious awards, such as the Man Booker International Prize. Even his harshest critics will admit that he left a permanent mark behind him, forever changing the face of African and world literature.