American writer and outdoorsman Jon Krakauer was born April 12, 1954. He was raised in Corvallis, Oregon and was first acquainted with mountain climbing when he was eight years old. He attended Hampshire College in Massachusetts where he graduated in 1976 with a degree in Environmental Studies. Following his time at university, Krakauer moved around the States, living in Colorado, Alaska, and the Pacific Northwest. He worked as a commercial fisherman and a carpenter to support himself while he pursued his love for nature and rock climbing.
Krakauer's Early Writing Career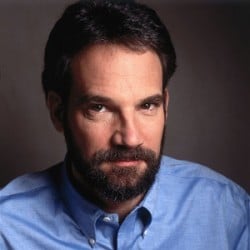 In 1977, Krakauer made several attempts to climb Devils Thumb, a mountain in Southeastern Alaska. Devils Thumb is the largest rock face in North America. It is a very difficult climb for even the most advanced rock climbers due to the weather conditions and the rock's incessant slipperiness, and Krakauer wanted to climb the mountain on an unchartered route. He pursued the expedition for three weeks before resigning.
Krakauer later wrote an article for the now-defunct British magazine Mountain telling of his experience at Devils Thumb. This article was his first compensated writing. He continued writing pieces for various magazines, and in 1983, he was able to give up his two part-time jobs to work as a freelance writer full time. Although Krakauer is distinctly known for his outdoor adventures, he wrote on a variety of topics and has had articles published in Architectural Digest, National Geographic, and Rolling Stone.
In 1990, Krakauer's first book, Eiger Dreams, was published. His account consisted of essays and articles on rock climbing, mountaineering, and extreme sports such as climbing canyons and frozen waterfalls. He included information about his Devils Thumb climb in Eiger Dreams, as well. In fact, most of the book's content had been previously published in various magazines, but the book is still regarded as an incredible read, both for its content and writing style. Krakauer has the unique ability to bring nature and adventure alive for his audiences, captivating them and sending minds soaring to great heights with him.
Respecting Everest and Into Thin Air
In 1996, Outside asked Krakauer if he would go to Mt. Everest and write an article on how commercialized it has become. They wanted to see an article that took up the question of whether the mountain had lost its attraction to dedicated climbers because of its popularity amongst wealthy layman with money to blow. Krakauer's background in mountaineering made him a natural fit for this assignment.
Krakauer was initially sent to only review the base camp; however, the adventurer in him would not remain on the ground. The two groups ascended the mountain successfully, but the descent proved to have numerous complications. In what is now called the 1996 Mount Everest Disaster, a severe storm trapped many climbers near the top of the mountain. While Krakauer was able to make it down, many—including Rob Hall and Scott Fischer, two mountain guides—lost their lives.
Krakauer left Everest with a new respect for the wild and when answering if the mountain had lost its mystery, he could easily answer "no," insisting that no amount of exploitation could change the mountain's ways. His experience was nothing short of traumatizing, and after he finished his article for Outside he vowed to never write about what had happened on Mt. Everest.
After his article was published in Outside, he came across mistakes he had made in his account and felt that many people didn't see the complexity of the Everest disaster. He published Into Thin Air in 1997. In his New York Times book review of Into Thin Air, Alastair Scott argues that "Mr. Krakauer's greatest achievement is his evocation of the deadly storm, his ability to re-create its effects with a lucid and terrifying intimacy." Krakauer argued in his book that while the mountain guides Rob Hall and Scott Fischer were friends and the best of the best when it came to guides, they were also rivals. They had to compete to get the most clients to the top of the mountain. Doing so may have impaired their judgement and their safety standards.
Into the Wild: An "Exceptional Accomplishment"
Before his Everest excursion, Krakauer wrote an article ("Death of an Innocent," 1993) on the unfortunate death of young explorer, Chris McCandless. Like most of his articles squeezed into a word count, this one left Krakauer unsatisfied with his account. He believed that the world needed to understand McCandless' story on a more personal level. With his return from Mt. Everest, Krakauer had time to dig deeper into the story. Drawing on his own experiences and what he could gather from McCandless' journal, Krakauer set to work. In 1996, Into the Wild was published, shining a new light and understanding on McCandless' journey and his death.
The book quickly rose to the New York Times bestseller list, was one of the three finalists for the Pulitzer Prize in General Nonfiction (1998), and was named Book of the Year by Time magazine. Krakauer received an Academy Award in Literature from the American Academy of Arts and Letters in 1999 for his "exceptional accomplishment" in new journalism.
Krakauer continues to write on various subjects including religious fundamentalism in the American West with Under the Banner of Heaven: A Story of Violent Faith (2003), the cover up of Pat Tillman's death in Where Men Win Glory: The Odyssey of Pat Tillman (2009), and the alleged mishandling of donations for the Central Asia Institute by Greg Mortenson in his book, Three Cups of Deceit (2011).
Adapations and Response
Into the Wild was made into a biographical film directed by Sean Penn and featuring an all-star cast including Emile Hirsch, Marcia Gay Harden, Vince Vaughn, and Kristen Stewart in 2007. A feature film based off of his book, Into Thin Air, titled Everest, starring Jake Gyllenhaal was released in 2015. Krakauer called the movie "total bull" and didn't appreciate the artistic license taken.
Krakauer remains one of the greatest nonfiction writers of the 21st century, sharing with readers the world over something that has all too often been lost: the love of nature and adventure.
Source: New York Times, LA Times