Whether you already have a collection of Irish literature or you are thinking about starting one, you should begin thinking about where you want to start and, ultimately, where you want to end up. There are many different ways you could approach an Irish literature collection, from eighteenth-century Irish literature up to the present. You might, for example, consider a collection made up entirely of Irish poetry. Or you might develop a collection that focuses on Irish independence and is linked to the 1916 Easter Rising. There are a lot of different possibilities. We don't want to frame your collection for you—that's your job! But we do want to give you insight into some of the most collectible and sought-after works of Irish literature. If you ultimately want to add these texts to your collection, you'll need to do some serious reconnaissance work, and you'll need to start saving your money.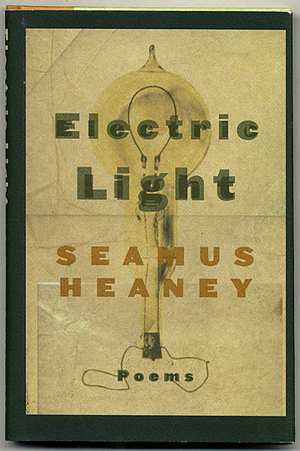 First Printing of Seamus Heaney's Eleven Poems (1965)
Seamus Heaney (1939-2013) was among the most significant poets of the latter half of the twentieth century. He was born in Northern Ireland and spent much of his adult life in Dublin. In 1995, he won the Nobel Prize for Literature, and the committee cited his "works of lyrical beauty and ethical depth, which exalt everyday miracles and the living past." Much of his poetry stands in resistance to English colonization of Ireland and the lingering effects, and the Irish Troubles in the twentieth century. His poems frequently address the ways in which the political violence of the Troubles have nodal points across various moments in time and vastly different regions of the globe. If you're planning to add one or more of Seamus Heaney's works to your collection, many first editions of his work have become exceedingly rare and difficult to fine.
Perhaps the most valuable, in terms of market price, is a first edition and first printing of Eleven Poems (1965), which was published by Belfast Festival Publications in 1965. This is Heaney's first published work, and it was published at Queen's University in Belfast, where Heaney was a student from 1957-1961. The book went through three printings of the first edition, and the first printing, as you might suspect, is the rarest of them. Although it's only in paper wraps, it's likely to sell for anywhere from $12,000 to $15,000. And if you find one that has been inscribed or signed by Heaney, you're likely to pay much more. Don't let anyone tell you that paperbacks aren't worth anything!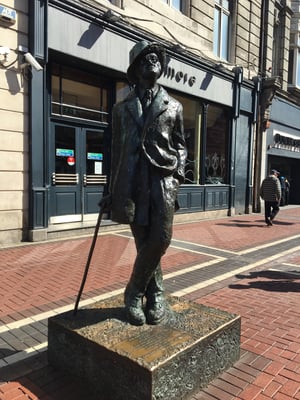 Numbered and Signed First Edition of James Joyce's Ulysses (1922)
Speaking of expensive and valuable and incredibly rare paperbacks, here's another one for your Irish literature collection. The first edition of Ulysses (1922) was published by Shakespeare & Company in Paris with blue and white wrappers. A total of 1,000 first edition copies were printed, and 750 were numbered. Of these numbered first editions, 100 were produced on handmade paper and were signed by the author. Depending upon the condition of the book when you find it, you should expect to pay, most likely, $50,000 or more. For a copy in near-fine copy on handmade paper that has been signed by Joyce, you could be looking at a price tag upwards of $100,000.
You probably already know a little bit about James Joyce (1882-1941), but he remains one of the most significant modernist writers of the twentieth century. Without Joyce, we'd be discussing modernism very differently today. The continued popularity novel Ulysses has led to "Bloomsday" celebrations in Dublin and across the world on June 16 every year, commemorating the novel and its protagonist, Leopold Bloom.
First Edition of Jonathan Swift's Gulliver's Travels (1726)
Jumping back in time a couple of centuries, one of the most collectible and expensive works of Irish literature you're likely to find is a true first edition of Jonathan Swift's Gulliver's Travels as it has become colloquially known, or Travels into Several Remote Nations of the World. In four parts. By Lemuel Gulliver, first a surgeon, and then a captain of several ships.
Jonathan Swift (1667-1745) was born and died in Dublin. Best known as a satirist, his multi-volume work Gulliver's Travels is probably his best-known work. The first edition was published in London by Benj. Motte in 1726 in two volumes. The first edition includes an engraved frontis with six folding maps and diagrams inside. The true first edition is the rarest, published earlier in 1726 than subsequent second and third printings from the same year. If you're planning to add one of these sets to your collection, the selling price will depend largely on the condition and provenance. Ultimately, a copy in good condition might fetch $100,000 or more, while copies with interesting provenances could end up costing much more.
Whether you're interested in 18th-century fiction or contemporary poetry, putting together a collection of Irish literature could be a lifelong project with many seemingly unreachable first editions to seek out.