Book collectors go crazy for first editions. But by the time a book is ready for the public market, it has been printed hundreds, perhaps thousands of times in the form of what is often called an "advance review copy." These are primarily given to people in the media industry so they have time to review, reference, promote, or provide blurbs for the book ahead of its public release. These copies are the intermediary version between the author's manuscript and the final, finished book, which is then printed and sold to the public.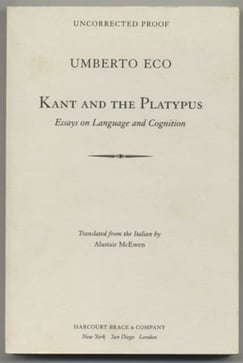 Collecting advance reading copies can be a great way for people to own an early version of a favorite book. While manuscripts may be the holy grail for a collector, they're hardly accessible to anyone but the mega-rich. In 2001, Jack Kerouac's scroll manuscript of On the Road sold for $2.4 million. And that's only to speak of a major manuscript available to private collectors. Most manuscripts, if they survive, are held by universities and museums. One imagines that if Charles Dickens's handwritten A Christmas Carol manuscript were to go to auction from New York's Morgan Library (however unlikely that is), it would fetch perhaps five times as much as Kerouac's.
Which is to reiterate that manuscript collecting is probably not feasible to anyone who could also not afford a yacht. And as the authors of today write their books by word processor, with the evidence of editing and alteration gone forever, such manuscripts seem more and more like antiques. But in the meantime, as the practice of keeping a physical, handwritten manuscript has faded, the production of pre-publication editions has flourished. This presents an interesting and rewarding frontier for collectors.
The term advance reading copy, or advance review copy, sometimes abbreviated as ARC, has widened in recent years. Sometimes these volumes are called uncorrected proofs, and some book reviewers prefer to call them galleys. This can be confusing, as galley traditionally refers to an edition of a manuscript intended for circulation among staff within a publishing house, for purposes of editing and correction, and proof is often used to mean much the same thing. For the sake of this article, advance reading or review copy will be preferred terms, with the acknowledgment that in the trade, terms like proof and galley are perfectly acceptable.
Collecting advance review copies is interesting business, for a few reasons. One is that they may be very rare. Circulation numbers for ARCs are guarded secrets, because as a marketing and promotional tool, publishers don't want to suggest that they have more faith in a book with high printing numbers, or that they've given up on one with low numbers. Usually, it is safe to assume that an ARC's circulation is below 500 copies, and will hover closer to 200 copies on average.
Advance reading copies are also intended as disposable items. Reviewers will mark them up and dog-ear and highlight them, and rejected books are typically stacked high on shelves and tables in media offices in New York and London and elsewhere for employees to take. Free reading material is one of the true perks in an industry as unpredictable as media. And those volumes that employees don't want are typically donated to charitable vendors.
This means that advance reading copies are almost always more rare than first print runs, but that doesn't make them instantly desirable. Unlike cheap products such as baseball cards or comic books, there is often no sentimental value attached to an advance review copy, and unless they worked in a media office, collectors will not have seen one until it is in the hands of a bookseller. They are meant as utilitarian items above all. This means they are not always pretty, and today they are almost exclusively bound in paperback, and publishers will sometimes spare the expense of printing on the cover anything but the relevant text. This makes some of them eyesores, which can be a deal breaker for a collector who takes pride in showing the beautiful spines on her bookshelf.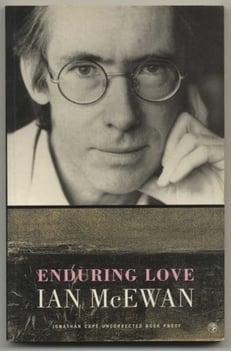 But advance reading copies can also make for a some of a collector's most exciting and prized items. The most valuable review copies tend to come in hardcover, with a dust jacket bearing the first edition's design. Some of them are stamped with a sticker announcing the book as an uncorrected proof, or come with papers with details like the publishing date or requests to send copies of the review to the publisher. These details add not only verification to the volume (a collector's best friend), but a story as well. One can imagine a reviewer shifting in her seat, being one of the very first readers of a masterpiece like One Hundred Years of Solitude or Death Comes for the Archbishop (whose price tags for advance reading copies can run into the several thousand dollar range).
But there are plenty of advance copies accessible to collectors on any budget. Many desirable copies, especially those from the '80s onward, are paperback and usually around the $20–$50 range, and rarely exceed the $150 price point. Part of the excitement for a careful collector is to find the review copy to be somewhat different in content to the finished version. As pre-publication editions, there are frequently typographical errors in a review copy, but even more exciting are the changes in content. Authors like Tim O'Brien have been known to change the text right up until the printing deadline.
A review copy can be a way for a collector to own a stage of the creative process, or an artifact of how a book's reputation was made. They make a great addition to any collection.